If you have a sensitivity to gluten or just want to switch up your boring store-bought pancake mix, try this flourless pancake mix for something different and delicious!
Pancakes are not only a breakfast favorite in our house, but my kids constantly request them for dinner too. My family loves the basic Bisquick pancake mix and I'll admit that it saves me time in a pinch.
But I love to experiment and get away from premade mixes when I can.
Oats are a favorite healthy grocery staple because they're high in protein and I just love the texture and flavor.
So one morning, I threw together an oat pancake recipe and my kids actually. ate. it. They even asked for seconds.
If you knew how picky they were, you would agree this is a small miracle.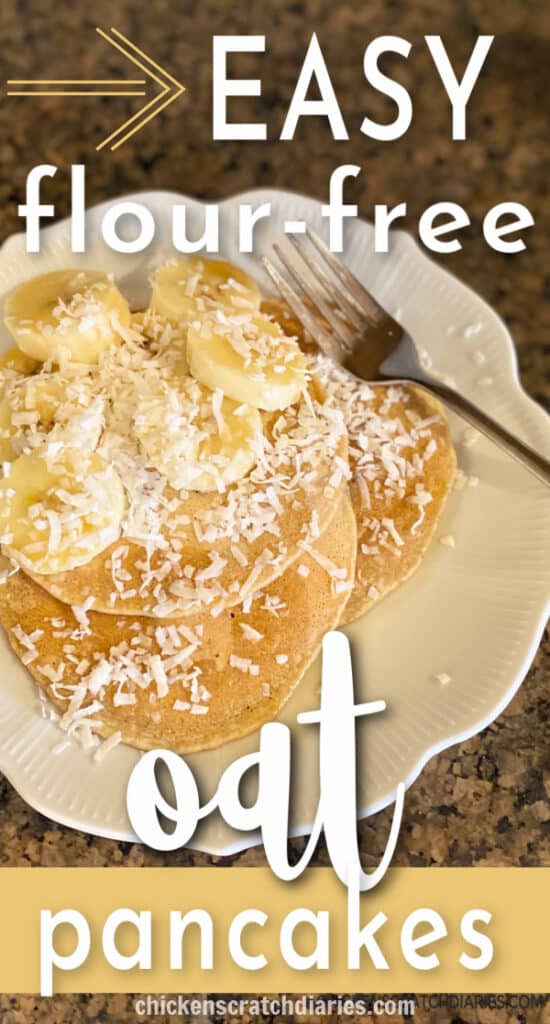 Not that I cared too much if they liked them or not. These were for me!
But it's always nice when a healthy recipe passes the picky-kid test, nevertheless.
This post likely contains affiliate links. Please see our disclosure for more info.
Why flourless pancakes?
For those who cannot tolerate gluten, flour-free pancakes are more of a "must" if you're going to enjoy this particular breakfast food.
I have suspected I have a gluten sensitivity but frankly, I love eating and making bread.
So I've mostly ignored it and just tried to eat it in moderation.
(Obviously it's not a huge problem for me as I don't have celiac disease- but I feel deeply for those who must avoid flour and gluten completely!)
Anyhow, I noticed that I can eat these oat pancakes without feeling yucky and they keep me full for much longer than their flour-based competitors.
This recipe will produce a thin yet light pancake, which is just how I like them. Hopefully you will too!
True gluten-free oats
My friend who can't have gluten tells me that even some products like oats which are naturally gluten free, can be contaminated with gluten.
This is because they may be grown alongside other crops that, when harvested, may transfer to the oats.
Oats can also be processed in the same plant as wheat products.
One company to try for gluten-free oats that I've just recently discovered is Azure standard. Search for the "Rolled Oats, GF, Organic".
This natural health and foods company has a local drop-off site where I can pickup groceries once a month in my area, and it's amazing! (Some of the best deals I've found on quality organic food.)
How to make flour-free pancakes
You can find the printable recipe card at the end of this post.
Ingredients
2 cups old-fashioned oats (*try Azure Standard 's gluten free oats)
1 cup milk
1 egg
1/2 teaspoon vanilla
1 teaspoon baking powder
1/4 teaspoon salt
1/2 teaspoon cinnamon
1-1/2 tablespoon honey
Instructions
1| In a food processor or blender, process the oats into a fine powder.
(A few lumps are ok…especially if you're using a sub-par blender like me.)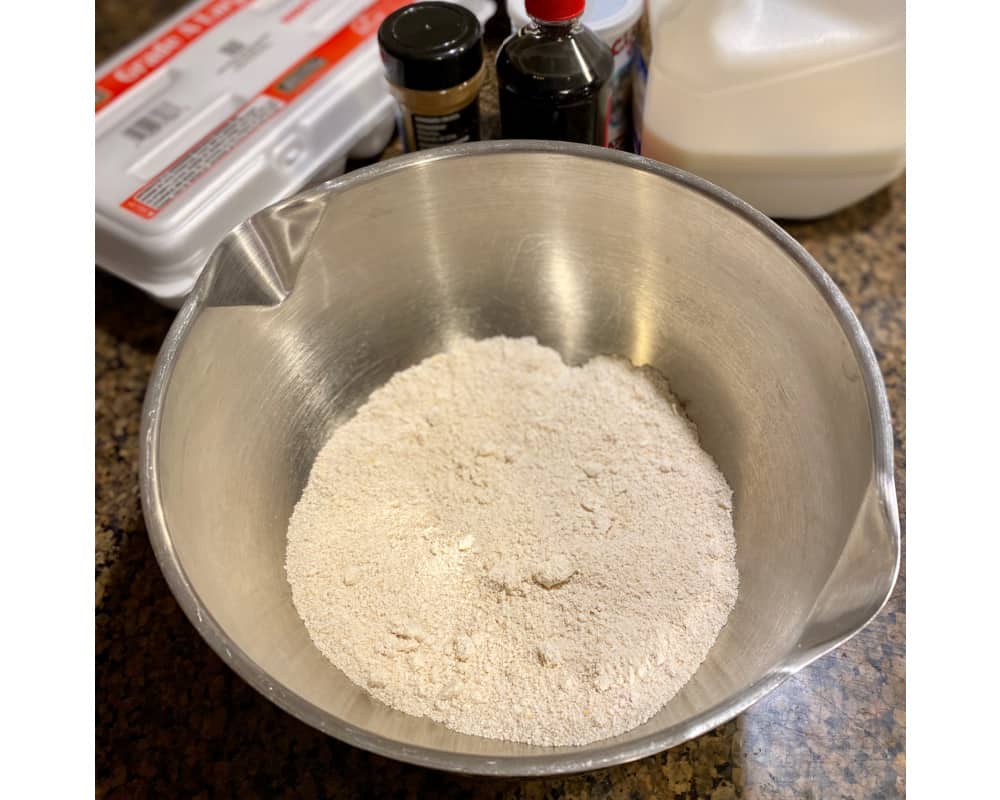 2| Whisk in the baking powder, salt, and cinnamon. Then add the milk, egg, honey, vanilla and stir to combine.
If the batter is too thick, add another 1/4 cup of milk. You want the mixture to be somewhat runny. Keep stirring between batches; you may need to add more milk as you go, as it will be absorbed by the oats when it sits for a minute.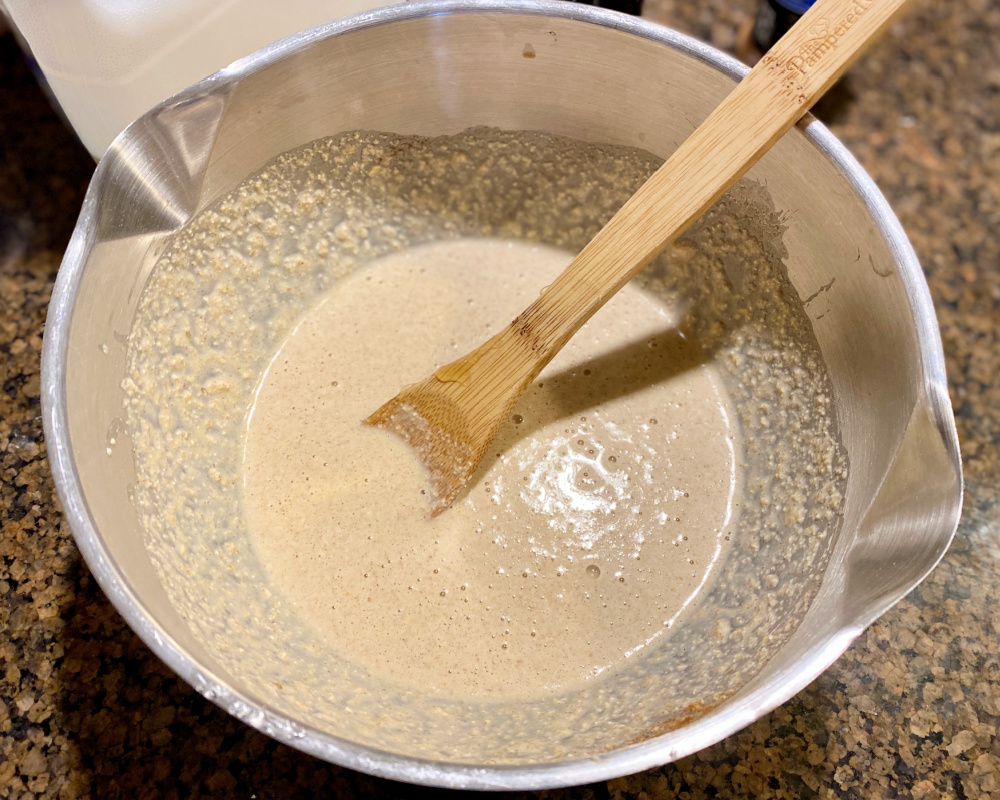 3| Cook on griddle preheated to 400 degrees for about 2 minutes on each side or until golden brown.
I usually get about 12-15 pancakes from this recipe depending on size.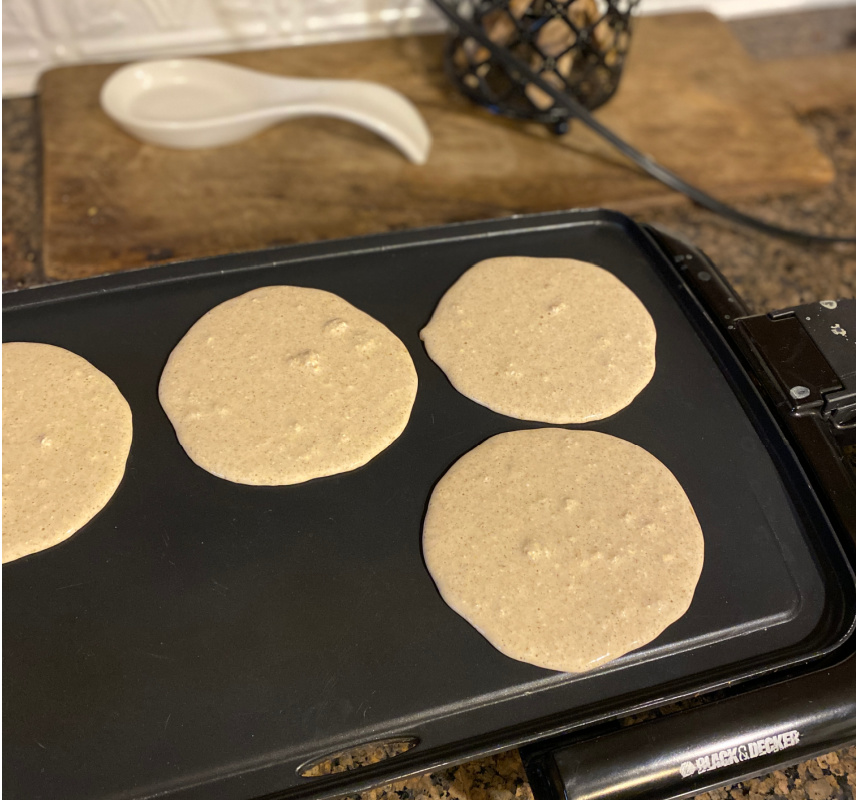 4| Garnish with your favorite pancake toppings and enjoy!
I love to top mine with maple syrup, bananas and some shredded coconut for added texture. Yum!
Yield: 12
Easy Flour-Free Pancakes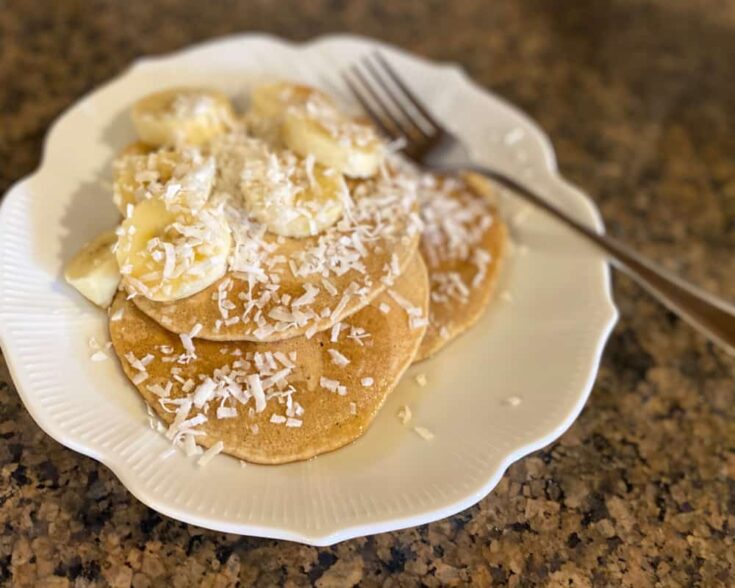 Simple pancake recipe that substitutes oats for flour. Full of flavor and packed with protein!
Ingredients
2 cups old fashioned oats
1 cup milk
1 egg
1/2 teaspoon vanilla
1 teaspoon baking powder
1/4 teaspoon salt
1/2 teaspoon cinnamon 
1-1/2 Tablespoons honey
Instructions
1. In a food processor or blender, process the 2 cups of oats into a fine powder. (It will yield slightly less once processed.)

2. Whisk in the baking powder, salt, and cinnamon. Then add the milk, egg, honey, vanilla and stir to combine.

3. Cook on griddle preheated to 400 degrees for about 2 minutes on each side or until golden brown.

4| Garnish with your favorite syrup and pancake toppings and enjoy
Nutrition Information:
Yield:
12
Serving Size:
1
Amount Per Serving:
Calories:

79
Total Fat:

2g
Saturated Fat:

1g
Trans Fat:

0g
Unsaturated Fat:

1g
Cholesterol:

17mg
Sodium:

102mg
Carbohydrates:

13g
Fiber:

1g
Sugar:

3g
Protein:

3g
You might also like:
• 11 Healthy Breakfast Ideas for Busy Moms