This site contains affiliate links to products. We may receive a commission for purchases made through these links. Please read my disclosure for more info.
I'm kicking off this series with one of my absolute favorite places on the web: She Reads Truth.
If you're a woman who is looking for a Bible study that will speak to your soul, this is it. Each day's material is carefully crafted with writings that have an almost poetic quality, highlighted by beautiful graphics.
You won't find any "fluff" on She Reads Truth either- just truthful teaching based in solid theology.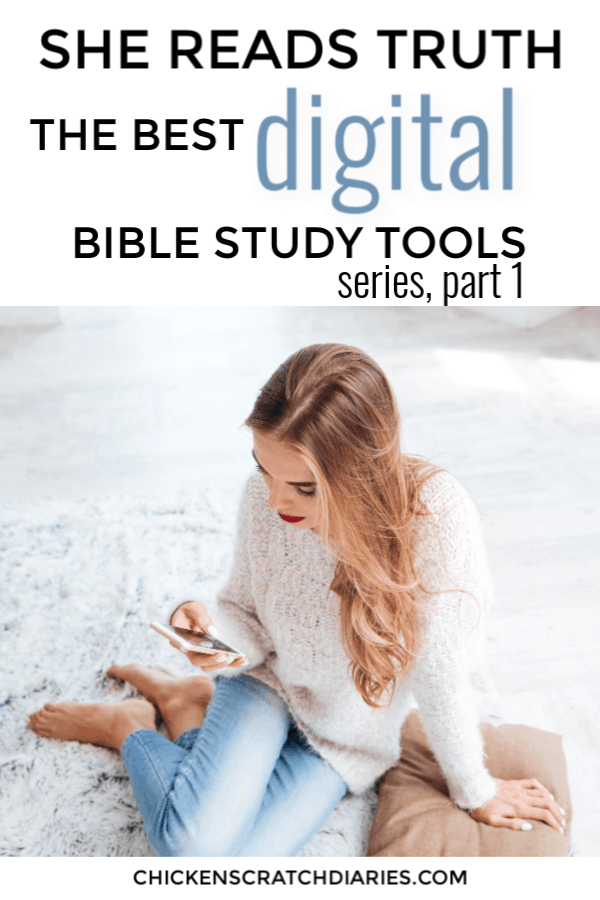 What You'll Love About She Reads Truth
The writers here have a way of combining relatable experiences with literary imagery, and a complex understanding of Scripture. All of this leads to a rich Bible study time, and it makes me look forward to the next day's study, hungry for more.
As you browse through the reading plans, you will find studies on specific chapters of the Bible as well as topical studies that range from about one to seven weeks each.
One feature that I really like is that at the top of the page for each day's reading, there are links for each set of verses, so when you click the link, that passage opens on Biblia.com. How easy is that?!
Getting Started
You can choose to read via your web browser (which is what I do), or download the app.
On the app, you can browse the She Reads Truth Bible for free (more discussion on their Bible in a sec!), or you can purchase a subscription, currently only $1.99/month to have access to every reading plan. On the desktop site, there are also study books and other supplemental materials you can purchase, if you want to go deeper with a particular reading plan.
If you want to get a feel for the the site and what type of writings you'll encounter, I would recommend starting with "She is Me" from the Study, Holding Tight to Permanent. This 7-day study features excerpts from the book, She Reads Truth, which was written by the website's founders.
Currently, there are over 50 studies to choose from on the site, with 15 new plans added each year.
Join the community
You can jump into any plan on the site at any time, and read on your own. But, if you follow the "current plan" (there will be announcements you can watch for when a new study is upcoming) — there is another wonderful feature — you can participate in the SRT community.
I have to admit that I generally shy away from the comments section from most websites nowadays — I mean wow, it can get ugly, right? But you won't find that type of negativity at She Reads Truth.
Related Post: Real Jesus, True Freedom
After my daily reading, I spend a lot of time reading through the comments because what I find is so insightful and encouraging. It's just amazing to see how women from many different walks of life face the same dreams, goals, aspirations, losses, tragedies, and heartaches
I am truly blessed just by reading what others in the SRT community have to say and to see how each member builds up each other in truth and in love.
The She Reads Truth Bible
She Reads Truth also has an ESV Bible available!
I have this Bible in poppy linen as shown above. It is a BEAUTIFUL Bible, and it includes more of the same insightful writings interspersed in each chapter. I highly recommend this Bible if you're looking for a new one this year. There are several other colors & styles to choose from too.

One last feature that I think is cool – there is a graphic that ties in at the bottom of each reading that you can screenshot or download and save as your lock screen on your phone. It can serve as inspiration, a memory verse and also a constant reminder to get in the Word consistently.
There is now "He Reads Truth" and "Kids Read Truth" also – so check them out, and get the whole family engaged in the Word.
If you're a She Reads Truth reader, leave a comment below and tell us what you think!
Other posts in the Favorite Online Bible Study Series:
Part 3: Doorposts and the Blue Letter Bible