A quick oat bread recipe that's easy to customize for your specific needs.
For me, making bread at home is a therapeutic and satisfying task.
I've been making different kinds of sandwich breads for years, including a 5-ingredient white bread recipe that my family adores.
But besides yeast breads, there are so many great alternatives for those who want bread without the wait!
Quick breads meet this need.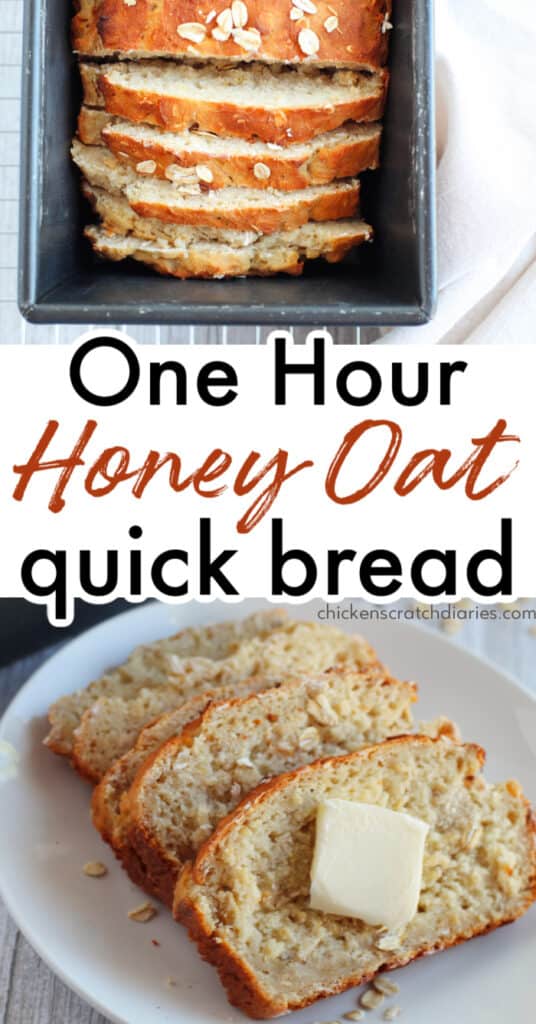 If you've ever made a banana nut loaf or maybe a zucchini bread, these are considered "quick" breads.
They typically use baking powder and/or baking soda as the leavening agent, instead of yeast.
Therefore, you can make your bread, and eat it too- without spending hours in the kitchen.
This post likely contains affiliate links. Please see our disclosure for more info.
Oatmeal quick bread- ingredient options
This is an easy recipe for even beginner bread bakers.
It makes a sweet bread with a nutty flavor which is perfect for slathering with jam or apple butter. (Or just butter. YUM.)
However, you can experiment with several ingredients to make it best fit your dietary needs.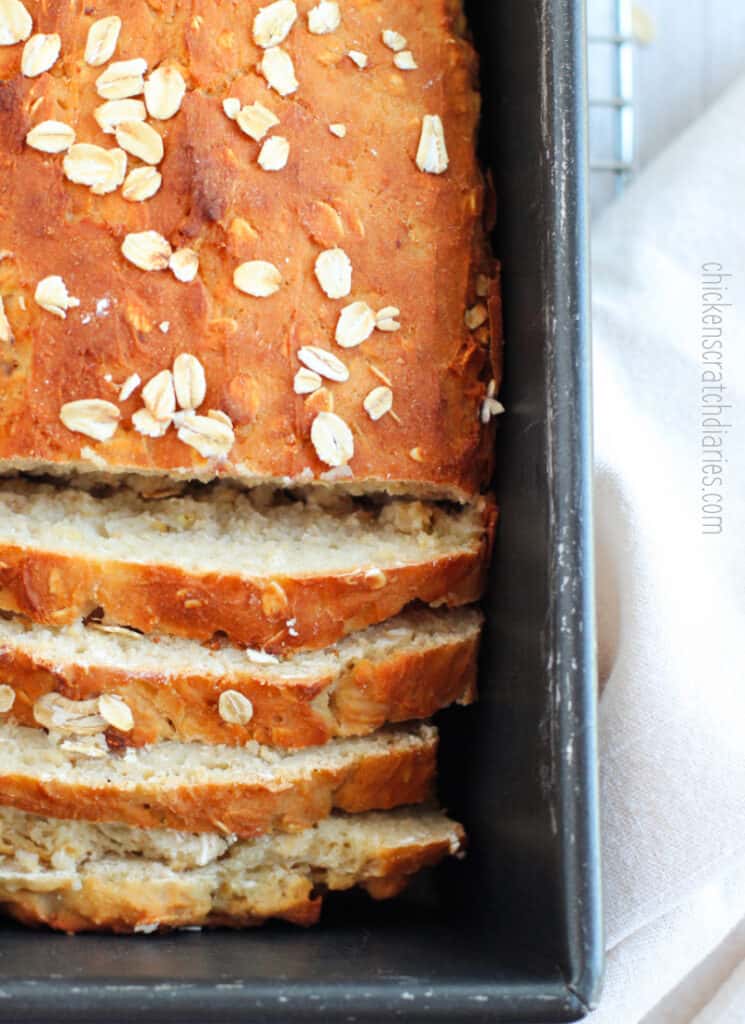 Flour
The white all-purpose flour can easily be replaced with an all-purpose gluten-free flour like Cup4Cup.
These blends create an awesome loaf of gluten-free honey oat quick bread.
Note: the texture of the batter will be somewhat stickier with this blend than with white flour.
If you're used to gluten-free baking, you probably already know this.
My friend Stephanie at The Ranchers Homestead shares how to make your own gluten-free flour blend and how to use it in recipes.
It's more economical than buying the store-bought blends by far!
You can find it in the e-book, Gluten-Free Homestead Pantry.
Eggs
My little nephew is allergic to eggs so I'm always experimenting with egg-free recipes for when he's visiting.
1/4 cup of applesauce can be substituted for a large egg.
(So you would use a total of 1/2 cup for this recipe).
With egg prices being a little steep, many are using "flax eggs" as well.
You can mix 1 tablespoon of flax seed meal mixed with 3 tablespoons of water and let rest for several minutes before adding to the wet ingredients.
Honey
Honey adds moisture, helps to bind ingredients and is a natural sweetener. I like to buy raw, local honey for the health benefits.
Whenever possible, I stick with honey in baking recipes.
Honey oat quick bread simply makes a nice combination of flavors and textures.
But if you don't have honey, you can use white cane sugar instead in the same ratio.
(Or slightly more if you'd like, as honey is sweeter).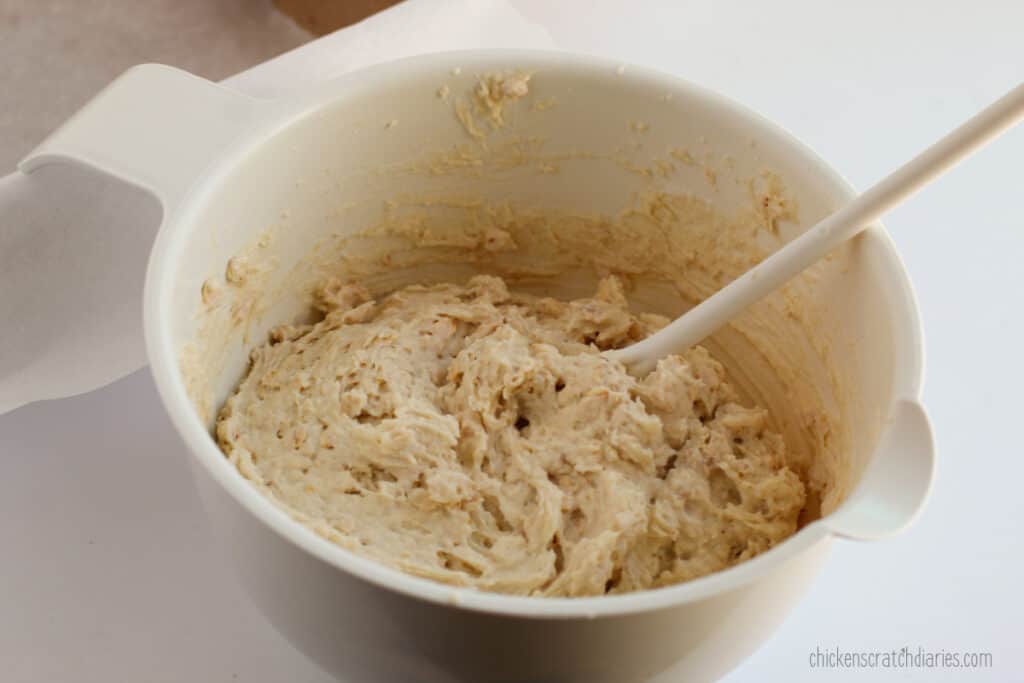 Milk
I often substitute coconut milk for whole milk and it works nicely in quick breads and muffins.
Canned coconut milk has the fat content you're looking for from the whole milk and you won't notice the flavor in the end product.
You can also substitute coconut yogurt for dairy yogurt.
Old-fashioned oats
Old fashioned rolled oats are my favorite oats to bake with as they have a firmer texture than quick oats, and are delicious in baked goods.
If you're gluten-free, of course you'll want to use certified gluten-free rolled oats like the ones you can buy from Azure Standard food co-op.
(See if there is a local drop in your area.)
Read next: Oat Flour Pancake Recipe
Tips for making the perfect Quick Oat Bread
First of all, I have a love affair with unbleached parchment paper sheets.
(These are the ones I use.)
I can't explain how much time these save me.
No more random stuck-on patches of bread.
I hardly even need to wash the bread pans anymore, to be honest.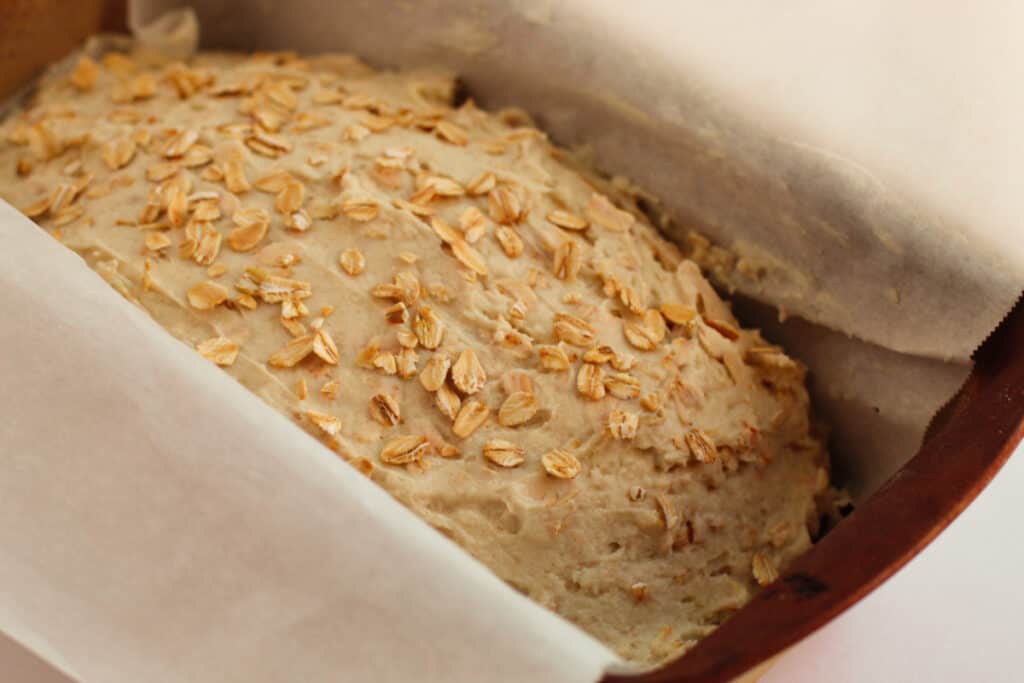 Second, as with any quick bread, you want to make sure the ingredients are incorporated without over-mixing.
Too much mixing can equal a deflated loaf.
A big wooden corner spoon (I have these, which are perfect) can make it easier.
And lastly, don't try to mix wet and dry ingredients all in one bowl at the same time.
I know it's tempting, but it really makes a difference to mix them separately before combining.
You'll get a more evenly distributed batter and there is less chance of over-working it.
Be sure to let us know how your Quick Oat Bread turns out in the comments!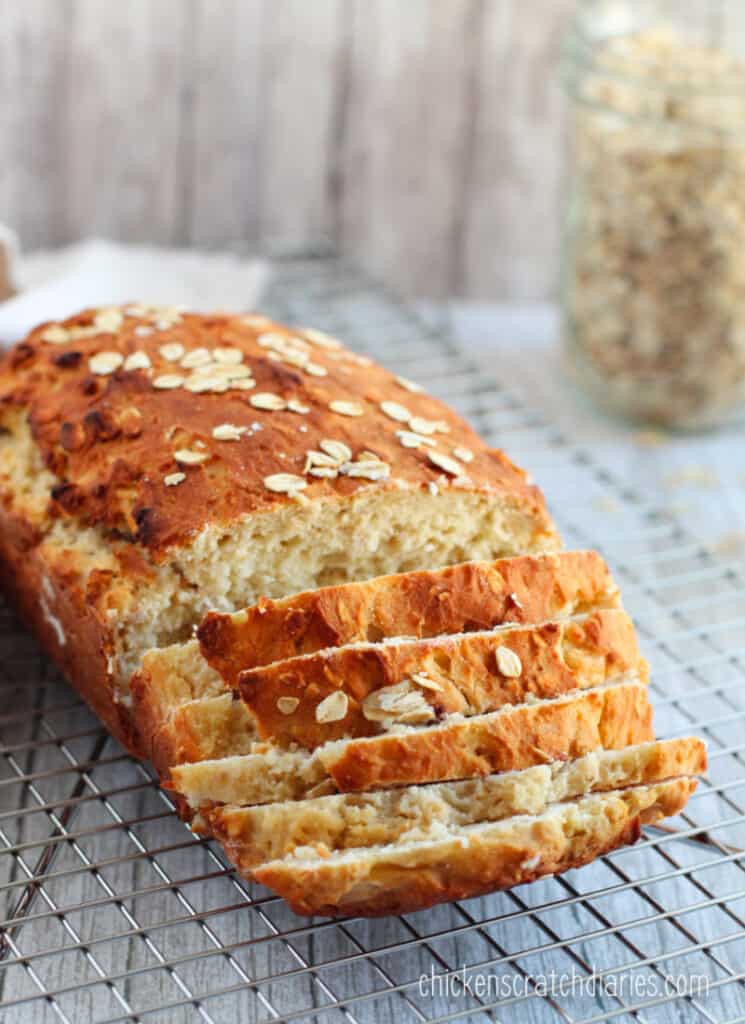 Yield: 1 loaf
Quick Oat Bread Recipe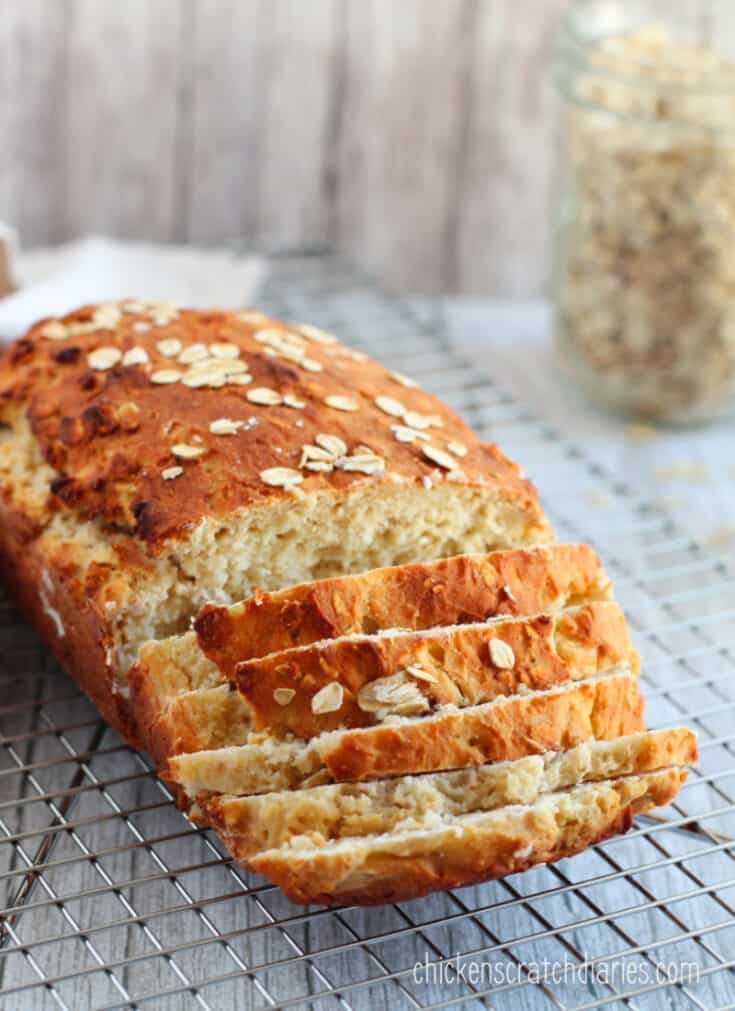 An easy quick bread that can be made gluten-free and dairy-free if needed. Ready in an hour or under!
Ingredients
2 cups all-purpose flour (or gluten-free AP flour)
IF USING GF flour blend: add 3/4 tsp xanthan gum (only if your blend does NOT contain it)
2-1/2 teaspoons baking powder
1 tsp salt
1 large egg (or 1/4 cup applesauce)
1 cup whole milk (or 1 cup canned coconut milk)
1 cup whole milk plain Greek yogurt
1/4 cup unsweetened applesauce
1/4 cup honey
1 cup old-fashioned oats (certified gluten-free if necessary)
Instructions
Preheat oven to 375 degrees F. Line a 9x5" loaf pan with parchment paper and set aside.
In a large mixing bowl, add flour (and xanthan gum if using GF flour blend), baking powder and salt. Whisk to combine.
In a medium bowl, beat the egg. Add milk, Greek yogurt, applesauce, honey and oats. Stir to
combine.
Pour wet ingredients into the bowl of dry ingredients. Stir until fully incorporated.
Transfer dough to the prepared loaf pan and shape into a loaf. Sprinkle on additional oats and place in preheated oven to bake for 30-45 minutes or until a toothpick inserted into the center comes out clean. (Or approximately 190-200 degrees F internal temp.)
For additional browning on the outside of the loaf, set the oven to broil and bake the bread for an additional 5 minutes or until browned to your liking. (This may only be needed if using a gluten-free flour blend).
Remove bread from loaf plan and place on a cooling rack to cool completely before slicing and
serving.
Enjoy!



Related Products:
You might also like:
Crusty Artisan Loaf in a Dutch Oven