While some moms joke about hiding the Amazon packages from their husbands, my husband doesn't mind at all. That is, ever since we started using Amazon to cut our household expenses.
It's actually a fun challenge for me to figure out how to save more money with Amazon.
Saving while shopping? It sounds like an oxymoron, I know.
But the fact is, no matter how frugal you are, there are certain things you're going to buy on either a weekly, monthly or yearly basis no matter what.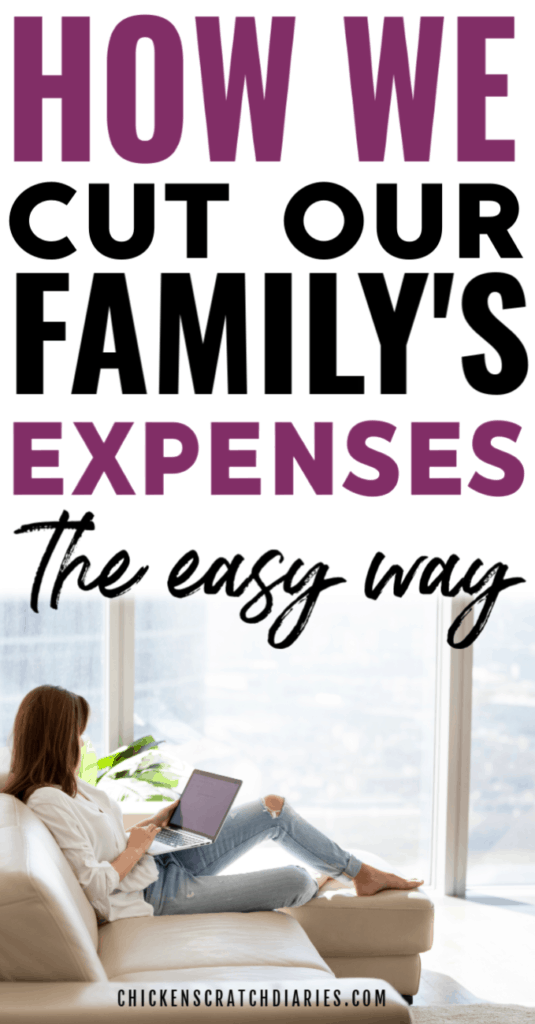 This post likely contains affiliate links. Please see our disclosure for more info.
Benefits of using Amazon Prime
Since everything from cleaning supplies to living room furniture can be found on Amazon, why not figure out how to best utilize this huge online marketplace to your advantage?
By shopping online for many of the things you need, you might even be able to stick to your family budget more closely.
You can take more time to make wise decisions than you might in a store where you can feel more pressured or tempted to overspend "in the moment".
With a digital shopping cart (and without kids distracting you!), you can take time to consider how much you really "need" the items you're shopping for in the first place.
And the best part: You always get free shipping on Prime-eligible items and your packages can be delivered to your doorstep in as little as one day.
Did I mention that Amazon also offers free returns on many items? You may never have to leave your house again. 🙂
Of course, it's still easy to go overboard shopping on any online platform, so you have to be disciplined no matter what.
Here are some of the best ways to use Amazon Prime if your goal is to SAVE money throughout the year:
Free Prime Video Streaming
Many people don't realize this service comes free with your Amazon Prime Membership.
What's included for free? Thousands of TV shows and videos, including tons of kids' titles.
Our family actually prefers the programming on Prime over Netflix.
While we have to be cautious of what shows we select as with anything else, I have found that it's much easier to monitor Amazon Video on the TV than Youtube on a tablet or phone.
I do use the Amazon Video app sometimes on my phone for myself though, when I want to watch TV in bed without waking up the kids.
So instead of paying for cable or even Netflix, you could be watching TV for free every month.
Read Next: 7 Streaming Video Sites for Kids (Consider these instead of YouTube)
Amazon Basics and Essentials Brand
Not only can you buy countless name-brand items at competitive prices on Amazon, you can save even more with Amazon Basics household items and Amazon Essentials clothing.
We've purchased everything from smart phone cords to office supplies, laundry items and kids' jackets from the Amazon Basics line.
You can find some of these items at prices significantly lower prices than other retailers.
Another thing I like about buying from Amazon's own line is that it comes directly from Amazon rather than a third-party seller or unknown seller.
There have been just a few times that I've bought what I thought was a "deal" on Amazon, such as makeup, for example, only to receive a product that was outdated, repackaged or in otherwise questionable condition.
When I buy directly from Amazon's own brand, I have an added sense of confidence that Amazon will stand behind their products and handle any of my concerns promptly.
Prime Day
It only comes once a year, but when it does it's BIG.
It's Amazon's "Christmas in July" event where you'll find steep discounts across nearly every category.
This year for the first time, the 2019 Prime Day sale was actually a 2-day event.
Just a few examples of things I've purchased on Prime Day that have saved us money:
The important thing for me is to keep a running list all year of items I actually need (including gift ideas or categories of ideas), in my planner.
This way, when Prime Day rolls around, I know what specifically to watch for.
Don't forget to sign up for a free 30-day trial of your Prime Membership ahead of time. When deals are posted, they have a limited quantity so you have to make decisions quickly!
There are typically special early-bird offers available for Prime Members as well.
If you missed Prime Day this year, be sure to also check their Black Friday and Cyber Monday events for similar deals to what you'll find on Prime Day!
Subscribe & Save
One thing that has saved me a lot of money over the years is Amazon Subscribe & Save.
I honestly can't remember the last time I sat down to clip a coupon! There just isn't time for that in my schedule anymore.
But instead of clipping coupons for things I buy regularly, I will often shop in the Subscribe & Save store.
You just choose the "subscribe & save" option when you add the items to your cart. You'll receive a discount on these items on top of Amazon's already low prices.
What do I use it the most for? Things like diapers, wipes, toilet paper and paper towels. (Oh, and coffee once again!)
It's easy to use, you can pick the frequency of your shipments and it's simple to cancel if you change your mind.
Bonus: you can check the Subscribe & Save coupons page for additional savings on certain subscription items! No scissors required. 😉
Amazon Kids+
If you haven't heard of Amazon Kids+, it's a great service for kids that you can subscribe to for just a few dollars a month (depending on the option you choose).
Once you subscribe, you have access to over 10,000 age-appropriate books, movies and TV shows.
I love it because when my 5-year-old gets screentime, I don't have to worry about what he's viewing. (As I mentioned, I'm not a fan of YouTube for that reason!)
So how does this save us money exactly?
Because we can avoid library fines by reading some of our books in digital form, and watching the TV and movies from this service instead of RedBox or other places.
I rarely buy Wii games anymore because it's much cheaper to let the kids play them within the Amazon Kids+ app. And- no more scratched discs.
For literally just a few bucks a month it keeps my younger kids entertained and gives me much-needed time to work, so it's a win in my book!
Amazon Deals
On top of all these other ways to save, Amazon has Deals of the Day/ Lightning Deals, which you can find on their home page.
These are specific items marked down for a specific amount of time.
You will find items from nearly every category across Amazon, from food to clothing to household essentials, toys, electronics, office supplies and more.
When I'm looking for a birthday gift and I'm not sure what I want to buy, I'll look at Today's Deals and see if there is a significant markdown on something that my gift-recipient would love.
Just be sure to look at the regular price versus the "deal" price to make sure that it's actually a good buy!
So Many Ways to Save
These are just a few of the biggest ways we save money by taking advantage of our Prime Membership.
There are many other features you can take advantage of, such as the Audible membership, (audio books) which can save you significantly if you're an avid book-buyer.
How YOU save money on Amazon will depend on your individual family's needs.
But truly, there are so many ways to cut costs with Amazon that if you use your membership wisely, it will pay for itself and then some each year.
Not to mention the gas money and headaches you'll save not worrying about hunting down the best deal all over town.
Tell us some of your favorite ways to save using Amazon Prime in the comments below!
You might also like:
• Easy Money-Saving Tips to Reduce your Grocery Bill
• Effective ways to Improve your Family Finances
• Creative Ideas for Frugal Family Living
• Back to School Budgeting Tips
• UHSM Healthcare Sharing Programs: How to save Money on Healthcare