Did you know that about 43 percent of Americans are performing at least part of their jobs from home these days?
With the ever-increasing costs of fuel and daycare, among other reasons, work-at-home opportunities are very enticing — especially for moms.
I've been fortunate enough to have been able to work from home at least part of the time, on and off, over the past several years.
This arrangement has allowed me to stay in the workforce and contribute to the family income, while saving money on childcare and having more flexibility and time with my kids during the day.
While researching a wide range of work-at-home ideas in recent years, what I've learned is that there are LOTS of ways to earn extra income or even a full-time replacement income if you have an internet connection and are willing to put in the time to learn new things.
In fact, I believe that today there are more opportunities than ever to earn money from home.
It's all a matter of matching up your particular set of skills and talents with the right tools and determination!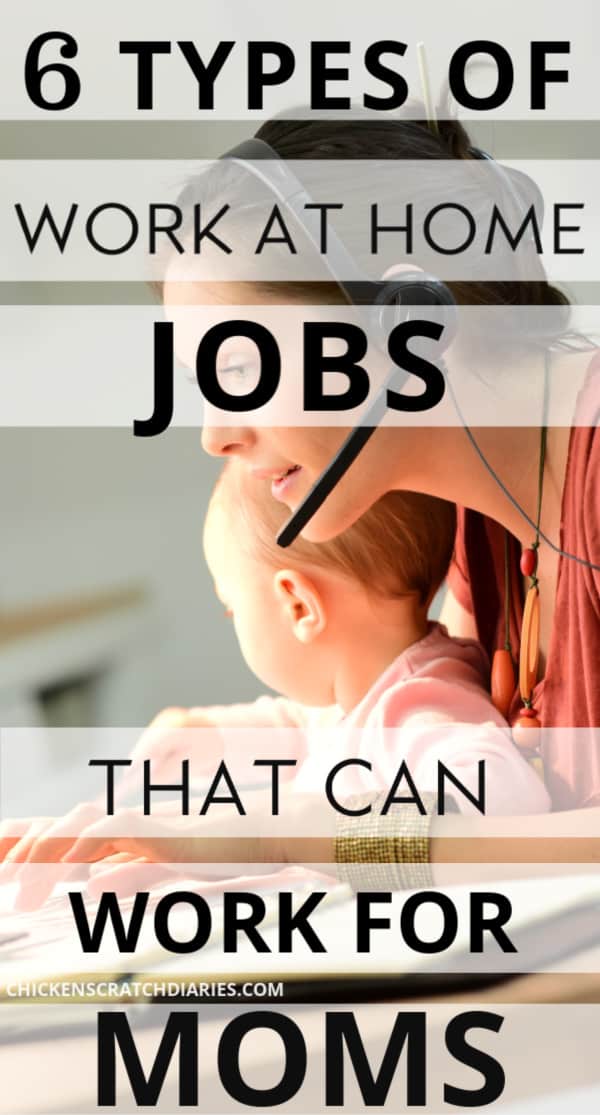 This post likely contains affiliate links. Please see our disclosure for more info.
Below is a fairly detailed list of ideas which could land you anything from a part-time "side hustle" to a full-time work-at-home career.
Because I have spent considerable time studying various work-at-home opportunities over the last few years, I decided to really narrow down this list to ones that I think a variety of people could benefit from and those that would particularly fit moms with kids at home.
For example, handling customer service calls all day probably isn't the most logical career when you're going to have background noise (yes, kids are noisy), and online jobs that require a set schedule aren't going to be the easiest choice if flexibility is your goal in the first place.
Realistic Work at Home Job Ideas
How do I know these are good options? I've done and/or tried several of these out for myself!
I also have friends and other moms that I know who have used these ideas to successfully find online work.
Take a look at each of these ideas and see which ones might work for you!
• Related posts:
6 MORE Work from Home Jobs that are Perfect for Moms
How to be a Successful Work at Home Mom
Telecommuting
Depending on your current job responsibilities, taking your current job home (part time or even full-time) is the first idea you should consider, if you already have a great job that you love — but you're looking for more flexibility, a change of pace and/or the ability to cut back on childcare costs.
By staying in your current position, you won't have to learn new skills or a break into a completely new field, and you get to keep your benefits and other perks that come with being an established employee.
This might fit you if: You work in a professional career or if you have the type of job that doesn't require constant face-to-face contact with clients or customers every day. Typically you need to have worked at your job for a decent amount of time, be an outstanding, reliable and trustworthy employee and have great time management skills.
A few examples: Office managers, paralegals, engineers, accountants, graphic designers, consultants, directors, case managers and even nurses work remotely at many companies. Some state and federal jobs are starting to allow telecommuting as well.
Considerations: Think about how you will balance your at-the-office tasks versus at-home tasks. If you have kids at home, you may want to save outgoing calls for the days you're in the office and do more computer-oriented tasks such as data entry and research from home.
Also consider how you will stay organized transferring your work materials between the office and home – so that you don't forget important items at either work space.
You will also need to make sure that client information is kept confidential while at home, and keep your antivirus software up to date if you're using your personal computer for work at home. Your company will likely have security protocols in place that you will need to be aware of when working remotely.
If you've been at your job for a decent amount of time, are an outstanding employee and you think your job could be performed at home – even just part of the week – it's worth discussing this option with your employer!
Also, check out Career Contessa's tips for pitching a flexible schedule to your employer.
Direct Sales
Who doesn't love learning about new and innovative products while hanging out with a few friends? Most people do. Especially if snack foods are involved (or maybe that's just me).
I have to admit something first: I have not been very successful as a direct sales consultant in the past! It just wasn't the right fit for my personality. However, I can think of at least 3 people that I personally know that have carved out very successful careers from their direct sales ventures. So I know that it can be done!
This might fit you if: You love to socialize and are great at networking; you have marketing skills (especially internet marketing) or are willing to learn how to promote products effectively; you thrive on setting and reaching goals and are looking for a very flexible work arrangement.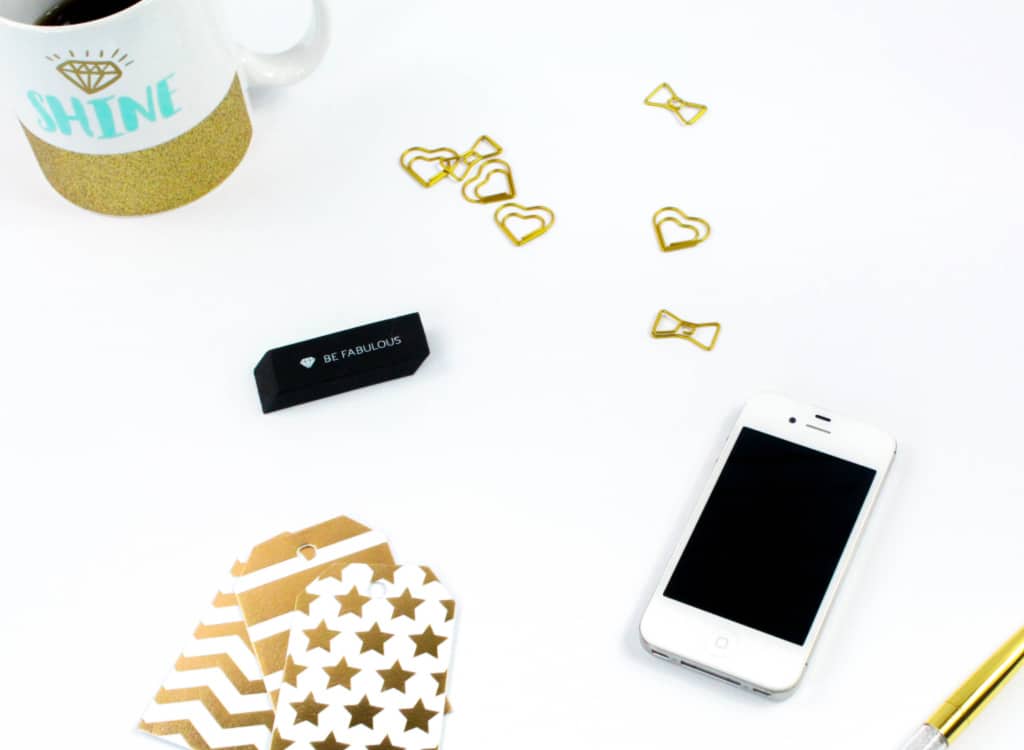 Resources/Where to Start: Some of the top-ranking companies according to Business for Home's Direct Selling Momentum Ranks, February 2017 include: Avon, Pampered Chef, Arbonne International, Stella and Dot and Lularoe. A few of the newer companies that you may not have heard of but are getting a lot of internet buzz recently: Damsel in Defense; BeautyCounter; Monat; and Perfectly Posh.
Considerations: Think about products or categories of products that you LOVE and can't stop talking about. It will be easy for you to promote products and services that you're most passionate about.
Do research on what is required as a consultant such as start-up costs, minimum sales required to maintain consultant status, and what type of equipment/inventory you have to purchase to be successful.
Because of the very flexible nature of these jobs, if you're looking to make direct sales a full-time career, you'll need to treat it like such: set regular hours, keep a schedule book outlining daily tasks and goals you want to reach (along with a solid plan to get there). And as always – give your customers the red-carpet treatment if you want to turn them into lifetime customers.
Also make sure to join online communities such as Facebook groups to connect with your team and to learn about training opportunities (videos, in person meetings).
Find a mentor that has been a successful consultant with your company and do what they do!
Online Teaching
Many students are turning to online education as a way to have access to a wider variety of courses and degree programs without having to travel or relocate in order to complete their education.
Adjunct (or non-tenured, often part-time) college instructors are needed across the country to meet this need.
In addition to teaching college courses, teaching English as a second language to students in other countries is becoming a very popular work-at-home job.
This may be a fit for you if: You have a graduate degree (usually a Master's or sometimes a Doctorate is required, depending on the level of courses and type of program); you have experience in your field of study and enjoy sharing your knowledge with others; you have prior teaching experience at any level; you have excellent grammar and written communication skills; you can adapt to new technology and web-based platforms.
Resources/Where to Start: A multitude of online universities such as University of Phoenix and Kaplan University offer teaching positions that can be performed remotely. Most brick-and-mortar universities and colleges also have online courses or even full online degree programs so it's a good idea to have your resume on file at a variety of institutions.
I would recommend starting with colleges in your local area, and be sure to read reviews on any online institutions you're planning to apply to but are not not familiar with.
For teaching at the college/university level, check out Higher Ed Jobs; Indeed.com, and GetEducated.com for job listings and Best Colleges.Com's List of the 50 Best Online Colleges.
As I mentioned, teaching English as a second language (ESL) online is another great option for teachers. Most of these jobs will only require a Bachelor's Degree and not all require previous teaching experience (other professional experience may apply).
By the way, these positions usually do NOT require you to be multilingual – they simply hire native English speakers.
Check out: VIP Kid – a high-ranking company that hires people to teach English to children in China via streaming video. I have heard stellar reviews from moms who have worked with VIP Kid (including several of my local friends) and I believe this would be an awesome side hustle for former teachers or teachers that have taken some time off to stay home with their children.
Considerations: Find out ahead of time how you will be paid – a flat salary or by percentage based on number of students enrolled (as a percentage-based salary can mean a big variance in your pay that you will have little control over).
For teaching that requires streaming video, you will need to make sure you have a very fast, reliable internet service and ensure that you can have at least a small block of time without interruption from your tiny "helpers" in the house. 🙂
Freelance and Contract Work

Do you have marketable skills that are in demand? If you are (or you want to be) a writer, designer, editor, virtual assistant, transcriptionist or have a background in computers/web services, sales or consulting (just to name a few), it is likely you can find work online!
This might be a fit for you if: You are comfortable working independently and relying on written instructions (often communicating with clients via email only); you are very detail-oriented; are self-driven to meet deadlines; can accept constructive criticism; are willing to market yourself and work your way up as you establish your reputation in the freelance marketplace.
Resources/Where to Start: At job board platforms such as UpWork, Guru, Freelancer and Fiverr, you can create an online profile and start peddling your services and/or searching for work within minutes!
Even if you don't think you have "marketable skills" — check out some of the listings on these sites and you might be surprised that your experience or training could match up exactly with a job posting you wouldn't have realized even existed before.
Many of the "pros" in the freelance industry recommend that if you really want to make a career out of freelancing, you can start by building your portfolio of skills and recommendations with the some of the job boards I mentioned above.
Related post: Thinking About Becoming a Transcriptionist? (What you should know first)
However, if you can start your own freelancing business and bring the clients to you via your own website, you can earn a much higher income and have the ability to set your own rates.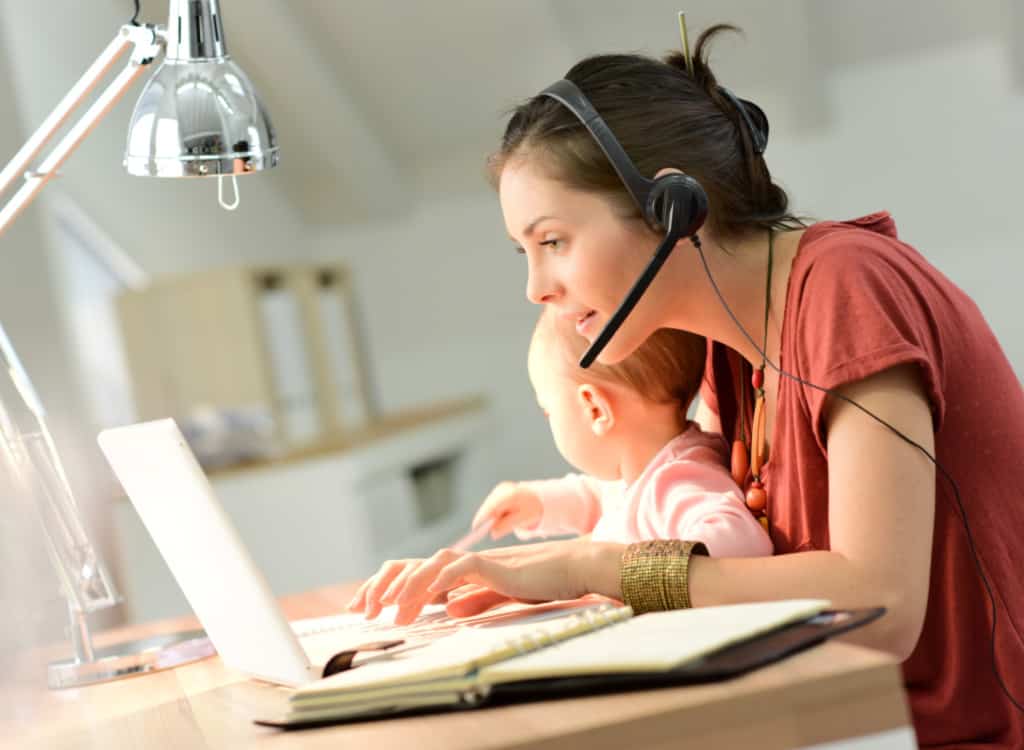 Transcribe Anywhere offers a free mini course in General Transcription and one in Legal Transcription that can help you decide if a transcription career may be a good fit for you.
Elna Cain has many great resources on her site that you should check out if you are thinking about a freelance writing career (these tips would apply to many types of freelance services as well). See: The Quickest Way to Start Freelance Writing and Make Money Doing it.
Considerations: Freelancing can be a feast-or-famine way of life: your ability to earn will largely depend upon your drive to find clients who are looking for you.
You need to have a killer resume that highlights any and all relevant experience along with references or samples of your work.
You have to find ways to distinguish yourself from all the other fish in the freelance sea, so you'll need to get creative! But it's very possible to earn a living this way, as Forbes reports that freelance work now accounts for 35% of the US workforce.
Search Engine and Social Media Evaluation
These are two types of contract jobs that are not well-known by many, but are gaining popularity as a side hustle or part-time venture that are somewhat in a category of their own.
So what in the world is a Search Engine Evaluator? Well, because technology and search engines aren't perfect, believe it or not, big companies like Google contract with other companies who will hire people to evaluate the effectiveness of their search engines.
Basically, they need real humans to perform web searches, poke around websites (yes, that's the technical term) and perform specific tasks to see how well the search engine results match up with what people are actually looking for when they type a question or command into the web browser search bar.
Social media evaluation is much the same, except it is done on a variety of social media platforms.
This might be a fit for you if: You are extremely detail-oriented, have excellent written communication skills, don't mind tedious tasks and have the patience to do internet research on a very wide range of topics (depending on what tasks you're given for a particular project).
Resources/Where to Start: Some of the top companies to look at in these fields: Leapforce, Appen, and iSoftStone.
Considerations: Some of these positions require a Bachelor's Degree due to the research and writing that is required as part of the evaluation process. You will need a fast, reliable internet connection.
Project availability usually varies greatly (they cannot guarantee you a certain amount of hours or work). Also be sure to read your contract closely as most have a no-compete clause, meaning that you can't work for more than one company in this specific field at once.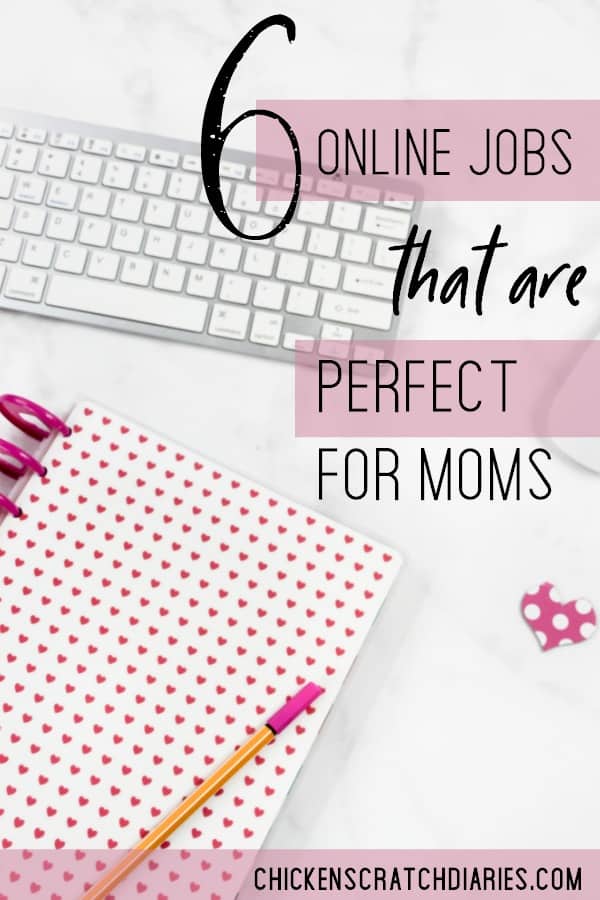 Blogging
You saw that coming didn't you?! Of course, I have to add blogging to this list!
There are so many reasons that blogging could be a great side hustle or even a full-time career for you.
As far as what exactly blogging entails, it really boils down to a few things: Having a passion to communicate, in writing, helpful information and/or inspiration to other people who want to know what you know or hear what you have to say.
It involves sparking conversation and (online) community around a particular set of ideas, a "niche", if you will.
Then it's up to you to continue to build this momentum as you learn how to build a business with a strategic marketing plan that meets the needs of your established community.
Sounds simple, right? 😉 Well, maybe not so simple, but that's the concept. And it can be truly rewarding for those who are seriously invested in the challenge.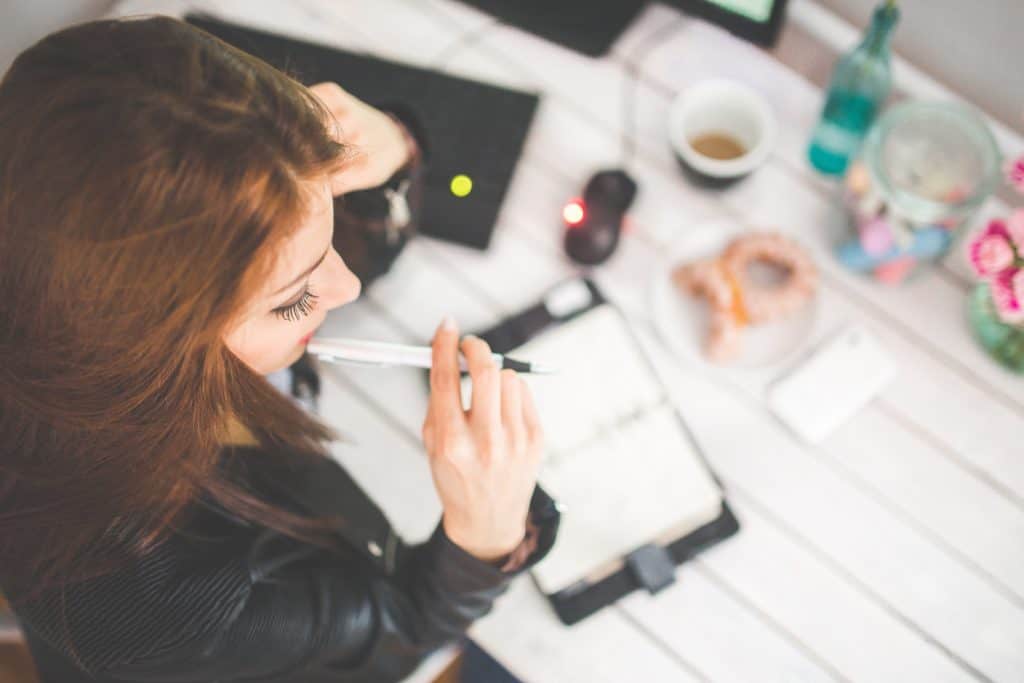 This might be a fit for you if: You love to write and have excellent written communication skills; you love the idea of your own creativity becoming your work product; you have some basic tech/web skills and/or are willing to dig in and learn it; have marketing skills and/or are willing to learn (notice a pattern here??); you enjoy researching topics and enriching the lives of others through your work.
There are literally a million different subjects you can write about so the possibilities are endless here!
Resources/Where to Start: You're reading a blog right now, in case you didn't know. 🙂
When you launch your own self-hosted blog, you work for yourself. You control the content on your website: you get to make all the decisions about what to write about, what products you might want to promote, who you want to collaborate with, what type of marketing you will use to get your blog in front of your readers, and the list goes on.
If you're going to build a blogging business, there are many ways to "monetize" your site.
Affiliate marketing, writing sponsored posts, display ads, developing and selling your own products and courses, and consulting are just a few ways you can earn income from your blog.
Before you get ahead of yourself, there's a few basic steps to begin with: You need to choose what you're going to write about, first of all. Next comes choosing a domain name and then web hosting.
You can start a mom blog for just a few dollars a month with most hosts. There are many free step-by-step guides for starting a WordPress blog for beginners which can help minimize the overwhelm of launching your blog.
Considerations: The best advice that I've read from the experts is that blogging as a business is a "marathon, not a sprint".
It is going to take a while to gain momentum and start earning income, but the possibilities for how far your blog can go and how much you can make from blogging are really exciting if you decide to take the plunge and get to work!
Similar to freelance work, you have to be willing to market your blog and your content on social media and continually learn new strategies as you go.
Other Work at Home Resources
These websites are some of the best places I've discovered for work-at-home job leads, ideas, and income-generating information:
What do you do from home to earn a living OR extra income (especially while juggling kids)? Leave a comment below!