Are you a mom looking for legitimate work from home job opportunities? If so, you definitely aren't alone.
Since I started working from home seven years ago (mostly – you can read more about my journey here), I have received so many questions from other women and moms who want/need to earn an income – but also desire to be at home with their kids.
After starting this blog, I decided that one of my goals was to explore a variety of legitimate work from home jobs for moms and write about them so that moms who want to pursue an online career can find the information they need.
I also want others to see that it IS possible to earn extra income or even a full-time income from home.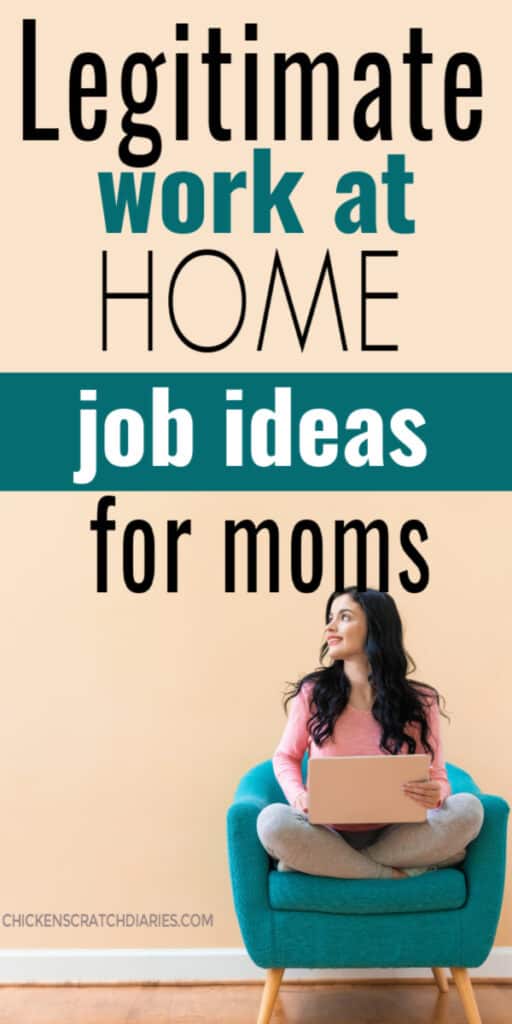 My previous post about work from home job opportunities was incredibly popular so I'm following it up with 6 more jobs that I believe many moms will be interested in learning more about.
This post likely contains affiliate links. Please see our disclosure for more info.
7 MORE Great Work-from-Home Ideas
In my case, I researched a ton of work from home opportunities before deciding to start a blog. Ultimately, I felt that blogging was the best fit for my skills, experience and passion.
But with all the work at home jobs that exist today, I wanted to help other moms narrow down a few more ideas that I fully believe are legitimate ways to earn a profit online. One of these could be your new work-from-home adventure:
#1. Proofreading/Editing
It takes a special person to have an eye for proofreading, but it takes a skilled person to be an excellent proofreader.
This is why the demand for trained, competent proofreaders has only gone up in recent years, as digital publishing has exploded on the internet.
What do people hire proofreaders for?
Proofreaders are needed from everything to transcripts to e-books, to blog posts and so much more.
Once you become trained, you will discover there are so many places to market your services online.
Is there proofreading training available online?
There are many programs out there, but the one that's considered most reputable is Caitlyn Pyle's Proofread Anywhere course.
As an extremely successful proofreading business owner, Caitlyn shows her students the ropes in a comprehensive training program that's designed to give you the skills you need to find work as soon as possible.
Are you a good fit?
It's always important to think about what you enjoy- not just what you could possibly earn money doing. If you enjoy reading, writing, and tend to catch grammatical errors in everything you read, this could be one indicator you would enjoy proofreading as a career.
Most proofreaders are freelancers, meaning they own their own business and actively seek clients online. The Proofread Anywhere team explains the ins and outs of what it takes to be a successful proofreader.
They offer a free webinar that could help you decide if you're a good fit for this training.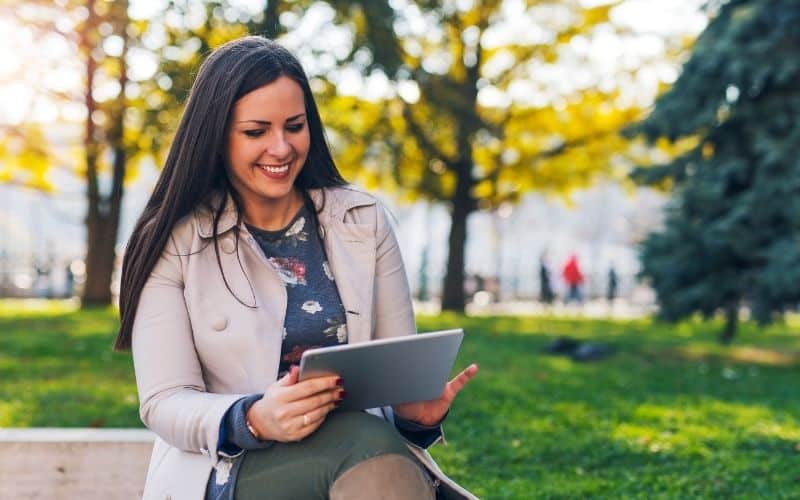 #2. Resell items with Amazon FBA
Have you heard of the Larrew Family, also known as "The Selling Family?". They are experts in selling on Amazon and they are killing it in the online business world.
Jessica Larrew was able to make a 6-figure profit in her first year selling full-time on Amazon through retail arbitrage.
What is Amazon FBA?
What does this all mean: FBA, arbitrage? FBA is "fulfilled by Amazon", and "arbitrage" simply means finding low-priced items (such as on Target clearance) and reselling them to make a profit.
So you "source" the items (find them & purchase them), pack & ship to Amazon and they fulfill the orders for you as the items sell.
You get to keep the profit – the cost of the sold item minus what you paid, less any fees.
How to Learn the Ropes
If this sounds like an interesting business idea, I would highly recommend taking a look at Jessica's free starter course to get started on the right track.
With any online business, I believe you need to invest in the right tools in order to be successful, and the Larrew's training will help you with this.
That said, this is a business that is fairly inexpensive to start but can produce high yield with proper training and technique.
What I like about the Amazon FBA business concept
I think this is an excellent opportunity for families who want to work from home.
I strongly considered doing this as a side business several months ago and read through as much information as I could find about Amazon FBA. I also did the free training mentioned above.
It's definitely a legitimate way to earn an income as a stay-at-home parent. You could take your children with you to find low-priced items to resell, and/or you can even "source" your clearance products online.
Jessica explains this in detail in the Selling Family Courses including their main training program, Amazon Boot Camp.
#3. Start a Drop Shipping Business
Owning an online store and managing your inventory can come with loads of overhead costs which significantly cut into your profit as a business owner.
This is why drop shipping businesses have become popular in recent years for would-be store owners.
What is Drop Shipping?
With a drop shipping business, you can set up an online store and your supplier actually ships the merchandise directly to your customers.
This means you hold no physical inventory and do not have to invest money directly into said products.
You're basically the middleman between your customer and your supplier.
That's not to say there isn't a lot of work involved, however!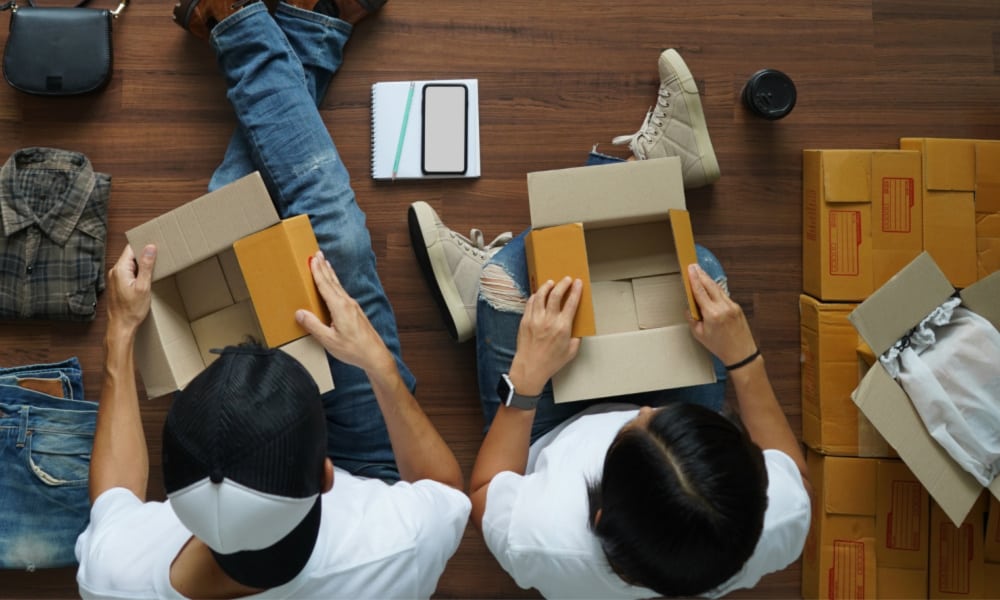 Why it's a good option for parents
Drop shipping is appealing to new entrepreneurs who want to own a business without a ton of startup costs typically associated with traditional models. This makes it ideal for families raising kids – who are often on a budget.
I would recommend checking out this article to see an overview of all the pros and cons of a drop shipping business versus an inventory-held model.
It's critical to spend time researching which items are popular and will do well in today's online marketplace before deciding on the type of store you will launch. You also need to have a solid plan for marketing your products to get eyes on them!
A few examples of drop shipping businesses you could start include:  women's or children's clothing boutique; jewelry or other women's accessories; tech accessories (phone cases, etc); health & wellness products and baby products.
How to get started
Digital Nomad Soul has a great post that can help you set up your own drop shipping business on the Shopify platform.
#4. Set up an Etsy or Ebay Shop
You're probably familiar with Etsy, a well-known platform for (mostly) handmade items of all kinds.
Types of Etsy products you could sell
You could sell a huge array of products such as:
jewelry
handmade baby items (think bows, bibs, photography props)
canned jellies
vintage items
personalized t-shirts
tumblers (HELLO, Cricut machine)
home decor
And don't forget about digital products! Printables such as clip art, gift tags and planners are hot products on Etsy these days.
You could also consider printable party supplies, artwork and even resume templates! Read more about how to create digital downloads for Etsy here.
There really is a HUGE list of items you could potentially profit from on Etsy.
Why Etsy is Great for Moms (or anyone)
Etsy is obviously an excellent way for crafters and creatives to market their products to a much larger audience than they can reach via their local craft fairs and vendor events.
And most handmade items, of course, can be made at home with kids underfoot. (Hey, I didn't say it was easy to do. Just possible!)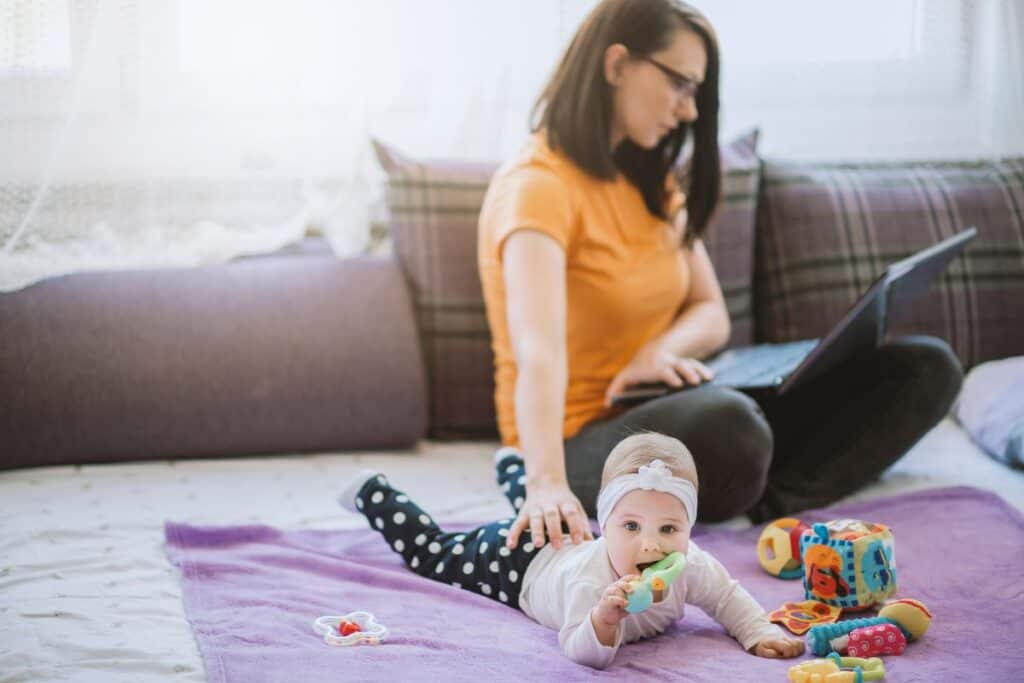 How to get started
Like just about any online business, you should research which items are popular and decide how best to market your products and make your shop stand out from the rest.
There's definitely much more involved to running a successful Etsy business than simply setting up a seller's account and listing products.
I found this guide to be a pretty comprehensive resource for the process of brainstorming, doing market research, pricing, to actually setting up your shop as a competitive seller on Etsy.
Selling on Ebay
Of course, many of these same benefits to selling on Etsy will also apply to Ebay, although they are 2 distinct platforms. Ebay is simply more known for re-selling than crafting and creative products.
Why an Ebay business is great for Moms today
I used to sell frequently on Ebay, and shipping products today is much easier than it was years ago when you had to lug all your items to the post office.
You can print almost any label at home and schedule a package pickup from your front porch — another great benefit for moms with little ones at home.
This is obviously a work at home opportunity that could allow you great flexibility, work any hours you choose and take your kids along with you as you find items to flip (much like Amazon FBA).
How to Learn the Ropes
Not long ago, I met Rob and Melissa in a business-related Facebook group and learned about their course which teaches you how to flip items for a profit on Ebay.
Their Flea Market Flipper University offers 3 different levels of courses for beginning sellers all the way through advanced.
Rob and Melissa at Flea Market Flippers have perfected the art of flipping items for profit and were able to turn their flipping hobby into a full-time, six-figure per year business.
Why this training makes sense
Their course will teach you how to maximize your online sales potential without having to sell at high-volume. Their formula focuses on learning which items you can potentially flip for the greatest profit. This keeps you from wasting your time selling tons of smaller items for a very small return.
They also cover in detail how to ship items without losing all your profit in shipping costs.
If I were to start a flipping business, I would want to learn the best way to get started by those who've actually been successful – so that you can start earning sooner rather than later.
You can preview this course by checking out the free webinar here.
#5. Start a YouTube Channel
Starting a profitable YouTube channel is similar to learning to blog, in the sense that you're a "content marketer."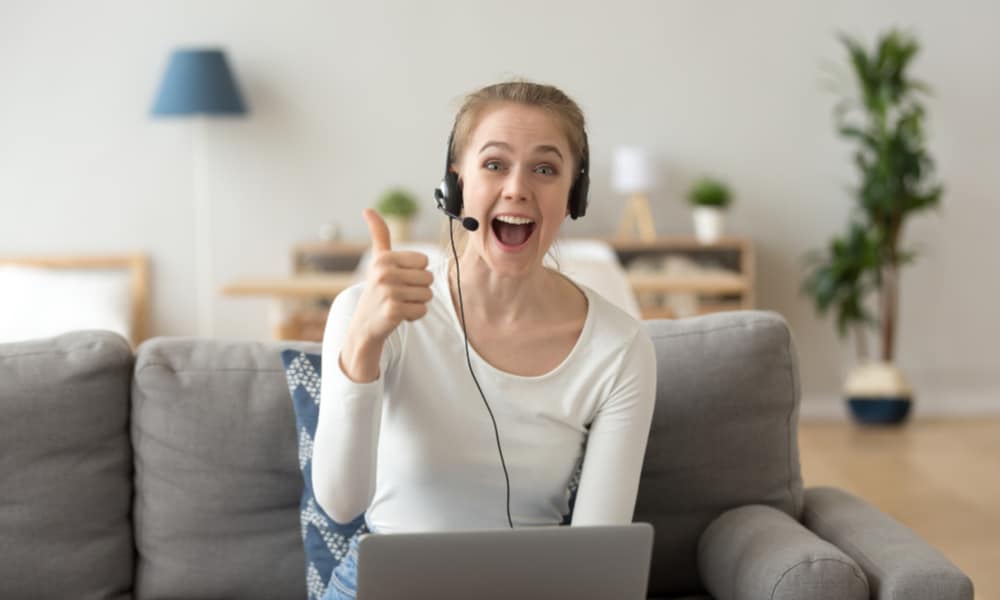 What is content marketing exactly?
Content is simply what you're delivering to the masses. While blogs and books deliver written content (ideas, printables), video content is pretty self-explanatory.
You decide what your content will consist of, however (entertaining, teaching or how-to, for instance) – and how you will earn money through your business (sponsorships, advertising, etc.).
Video marketing has become an increasingly popular medium, as you probably know. Which makes sense, as YouTube is now the second largest search engine next to Google.
Forbes reports that 4 in 5 millennials view videos when researching a product they plan to purchase.
How to learn more
Like blogging, there are a billion topics to choose from when it comes to deciding what you will create and market. YouTube offers Creator Academy education – free videos that can help you learn the ropes, including topics such as discovering your niche.
Here's a helpful article on how to get started with your YouTube channel, from the perspective of a mom blogger who focuses on lifestyle/DIY topics.
We've all heard about the YouTube stars who've made a tidy living playing with toys on camera. Seriously.
So think outside the box, do your research, decide what you're passionate about and go for it!
#6. Start a Virtual Bookkeeping Business
Bookkeeping is one of those practical jobs that will always be in demand, pays very decently and can easily be performed at home.
You don't necessarily need an accounting degree to be a bookkeeper, either.
Practical experience in an office setting is helpful (for understanding basic accounting tasks and spreadsheets), but not required.
However, if you have good computer and communication skills, there is online training available to get you started in this field even without experience.
Where to find legitimate online training in bookeeping
Ben Robinson, a former CPA firm owner, started a business for this very purpose, to teach others how to start a virtual bookkeeping business.
Check out his free starter course on how to get started as an online bookeeper.
(P.S., there are very few legitimate online courses on this topic, and even fewer that go into depth at this level!)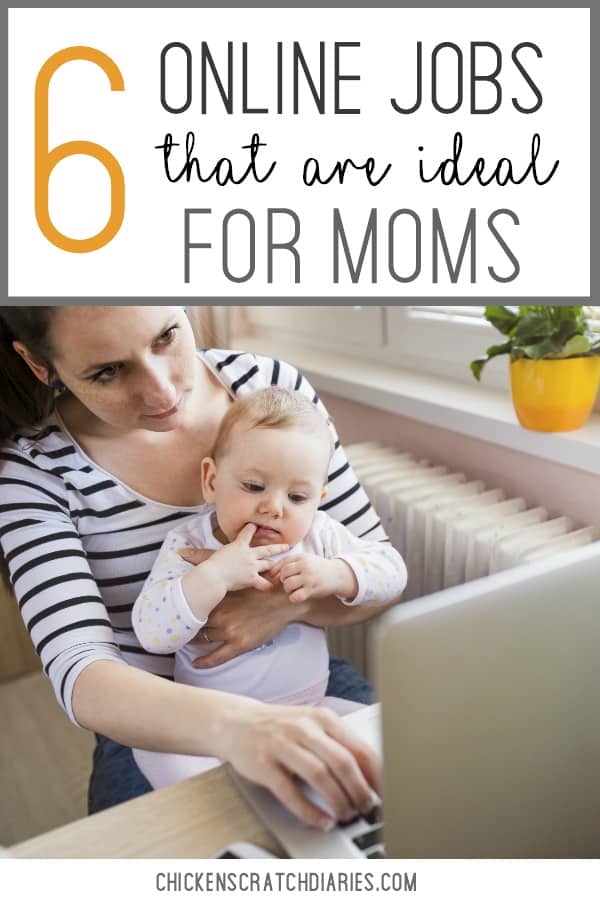 #7. Grade Tests Online
Lastly, here's an option for those that don't want to start their own business necessarily, but still want the flexibility of working from home.
If you live in the U.S., have teaching experience, a degree or some college education, you could apply to work as Test Scorer.
What does it pay?
From my research, the pay with most test scoring companies typically starts around $10/hour but you can earn much more based upon your performance and experience.
There are several companies that hire remote workers to grade everything from standardized tests for grade school students to tests for ESL learners to Praxis exams for teachers.
You can search for test scoring jobs at:
• ETS
• ACT
Finding the Right Work-at-Home fit
For moms hoping to work at home this year, I realize it can be daunting finding the right opportunity that works well with your busy lifestyle.
However, there are so many options today that I really believe that those with enough determination and willingness to learn can start an at-home business or work-at-home job and give up the 9-5 grind once and for all.
I have four kids and I'll admit that while it's not easy balancing any job with kids, the transition has been so worthwhile for our family.  And I know it can be for yours, too!
You might also like:
• The Unexpected Benefits of a Side Hustle from Home
• Is Transcription a Good Work at Home Career Choice Today? (from a former transcriptionist)
• The Best Work at Home Jobs for Moms
• How to Ship Items with Facebook Marketplace (easy side hustle)
Originally published 2/6/18; last updated 4/5/21