If you've been thinking about making the switch to a more natural lifestyle, there are many things to consider.
Today, the definition of what is truly "healthy" can vary greatly, depending on who you ask and what you intend to accomplish.
I've been on a mission over the last few years to slowly incorporate more "natural" foods and household items into our daily routine.
To me, this is just as important as exercise and a balanced diet. (If you're looking for exercise tips here, you've landed on the wrong post, I'm afraid! 😉 )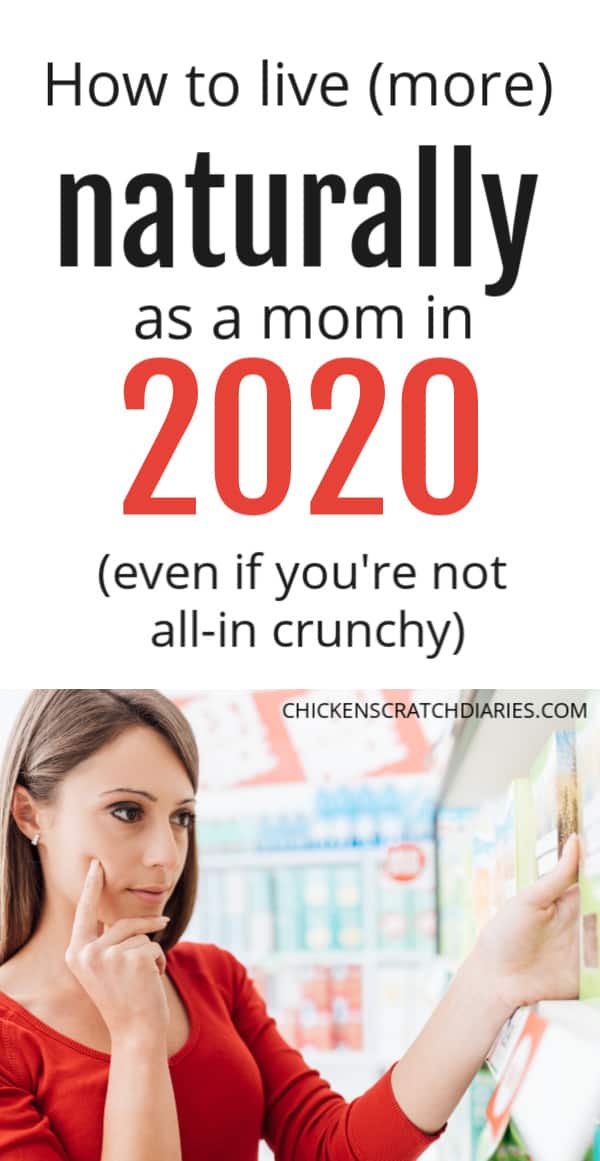 However, I am definitely what you'd call semi-crunchy (emphasis on the semi).
This post likely contains affiliate links. Please see our disclosure for more info.
Why I'm not over committed
As much as I'd love to go all-organic, toxin-free, GMO-free-everything all the time, it isn't always possible.
Part of this is due to the increased costs some of these items (not all).
And like a lot of people, I choose not to dive all-in with the crunchy lifestyle for practical reasons.
I'm a busy, working mom of four and I just don't have time to do all the things necessary to be green 100% of the time, you know? 🙂
For example, we used cloth diapers for a while, and right now we're not. And I'm ok with that.
I'd also love to ditch paper towels and save the Earth (well, mostly money) but I need them to save my sanity at this point in my life.
So instead, I look for simple swaps in the areas I'm most concerned about – balanced with what I fits into my budget and lifestyle.
Related Post: 5 "Must-Have" Crunchy Baby Items and their Practical Alternatives
6 Practical Tips towards a more Natural Lifestyle
Here are some of the practical things I've done in recent years – slow steps toward what I call "incremental natural living".
This involves reducing toxins and using more products and foods that occur in nature – instead of those created in a lab.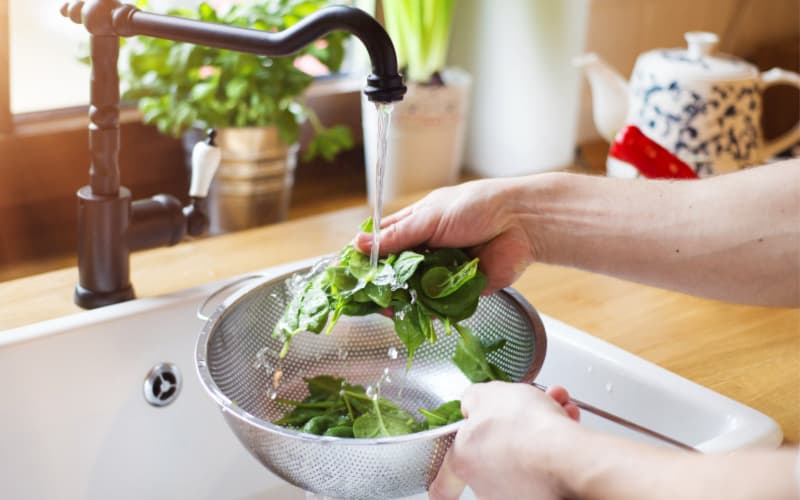 The things on this list are super-practical, easy to implement and some are even quite cost effective!
Take a look at these ideas to see what changes you might want to make for you and your family this year.
Natural Living Tip #1| Switch to fragrance-free or naturally scented products.
There is a BIG difference between synthetic fragrances (made in a lab) and natural or plant-based fragrances.
If you see the word "fragrance" in products you buy, this means it's the chemical form. ("Parfum" is another term you'll see.)
Otherwise, it will specifically state "peppermint essential oil" or "vanilla" or some naturally-scented substance that you can actually recognize on the label.
In general, there are very few mainstream cleaning products, bath and body products, air fresheners, etc that contain natural scents.
People want nice-smelling stuff, and it's simply cheaper to mass produce the chemical form.
The problem with chemical scents
The word "fragrance" can contain up to 3,000 chemicals, many of which are known toxins linked to cancer, birth defects –
-not to mention allergies and asthma conditions which are increasing at an alarming rate worldwide.
For years (like 15), I suffered from chronic sinus infections which were brought on by allergies. Strong fragrances seemed to be a trigger for me, and would also trigger headaches at times.
Just about 2 years ago I started researching possible allergens in my home and fragrances seemed to be a common thread in many articles I came across.
(You can read a few examples here and here.)
It wasn't long after I slowly started switching my household products to naturally scented, plant-derived or unscented varieties that I noticed a huge improvement in my allergies.
At this point, I haven't had a sinus infection in about two years. I previously had about two to three per year that would require antibiotics.
It's important to note you can still have allergic reactions or sensitivities to "natural" scents and from products that are labeled "organic" and "plant-based" – but it's less likely.
List of common fragrance (and toxin-loaded) culprits to consider swapping
Laundry Detergents & fabric softener :
I currently use Biokleen Free and Clear Powder for whites and Ecos Free and Clear for most of my other laundry.
I stopped using fabric sheets in favor of wool dryer balls.
(See my detailed article here for more information on laundry products.)
Hand Soap:
This DIY recipe for naturally-scented foaming hand soap is cheap AND easy to make yourself.
I haven't found another store-bought brand as "clean" & cost effective as the DIY method!
Sunscreen:
Two sunscreens that I use and recommend are Blue Lizard and Block Island Organics.
Blue Lizard is mineral based and good for water activities, and Block Island is a great organic everyday sunscreen that's light and non-greasy – perfect to wear under makeup. Both are fragrance free.
For toxin-free skin care in general – also check out Block Island Organics' other products including facial cleanser, moisturizer and night cream.
Dishwashing soap/ detergent:
I recently found Grove Collaborative's dish soap which uses essential oils for its scented variety but also comes in a free & clear option. It cleans incredibly well too!
P.S., you can also get a free gift from Grove Collaborative with your first order.
For the dishwasher: Mrs. Meyers Clean Day Dishwashing Packs are the ONLY dishwasher tabs I've tried that are considered natural and actually work well with our hard water.
All purpose cleaners:
My absolute favorite all-purpose cleaner is Rocky Mountain Oils' new All-Purpose Concentrated Cleaner.
Hint: it rivals a competitor's essential oil cleaning line that rhymes with "Steves" – for a fraction of the price. 😉
Floor cleaner:
Instead of pre-made floor cleaners (full of junk!), try a Shark Steam Mop.
My first one lasted 10 years and I just bought a new one to replace it!
It only requires water, although I add a small amount of vinegar to the water for added disinfecting power (and to keep lime build-up at bay).
Candles, wax melts:
These natural soy wax melts work in wax warmers (just like Scentsy bars) and are scented with essential oils – minus all the toxins.
You can also find soy candles like these that are infused with essential oils.
Diffusing essential oils is another great option for a nice, natural fragrance in the home – as well as many other benefits (see #5 below).
Read next: Top 6 Essential Oils for Beginners
Natural Living Tip #2| Reduce plastic use.
Several years ago, we were all told that we needed to choose BPA-free plastics to reduce toxin exposure, as this chemical is known to leach into foods and drinks, for example.
Today, the recommendation is that we should try to avoid plastic use as much as possible, especially in relation to food products, because the alternative chemicals that are now being used aren't proven to be much safer than BPA.
And we all thought "plastics made it possible", right? So sad!
Keeping plastics to a minimum
While it's really hard to avoid plastics all together, a few ways we've reduced our exposure recently are:
I've recently switched to these cups for my younger kids to replace some of our old plastic sippy cups, by using these silicone lids (and these).
I was surprised at how easy this combo is to clean in the dishwasher. (No plastic valves to take apart! Hallelujah.).
For whatever reason, my toddler is also drinking a lot more water. I think they may be easier for her to drink from than the hard-spout sippy lids.
You can pair these lids with about any type of cup including glass cups if you're brave!
Stainless steel water bottles:
When we're out and about, everyone beyond the sippy-cup age uses a reusable stainless steel water bottle or travel cup.
I used to buy plastic water bottles, but they're so wasteful and with the potential concern of leaching chemicals, I don't mind at all to wash these each evening.
I use this brush for cleaning my reusable water bottles.
Silicone Sandwich/ snack bags:
Last year I picked up a set of silicone storage bags like these and they're still going strong.
They come in many different sizes, so you can use them from leftovers, sandwiches and snacks on the go.
Natural Living Tip #3| Consider a nontoxic toothpaste.
After doing a lot of reading on fluoride, I have learned that there's a lot of controversy surrounding its effectiveness and safety.
There's a great in-depth article by Dr. Axe here that explains it well.
Fortunately, there are some great non-toxic toothpaste options you can find just about anywhere today.
A few that I have tried and would recommend:
Dr. Bronner's
My kids like both the peppermint and cinnamon flavors. It's free of just about any concerning chemicals you can think of, including fluoride.
Tohi Cool Mint Toothpaste
This is another Rocky Mountain Oils product that I love. This toothpaste naturally whitens teeth and uses peppermint essential oils.
For the Littles
Minty toothpastes can be a little strong for little ones. My youngest (age 3) really liked the Spry tooth gel , and her favorite right now is Hello – natural watermelon.
Natural Living Tip #4| Re-think your feminine hygiene brands.
Did you know that because feminine hygiene products are considered medical devices, companies don't have to provide a full list of what's in them?
Much like the word "fragrance", there can be a ton of chemicals hiding behind that pretty pink label including: phthalates (hormone-disrupting chemicals), bleach, dioxins, and pesticides that are considered carcinogenic.
Oh, and speaking of "fragrance"- there's typically a ton of that as well!
I have to admit that until recent years I never thought about the dangers of modern pads and tampons, but there was enough evidence to convince me to make the switch.
Simple Swaps
What I've found is that there is little difference in the cost of organic or toxin-free products, so there was no reason not to swap brands.
Two great choices to try are Lola organic tampons, and also the L. Organic brand at Target.
They are both pesticide-free, chlorine-free, fragrance-free — free of all the junk you don't want in contact with your body!
Other healthy alternatives (for the brave)
Many women also swear by menstrual cups such as Softdisc, but let's just say it wasn't for me.
There are definitely some benefits to this invention, but just know that there is a huge learning curve if you decide to go that route!
If you read reviews and have more patience than I do, you might have a different opinion, though.
More benefits of going organic
Although I've not been able to find clear objective evidence to back this up, I've heard from many women that switching to organic feminine hygiene has resulted in shorter, lighter periods, and less severe cramping.
More research will need to be done on this one, but it makes sense to me that since chemicals can disrupt natural hormone production, traditional brands (Playtex etc) may be causing more severe symptoms than we should be experiencing.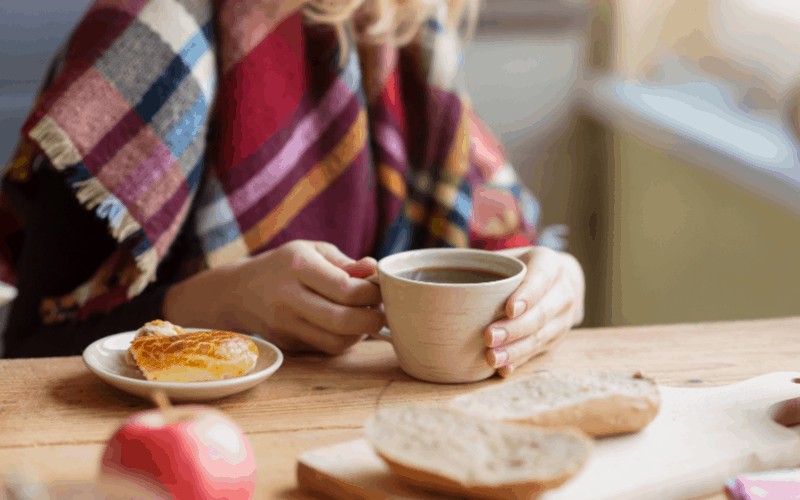 Natural Living Tip #5: Get back to basics: Real food and moderation.
Labels can be so hard to read and often misleading.
Take canned fruit, for example.
I know that fresh fruit is the best option, but I like to stock my pantry with a few cans of fruit and packages of applesauce for the end of the week when all the fresh fruit is not-so-fresh anymore.
(I only grocery shop once a week or less thanks to a consistent meal plan.)
If you read labels on canned peaches, there are usually four choices: peaches in heavy syrup, peaches in light or extra-light syrup, "sugar-free", and peaches in 100% fruit juice.
The sugar behind the label
Heavy syrup typically contains real sugar, but also corn syrup (definitely unhealthy) totaling a whopping 19 grams (4.75 teaspoons) of sugar per serving — or almost 17 teaspoons of sugar in a 15.25-ounce (regular-sized) can!
"Light" syrup and "extra-light" syrup are both lower in sugar, but even the extra-light version typically contains 14 grams, which isn't a huge difference.
If you see the "sugar-free" label, this usually means that it contains a sugar substitute. Currently Splenda (sucralose) is the popular choice because it's calorie-free.
Obviously, if you're a diabetic you need to follow your doctor's recommendations, and just know I'm not speaking to certain medical conditions here.
But personally, I'd rather have a lesser amount of real cane sugar any day – than any amount of Splenda, which is made in a lab.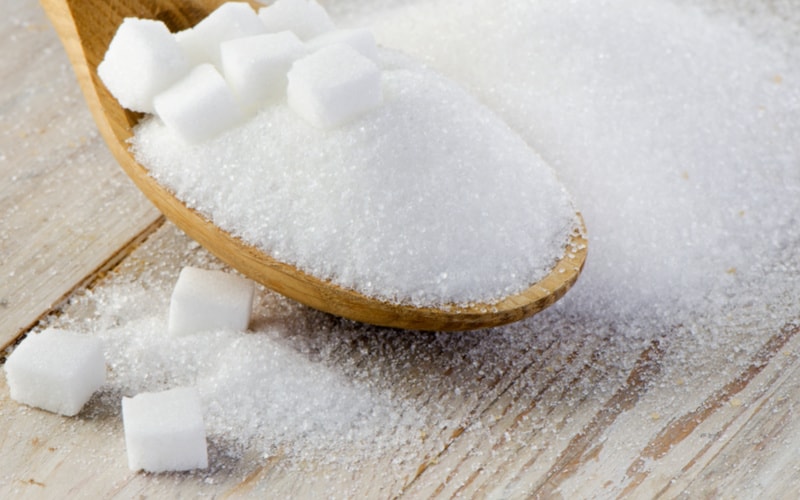 Artificial sweeteners- just say no
There are many studies showing potential negative health effects associated with these artificial sweeteners, including reducing good gut bacteria (good news for the probiotic companies, I guess!).
There's also a more in-depth experiment on artificial sweeteners and gut health here if you're really bored. 🙂
Be sure to read labels closely – fake sugar is everywhere- yogurt, soda (not healthy of course, but we all have our vices!) as well as breakfast items, ice cream and even chewing gum.
Going back to our canned fruit example — fruit packed in 100% fruit juice is the most naturally-healthy option. This means it's packed in nothing but the juice from real fruit with no added sugar- fake or otherwise.
Of course, this still adds up to around 14 grams of sugar from those natural juices and it will raise blood sugar, but overall it's a natural source which also retains more of the fruit's nutrients better than either cane sugar or artificial sweeteners.
Unsweetened applesauce- one convenient option
If you're buying applesauce, unsweetened is also the way to go.
It may take time for them to detox and learn to like it if they're used to "original" applesauce though, at around 18 grams of sugar per serving!. It was definitely a shock for me to find out how syrupy-sweet those little containers really are.
A few of our favorites sugar-less options to pack in lunches are Mott's Unsweetened applesauce and Member's Mark Applesauce  from Sam's club.
The GoGo Squeeze Fruit & Veggies On the Go is another unsweetened option that my younger kids love.
Refined Sugar Substitutes
When it's not possible to find or make unsweetened snacks, have a few natural alternatives on-hand:
• Pure Maple Syrup (great for sweetening oatmeal and can be subbed for sugar in many baked items)
• Raw, local honey from your local natural foods stores or farmers markets. (Also great for staving off allergies.)
Let's talk butter
Butter is another item you might use daily (or substitute for daily) so it's an easy item to target if you're wanting a more natural diet.
Real butter is higher in fat than margarine and other processed substitutes, but recent studies are showing that butter doesn't deserve the bad rap it often gets and overall, it's better for your health in moderation.
Why? Because it's real food!
If you need to reduce your butter intake, a few good, real-food options include unrefined coconut oil and extra-virgin olive oil.
But just because a butter substitute is a "plant-based oil", that doesn't mean they're necessarily healthy.
Oils like canola oil, soybean and palm oil which are in many margarine-type products (and cooking oils) pose a much greater risk to health than butter due to their highly-processed nature and trans fats.
The bottom line is that butter will kill you a lot more slowly than its wanna-be counterparts.
Just scale it back below Paula Deen level.
Tip #6: Try diffusing essential oils – in sickness and in health.
I've been impressed with the "power of the diffuser" in our home.
When we all caught a nasty cold/flu type of virus a few months ago, I kept a blend of essential oils (similar to Young Living's Thieves) diffusing in the air, especially at night, and it really seemed to help us recover sooner and lessen the severity of our symptoms.
My go-to essential oils the past two years are the ones I buy from Rocky Mountain Oils.
The cost of other popular brands made essential oils nearly impossible for me to incorporate into my daily routine prior to this.
Rocky Mountain Oils are 100% pure and safe and just as effective as those pricier brands (in my experience).
Some of my most-used oils that I use for general cleaning, hand soap recipes and diffusing are: peppermint; orange, lemon and tea tree.
This blend is another one I highly recommend for purfiying the air (toxins and odors). And it also repels many insects!
How to get the maximum benefit from oils
First: as always, be sure to use as directed. Many oils direct that you should only diffuse for a specified amount of time during the day.
Before using any oil, be sure to read the instructions and recommendations for each individual oil and blend. A great guide for using essential oils with kids is found here.
Second: if you're new to essential oils, consider consulting with a certified aromatherapist to learn the ropes and how they can best benefit you.
I have a diffuser similar to the one shown below. It's been a great (inexpensive) investment in our family's wellness.
Incremental steps to Natural Living
I hope these tips are useful if you are working towards a healthier home in 2020. Even if you're a busy mom, you can make any of these small changes that aren't overwhelming but could make a big difference.
Some of these ideas can save you money as well – an added perk!
What are some simple, practical steps you've taken to live a more natural lifestyle? Share them in the comments below!
Related Products:
You might also like:
Grove Collaborative Review: 20 Most useful products 
How to Keep a Clean House – Realistically, With Kids
Natural Homemade Facial Cleanser
An Honest Review of Monat Hair Care for Postpartum Hair Loss
5 "Must-Have" Crunchy Baby Products – and their Practical Alternatives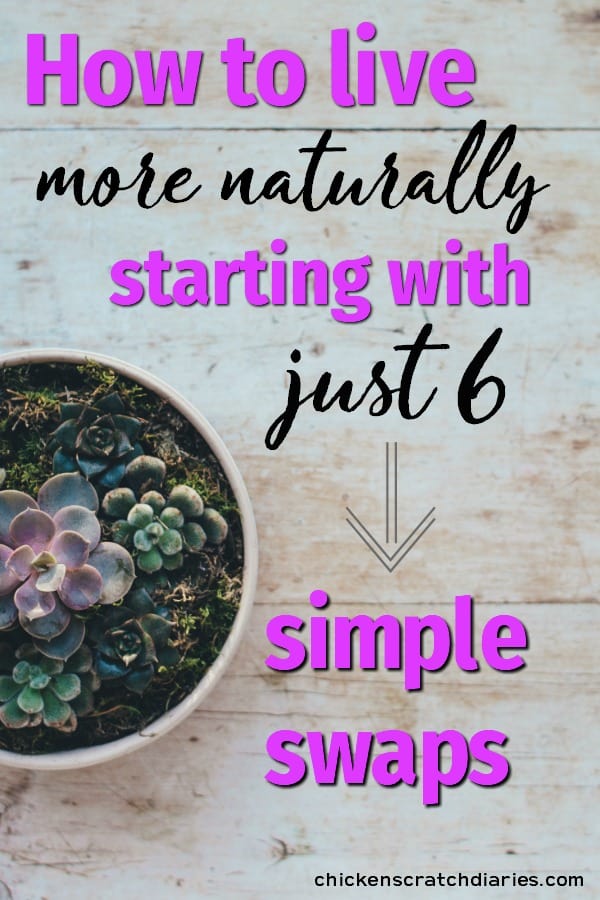 Originally published 8/18/18 and last updated 1/8/21.