Have you been considering a Grove Collaborative subscription? Wondering which products are worth the money? This Grove Collaborative review will help answer these questions and more!
I am generally not a big subscribe-to-all-the-things kind of girl. I like to choose items for our household carefully, looking for the right balance of quality and cost.
But there are a few subscription-based companies I do order from frequently, once they've passed the "worthwhile" test. And Grove Collaborative is one which found its way to my short list!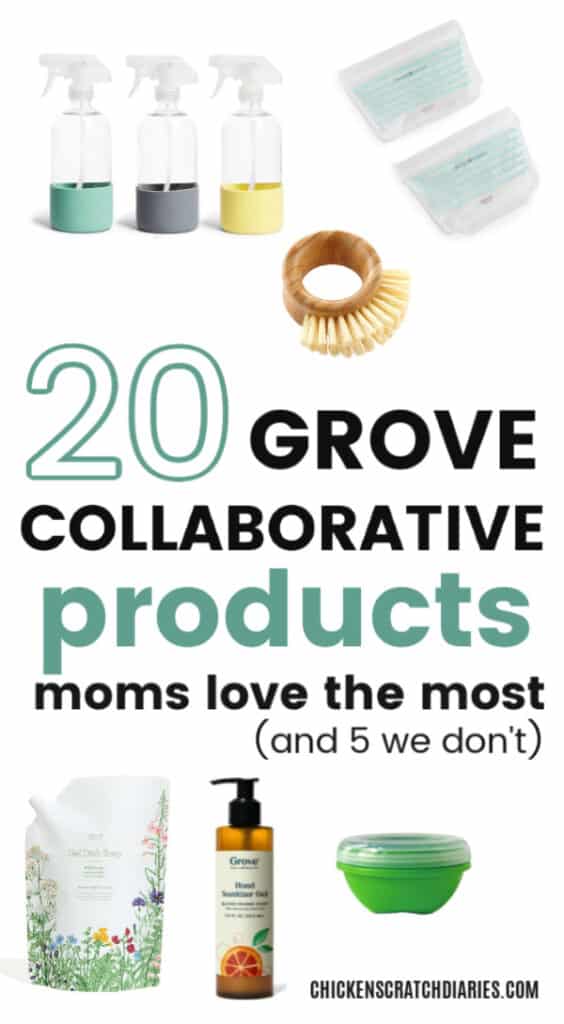 What's to love about Grove?
It really depends on your goals, but I like Grove because they have a big variety of natural products and some products, such as Grove's brand, that I can't get anywhere else.
Although I'm not a certified tree-hugger 😉 , I do believe in being good stewards of our resources. My main goal for choosing more "natural" household products is the health benefits.
I also love that it ships to my doorstep and typically the shipping is very fast.
This post likely contains affiliate links. Please see our disclosure for more info.
Ordering from Grove: How it Works
When I mention how much I love Grove, I am always asked if you have to have a subscription and do they auto-ship (a turn-off for many people).
When you place your first order, it does default to a recurring/ auto-ship subscription. However, you can then turn that feature off completely, or customize it and push the auto-shipments out farther. It's up to you.
For subsequent orders, you can choose to be a VIP member where you pay $19.99/year to receive:
•Free Shipping on all orders (minimum $25 for auto-shipments, $39 for "ship-now" option)
•4 free products per year
You can try a VIP subscription out for 60 days here.
If you're not a VIP member, you just pay $4.99 for shipping (see above minimums), OR get free shipping regardless, with all orders of $49 or more.
The best products from Grove (and what you can skip)
Like most people (I'm guessing), I was initially lured in by the free Mrs. Meyer's gift set which was a perk of my first order.
To be honest, I didn't actually like the Mrs. Meyer's products! (More on that later.)
But after trying several other items from Grove, I can tell you exactly which items I DO think are worth trying out, and some that my mom-friends also swear by.
Grove Collaborative Review: Must-Haves
These Grove products top my list:
And now for the "Pass" list:
Grove Products You can Skip
These simply aren't my favorite, and here's why. (But, you decide.)
Honestly, I don't like any of Mrs. Meyers products. I find the scent way too strong, and it didn't clean well enough in my opinion.
I wanted to love this detergent (seems like it would be a more health-conscious choice), but it just wasn't effective with hard water and left a chalky film on some of our dishes.
I couldn't tell that this made a difference at all with soap scum (and again, hard water). I also didn't feel like it lasted long enough to justify the price.
The concept sounded intriguing, but bamboo molds easily when it's constantly wet. Too hard to keep clean (for something that holds soap!).
I wanted these to be durable for the price, but they just weren't for me. Go for the walnut scrubbers instead!
Your favorites list might be totally different than mine, of course. But the great thing about Grove is there is something to suit everyone's preferences.
Let us know what Grove Collaborative products you can't live without!
You might also like:
• Natural DIY Face Wash for Sensitive Skin
• Essential Oils for Beginners: The must-have list
• The Natural Living Guide for Practical Moms