This post may contain affiliate links. This means that I may receive a small commission (at no extra cost to you) when you buy products by clicking through links on my site. Please read my disclosure for more info.
When I was approached by a consultant to try Monat, I was intrigued because I had heard some great feedback about this brand from other moms in some of my Facebook groups.
*Note:  I received a free sample of several Monat products in exchange for this review.  All opinions expressed in this review are solely my own.
*Also, please read my 5-month follow up to this review available at this link.
Living more naturally has been a goal of mine for the last few years, although I try to take a practical approach to most things in life (translation:  I still like my Oreos on occasion).
So, trying out a new hair care line with naturally-derived ingredients was a no-brainer for me.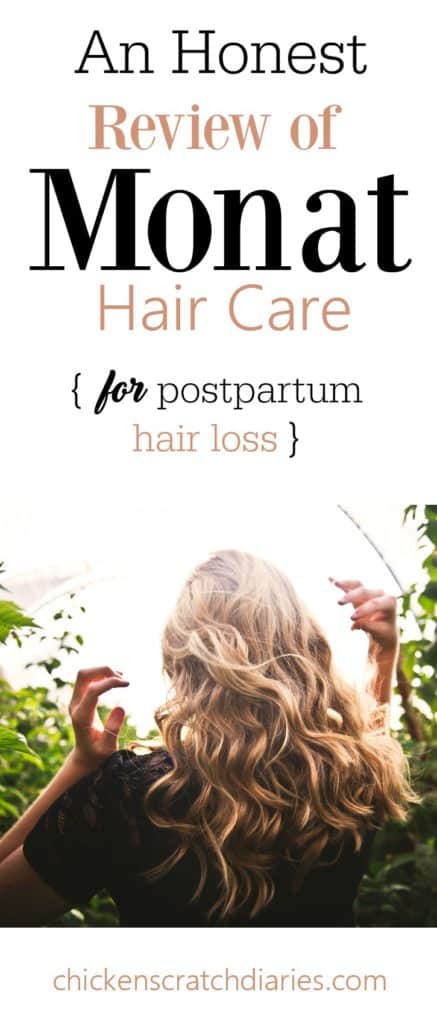 When I was told that Monat has been shown to re-grow thinning hair due to postpartum hair loss, I was even more on board.
I used to have VERY thick hair in my younger years.  Four kids later, all that changed!  I ended up with dull, dry strands that definitely reflected my lack of attention and time to spend caring about it.
Hair Care Back-Story 
Before trying Monat, I had used many different brands of shampoo and conditioner.  I really don't use other hair products except for hair spray as they seem to always weigh down my hair and cause buildup.
And, people, you should know that I'm just not one to fuss about my hair.  I'm not good at fixing it, I don't like to spend time thinking about it, and if it weren't for my sister who is a professional hair stylist, I'd probably still have "weenie-roll" bangs from the 8th grade.  Thanks, Cass.  🙂
My favorite store-brand that is more-natural than most is Not Your Mother's.  I've been using their Thickening Shampoo and Conditioner for quite a while now, on and off.  It works fairly well for my purposes and doesn't seem to dry out my hair, cause much buildup or make my scalp itchy- which I can't say for a lot of shampoos.
I seem to have super-sensitive skin (scalp included) and I try to avoid fragrances and things that might potentially cause a reaction.  (I talk about this in my DIY hand soap recipe post also.)
Not Your Mother's does not contain any sulfates, parabens or dyes.  With all that said, while this product does accomplish a little volume for me,  it doesn't seem to make my hair extra shiny and I sometimes have trouble with frizz in humidity.
A salon brand I've used most recently is Nioxin, which is supposed to specifically "put your scalp in optimal condition for hair growth" – which is what any hair growth "formula" must accomplish.  (Direct quote from my sister.)   I do think Nioxin helped my hair to grow more than usual.  But other than that, it didn't seem to help with shine or volume.  And the Nioxin conditioner I used did NOTHING for my hair (about as good as not using any at all).
I won't even mention the vast other brands I've tried, but again, I've gotten a lot of birthday and Christmas hair-product-gifts from my sister over the years so I've had opportunity to try many of the top brands.
I had a friend who once referred to her collection of discarded hair products as her "drawer of broken dreams".  🙂  Yeah, I've got one of those.
So there's the long-winded back story to this review.  Sorry, guys, I can't help myself sometimes!  I like to be thorough.
Back to Monat.
An Honest Review of Monat Hair Care – for Postpartum Hair Loss
I was sent samples of Revive Shampoo, Renew Shampoo, and Revitalize conditioner.  I started using the Revive Shampoo and Revitalize conditioner and I did notice right away that it seemed to get my hair squeaky-clean and had more volume.  I was told it's supposed to be great for removing all the buildup that other chemical-loaded products can cause.
After using this combo for about 2 weeks, I tried the Renew Shampoo with the same conditioner (Revitalize) for a few more weeks.  Personally, I liked the Renew Shampoo better.  It's formulated for hydration, which I need!  And it's probably just a preference thing, but it had a little thicker texture and seemed even more effective in cleansing.  This might just be from again, removing even more product buildup as I used Monat longer.
•The picture on the left is the day before I started using Monat.  And the right is after using Monat for about three weeks.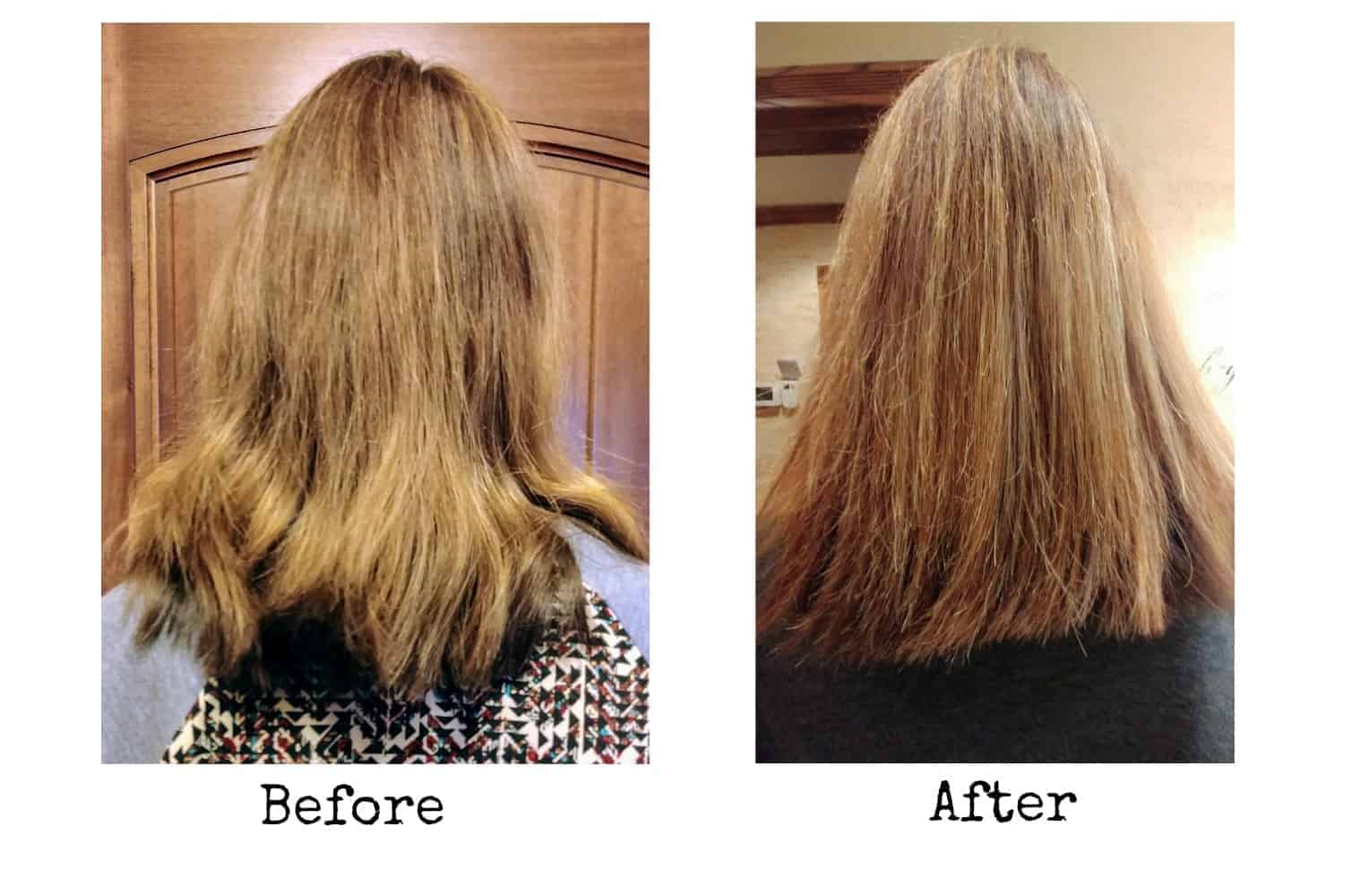 (Before picture – I truly wish was better quality.  I'm terrible at curling the back of my hair too, ugh.  #BusyMomProblems)
One thing I found amazing:  if you look at the right-hand picture, you can see how straight my hair is.  This was after ONLY blow-drying with a

Wet Brush

.
Normally, I can't get my hair this straight without using a straightening iron.  My hair is just wavy enough to not comply.  I think that Monat helped to smooth and relax my hair, and it was awesome to be able to skip the flat iron!
I had no issues with sensitive scalp, itchiness or any other reaction, as was expected.  Just a really clean feeling after each wash.
Also, I was able to go THREE days between washings with Monat, which I've never been able to do with other brands.
My hair is weird – it feels dry and brittle to the touch but it also typically gets very greasy if I go more than 2 days between washings.  So, three days was AWESOME for this busy mom.
The verdict
I think I would see even better results over time.  I am going to order the Magnify System and see how I like it over the next few months.
I have to admit I thought the prices were a little high for what I'm used to spending.  I'm frugal BUT I know that you sometimes have to spend a little more for quality natural products.  So this is one of those things you just have to weigh the benefit versus price.
Additionally, I think the cost would even out over time if I'm able to use less product via less frequent washings.  I'm told this is because Monat uses about a 20% higher concentration of product versus water compared to other brands.
You should check out my consultant, Melanie's direct website link or visit her Facebook page for more information on Monat.  I would definitely recommend this brand for anyone looking for a toxin-free hair care system that seems to be proven to make hair healthier and smoother – at least for me!
You might also like: