This site contains affiliate links to products. We may receive a commission for purchases made through these links. Please read my disclosure for more info.
When I originally posted An Honest Review of Monat Hair Care for Postpartum Hair Loss in October 2017, I knew very little about this company.
I certainly never guessed this post was going to be one of the most-viewed posts on my entire website!
Apparently, there are a lot of women and moms searching for Monat hair reviews and wondering if Monat will be the holy grail for hair growth after having babies.
And it's no wonder, because postpartum hair loss can be pretty concerning.
I think it's true that our hair becomes a part of our identity as women and even though we gladly give up about everything for our children, we hope that our hair isn't one of those things we have to sacrifice completely!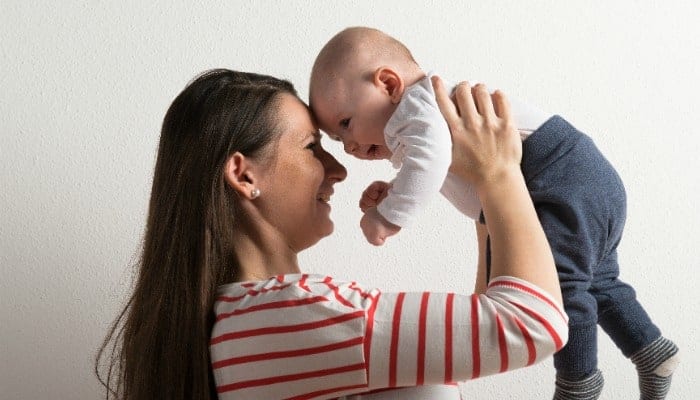 My Original Monat Review
Back in October, I had received a free sample of a few Monat products from a consultant in a mom-group I belonged to on Facebook, and I thought it would be fun to try out something new and blog about it.
Plus, my hair had taken a beating from four pregnancies and I thought the review might be intriguing to other moms who have experienced the same hair issues as I have over the years.
To be quite honest, I had never planned to write an entire follow up article, because this is mainly a Christian parenting / motherhood blog and I wanted to keep the focus of my writing on those topics.
I am NOT an expert beauty / hair care blogger, nor do those topics really rank high in importance to me at this stage in my life.
(Translation: I'm busy raising kids, I work a ton of hours – mostly from home – and you're not going to find me stressing over my appearance!)
However, I DO write about my semi-crunchy lifestyle and how I've been slowly incorporating products that promote more natural living in my home over the last few years.
I also write about work-from-home opportunities and I realize there may be moms considering Monat as a direct selling business opportunity.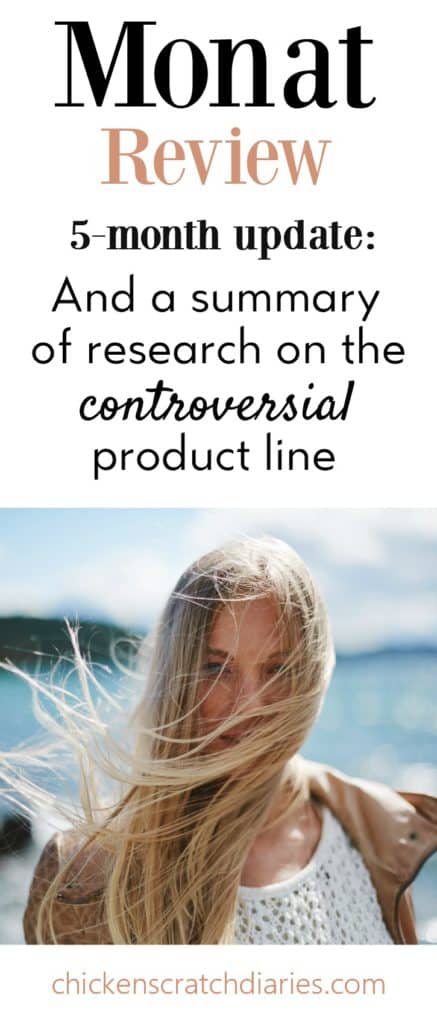 Why I'm Writing This Update
It's important to me that others who might be curious about the same types of products I've mentioned can trust that I've researched them to the best of my ability.
I want to provide an honest opinion that might help others in their own decision-making processes.
First of all: I do not sell Monat (nor do I plan to), and I do not receive financial compensation from the sale of any of their products.
As I stated, I received a free sample in the beginning which anyone could receive from any consultant if they asked.
But neither my original post nor this post is a sponsored post — in other words, I'm not being paid to write Monat reviews.
So, when I started receiving questions about "hair detox" and readers wondering if I had lost hair, experienced sores on my scalp – obviously I wanted to know what they were talking about.
Based on the feedback from my original post, there seem to be a lot of people searching for answers about Monat products, their effectiveness and Monat hair growth reviews.
So I'm going to do my best to summarize my own results as well as what I've found through reading tons of articles about this company, the good and bad reviews and whether the customer complaints are something you should be concerned about.
Monat Review: Update and Research Overview
First I'm going to talk about my personal results with Monat after using these products for a full five months now.
Then I'm going to discuss some information you might want to know before you consider using (or selling) Monat.
My results with Monat after 5 months:
At this point, my hair has grown quite a bit. Here's the progress from October 2017 to March 2018: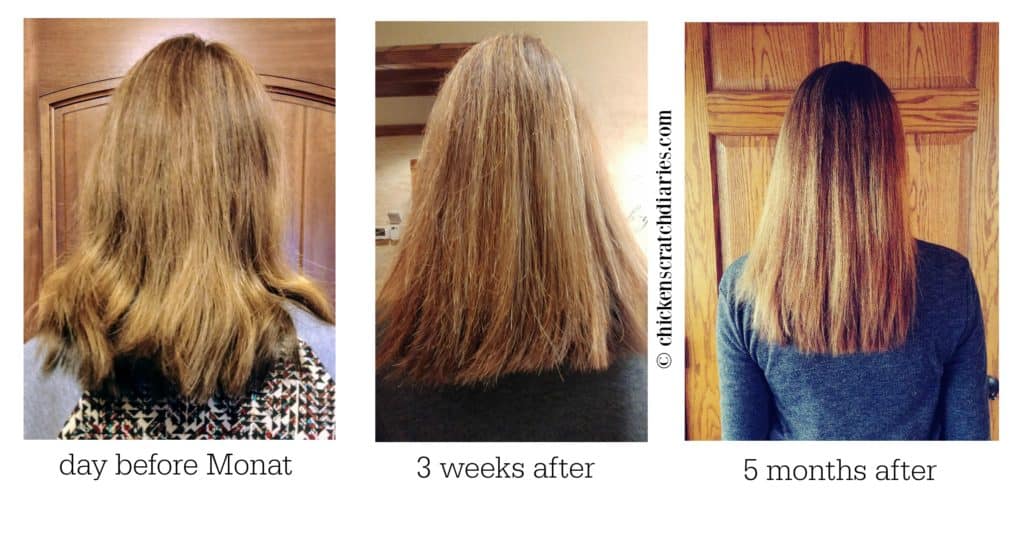 It's a little hard to compare the very first picture to the last two because I had (sloppily) curled my hair in the "before" picture, and it was rainy/humid that day to boot.
I have not had my hair cut or colored since right before I started using Monat, so if you look at the last picture, you can easily see where my highlights have grown out, which is sort of a marker for how much growth I've had at this point.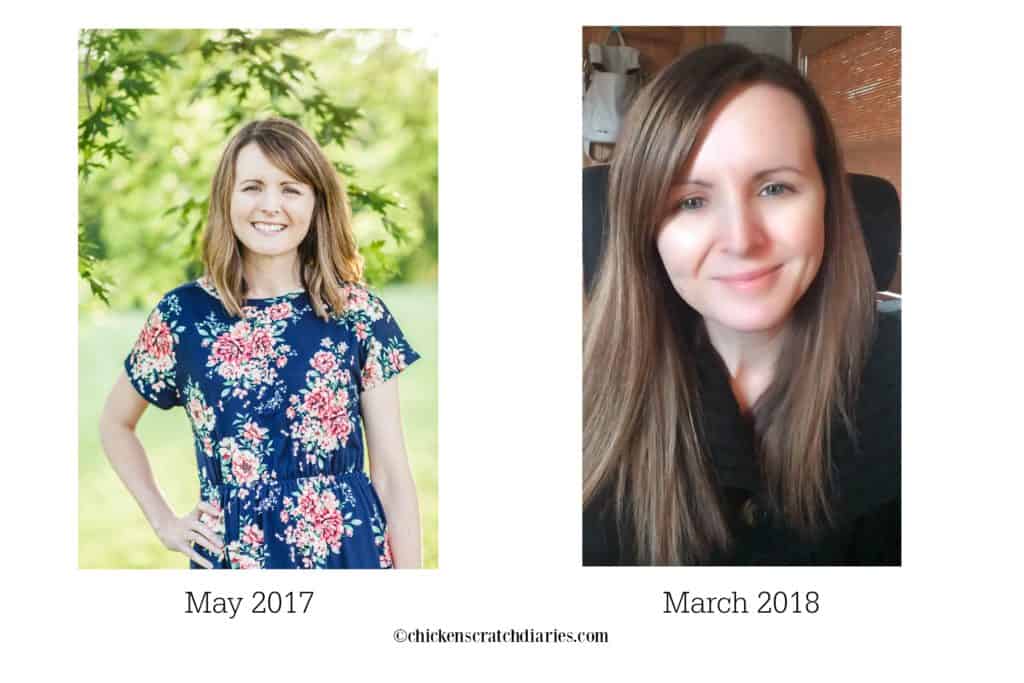 My experience so far:
1. My hair is as long as it's ever been. In fact, the last time it was this long was right before my wedding (16 years ago).
In truth, it's been 5 months and I'm way overdue for a cut/color. But it's not uncommon for me to go 3 or 4 months between cuts, and I've never seen my hair grow this fast before.
It typically gets very frizzy and unmanageable by this point.
I get asked about my hair almost daily and how fast it's grown, so it's definitely noticeable by others as well.
2. My hair is a lot smoother, softer and straighter after blow-drying, without the use of a flat iron.
In case you're wondering, all I use to style my hair is an inexpensive blow dryer that I got on an Amazon lightning deal last year, and a Wet Brush. Nothing fancy.
3. I have not experienced any negative reactions such as hair loss, itching, breakouts, etc.
Thank goodness! I have definitely had reactions to other shampoos and conditioners (only a few times though) – even expensive salon brands.
4. I am still able to go at least 3 days between washings, sometimes 4, which I've never been able to do with any other products in the past.
So at this point, I'm very pleased with the products I've tried this far.
I do want to point out the EXACT products that I've used, which are the Renew Shampoo, Revitalize Conditioner, Air Dry Cream, Super Moisture Masque, and the Refinish Control Hairspray.
Most of the time, I just use the Renew Shampoo, Revitalize conditioner and Refinish hairspray and less frequently use the other products mentioned. (Back to that low-maintenance mom thing!)
Now, let's address the elephant in the room (or maybe it's more obvious than that):
Does Monat Cause Hair Loss and Other Negative Side Effects for some people?
This seems to be the million-dollar question, quite literally.
When I started researching "negative Monat reviews", I discovered there are numerous complaints and even class-action lawsuits being filed against Monat, from women claiming Monat caused serious damage to their scalp and hair.
A quick search of "Monat Reviews" on YouTube seemed to highlight many more negative than positive experiences with Monat.
The main allegations are by women who have experienced symptoms ranging from from mild to extreme hair loss – losing hair in clumps, resulting in bald spots and even open sores on the scalp.
But is this a case of the "the squeaky wheel gets the grease?"
And why would a product that is marketed as being "naturally based, safe and pure" seem to have such severe side effects for so many people?
From what I can gather, it does appear that there is an unknown percentage of women who are particularly sensitive to some of the ingredients found in Monat products.
One ingredient that is speculated to be a culprit in many of these claims is Capixyl.
Capixyl has been around for a few years as an agent to promote hair growth but it hasn't yet been cleared by the FDA, unlike Monoxidil which is used in Rogaine, for example.
Note: Monat has addressed the negative claims here, stating: "MONAT uses ingredients considered safe for cosmetic use by FDA and European Commission. All MONAT products are made in facilities that are GMP certified, registered with the FDA operated in accordance with FDA regulations and that are subject to FDA audit and inspection."
From what I am reading, the ingredients themselves are considered safe, but the drug Capixyl, a biomimetic signal peptide which is a combination of ingredients, has not actually been cleared by the FDA.
Friends, this stuff is complex. Bear with me!
Capixyl contains red clover, which is a natural substance that has been used traditionally for regulating hormones.
According to Web MD, "Red clover contains 'isoflavones' which are changed in the body to 'phytoestrogens' that are similar to the hormone estrogen." The interactions information for red clover actually states that "Large amounts of red clover might have some of the same effects as estrogen".
For this reason, cancer patients in particular should know that if they're taking Tamoxifen they should not use products containing red clover.
I say this because I would guess that cancer patients could be a target audience for a product that is supposed to promote hair growth.
In this very recent news story, a Monat spokesperson contends that their products are thoroughly tested and that there is no warning label regarding Capixyl because the amount of the controversial ingredient isn't enough to warrant concern.
They also point to independent clinical studies on the safety and effectiveness of Capixyl, found in this document.
Marketing Concerns
It seems likely that where the problem really lies is in how the products were marketed to certain consumers.
I've read several accounts of customers who experienced the hair loss and sores on their scalp and were told that these were "detox symptoms" by their consultants and that they needed to push through to see the positive results later.
I have searched for information about this "hair detox" term and have spoken with my sister about it as well, who is a stylist at a very reputable high-end salon.
There doesn't seem to be any real science to prove that hair loss and open sores are part of any natural process your scalp should go through in order to regrow hair.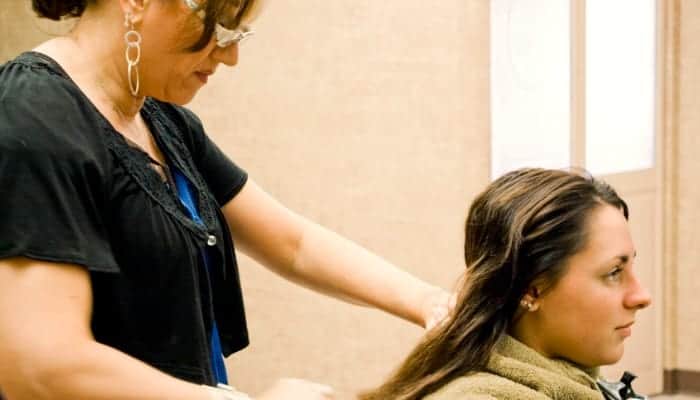 In fact, any reputable hair professional or doctor will tell you that if you experience these symptoms, you are clearly having a reaction to the ingredients and you should discontinue use immediately.
Although Monat refers to a "detoxifying process" on their website, they also clearly state that damage to your hair and scalp are not part of this process.
So, is Monat really "natural" or not?
It's important to note that the term "naturally-derived" simply means that some ingredients from nature were used to create the product…which has ingredients not occuring in nature added to it, of course.
I knew that when I started using Monat that it wasn't a chemical-free product, but that it is supposed to contain far less toxins than your average hair care products.
And I also understand that anyone can have a sensitivity or allergic reaction to just about any product.
Another thing I didn't put a lot of thought into however, is that there are other natural ways to grow your hair longer and stronger, and there are many online resources to teach you how to do this. This is something else to consider before investing a ton of money in a natural hair product line.
Concerning fragrances
I've written a few different articles which mention my own sensitivities to products containing synthetic fragrances (I'll list these at the end of the post).
I prefer to make my own foaming hand soap, face wash and avoid laundry soap with added fragrance.
So, I was a little disappointed that I somehow missed the fact that Monat does contain synthetic fragrances.
I noticed "fragrance" on the label as soon as I received my products in the mail. I, like most people, probably zoomed in on the possibility of thicker hair with Monat and overlooked it.
Monat's website states this: "We use fragrances with ingredients approved as safe by the Research Institute for the Fragrance Material (RIFM) and the International Fragrance Association (IFRA). RIFM is the scientific authority for the safe use of fragrance materials."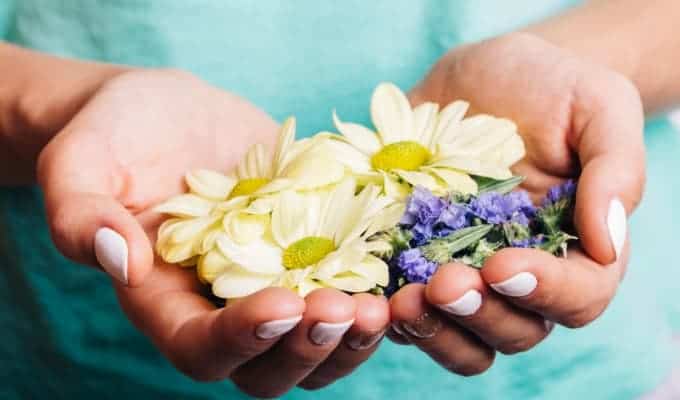 As for me personally, I have not experienced the problems with Monat that I would normally associate with fragrance sensitivities. (Dry, itchy, tender scalp.)
I HAVE had sensitivities to other shampoos with strong fragrances in the past.
Will I continue to use Monat in light of this (somewhat confusing) information?
To be honest, I'm not sure, and I'll tell you why in a second.
The fact that Monat might not be as "natural" as I might have originally thought isn't an absolute deal-breaker for me.
As I've said over and over, the term "natural" and "healthy" can mean a lot of different things to a lot of different people.
For me, it's finding a balance with products that are the least toxic (as possible), but actually work.
So, in the "less toxic" and "gets results" categories, Monat meets those marks for me – at least as of now.
But the one nagging thing that disturbs me in all of this is the attitude that seems to be portrayed by executives at Monat as they are addressing the claims of hair loss and other damage experienced by consumers.
They are basically countering these claims with more negativity, stating that the women who have come forward are completely making up the information, falsifying photographs, and simply trying to redirect business to other competitors.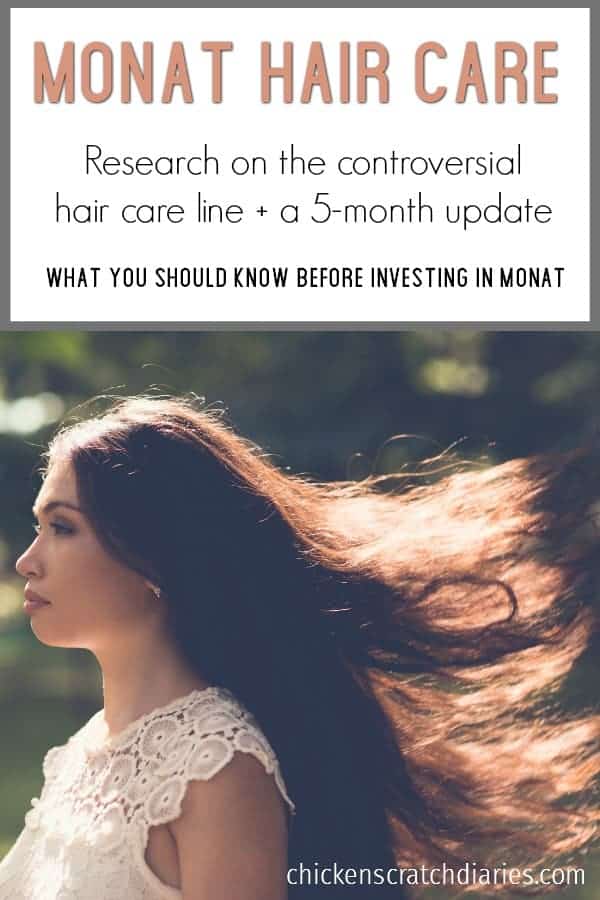 Could this be happening?
Your guess is as good as mine, but it seems illogical that a handful of women would go to such great lengths in an attempt to defame a multi-billion dollar company.
According to one report, the FDA is currently investigating 187 adverse reports related to Monat products.
This seems to be reminiscent of the Wen FDA investigation which has been ongoing since 2016.
Consumers reported many of the same symptoms with Wen products, although the number of claims was much higher (1,386 adverse event reports as of November 2016).
This article from Buzzfeed explains the lawsuit Monat is filing against one particular customer (and former consultant).
Maybe this is standard in the beauty industry to go to these great lengths to protect their reputation – I have no idea.
But I didn't get the impression that the Monat executives were very empathetic at all to customers alleging very serious side effects from their products.
Monat put up this website to further address complaints and litigation, if you'd like to read more.
Monat Research – In summary
One important thing to keep in mind for each one of us: MLM consultants who are selling you a hair product likely do not have the same level of expertise as a well-trained hair care professional, nor the experience of dealing with hundreds or thousands of heads of hair.
Talk to a trained, reputable stylist about what hair products are beneficial for you.
Just because something is marketed as "natural" doesn't mean it's necessarily safe for everyone.
Remember that essential oils are natural and can be very beneficial, but are also potent in large doses. Anyone can have an adverse reaction to a given oil.
And PLEASE talk to your doctor if you experience any adverse reactions to any hair or skin care products.
I don't care if your best friend is selling it to you, your health should be the priority!
I truly hope that any potential problems with these products are resolved quickly, and that more information will be available for all of us in the future.
While I'm no hair and beauty expert, clearly, I would hate to recommend any product that turns out to be more harmful than helpful to you!
Feel free to leave your feedback on Monat in the comments.
You might also like:
• An Honest Review of Monat Hair Care for Postpartum Hair Loss (my original review)
• Simple Steps to a Naturally Healthier Home This Year
• Fragrance, Laundry Science and the scoop on Homemade Laundry Soap
• Easy DIY Foaming Hand Soap Recipe
• Our Favorite Baby Products for the Natural-Minded Mom
• 5 "Must-Have" Natural Baby Items – and their Practical Alternatives