Maybe you've read a few blog posts on "how to start a mom blog" by now. Or if you're like I was, maybe a few hundred!
It can be daunting, right?
I know I was totally overwhelmed at the thought of how to set up a blog, much less the important question of – what in the world would I write about that people would want to read?
If you've ever considered starting a mom blog for profit but you've been procrastinating – this post is for you!
I want to tell you exactly why I decided to finally quit reading about starting a blog and actually start a blog. Because I promise it's not as intimidating as it sounds.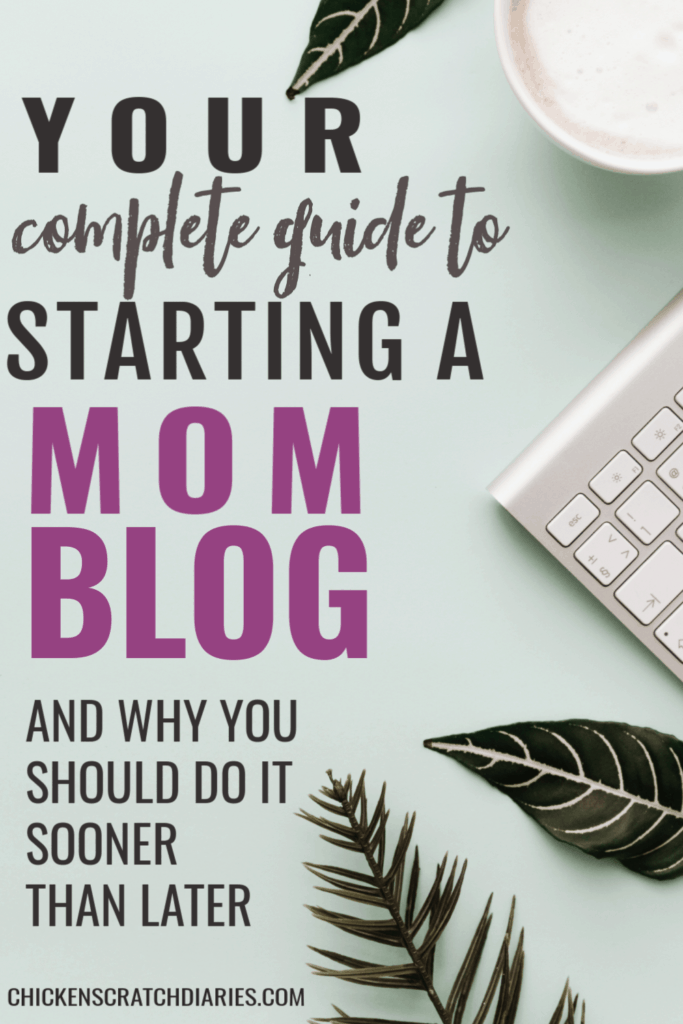 This post likely contains affiliate links. As an Amazon affiliate, I earn from qualifying purchases. See full disclosure here.
Then I'll walk you through how to get started on your blog, step by step.
Why I Started a Mom Blog
Maybe you're like me and you've had this passion for writing since you were a small child.
I wrote my first "book" when I was four. It was all about Tom and Jerry (the cat and mouse cartoon of course). It had a blue construction paper-and-yarn binding. Ok, my mom actually wrote down the story I told her. I just picked out the yarn. 🙂
But you get the idea! I have loved stories since a very young age and writing eventually became something that I couldn't get enough of.
I wrote stories, poems and articles all throughout my grade school through high school years and had planned to major in journalism when I started college.
But somewhere along the way, I let others dissuade me from pursuing my dream.
I don't even remember who it was, but I distinctly remember hearing someone say the words to me, "You'll never make money doing that".
From Working Mom to Work at Home Mom
I couldn't imagine paying for college and working so hard for nothing, so I ended up getting a more generic degree and working in another field for the next several years, pursuing the path that I thought would be safe. Predictable. Steady.
Because that's what we're supposed to do, right? Be responsible, save for retirement and provide for our families with a sensible 9-5 job.
If you read my bio, you probably know that a lot of things changed for me when I became a mom. A lot of the things I thought I wanted from life went right out the window, in fact.
It took some time, but eventually I began to research work-at-home jobs and left my office job for an at-home contract position that allowed more freedom and flexibility.
It was a crazy adjustment period! And although a lot has happened since that time, that first big leap of faith taught me that there was another world out there with endless opportunities for earning income – online.
Related Post: 6 MORE Work from Home Jobs that are Perfect for Moms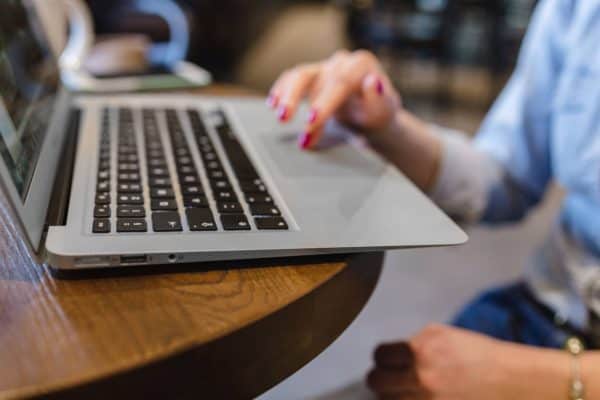 When it came to the idea of blogging, I knew it was something I would eventually do. It was a logical next step to get back into the writing world.
But I had lots of fears: Fear of putting myself "out there" (who doesn't?); fear of not being as good as other writers; fear of failure; fear of not being able to grasp all the "tech" stuff that goes along with running a blog.
But the thing that kept propelling me forward was this nagging thought: What if I don't do this now? Will I ever?
After having my children and pouring so much of myself into the business of motherhood, I think I just came to a point where I needed to do something that fueled my creativity — and was just for me.
I felt like I was really missing out on a piece of something I had lost long ago when I gave up my writing dream. And it was time.
So I started my blog, and simply started writing. At this point I can honestly tell you — the best decision I made was to let go of those fears holding me back from doing what I felt created to do.
The Benefits of Starting a Mom Blog
Blogging has made me a better writer; it's given me a platform and a portfolio for freelance writing opportunities and so much more.
And, three years later, I can finally say that I'm making a full-time income from my blog each month. This has been an AMAZING blessing to our family.
On a personal level, it's been such a fulfilling journey to hear from my readers how I've connected with them and made a difference in their life. What more could I hope for?
Another big bonus that I didn't even expect was the friendships I've made in the blogging and writing community and the encouragement that keeps moving me forward.
And none of it would've been possible if I hadn't made the commitment to just DIVE IN. We all have to start somewhere.
So what about you? What's your motivation for starting a mom blog?
Is it more flexibility, time with your kids? Are you looking to earn additional income or even a full-time income from home?
What if you don't start now? Don't let that question haunt you like it did me for so long!

How to Start a Mom Blog – a Beginner's Guide
So there's my story, and yours is just beginning. Now you just need to take the plunge and get started on your mom blog adventure. No more excuses!
Now, the steps below will obviously apply to any type of blog that you might want to start, but I'm focusing on how to start a mom blog because that's what I know.
And specifically, I'm going to lay out the steps for setting up a mom blog that you can monetize (make money from), if you choose to.
Simply put: anyone can start a free blog just for fun but it takes a little more work to start a blog that can turn into a work-from-home business.
So that's why I'm going to lay out all the steps for starting a self-hosted blog, and how to do it correctly!
Step 1: Brainstorming Your Blog Topics / Niche
Even within the mom blog niche, there are lots of ways you can go with your blog. Here are just a few of the common topics that Mom Bloggers write about:
Coupons / Deals
Pregnancy / Baby / Birth
Child development
Homeschooling / Education
Parenting Humor / Mom Life
Parenting tweens / Teens
Homemaking/Organization
Personal Finance
DIY: Kids Crafts / Activities / Food / Recipes / Home Decor
Christian parenting / Faith
I had some difficulties just getting started on my blog because of all the conflicting advice out there. Some very successful bloggers suggest you have to only write about a very narrow group of topics in order to have a loyal audience.
At some point, I began to naturally align more with the (still very successful) bloggers who point out that while yes, you should have a focused blog and a clear audience in mind– you are still free to write about a broader range of topics within that focus (or niche).
Choosing the Right Niche for YOU
With all the choices out there, how do you go about picking the right "niche" for your blog.
A few questions to ask yourself:
What are you passionate about?
What are you really good at?
What do others consider you an "expert" at doing or knowing, or explaining to them?
What could you write about without getting bored in a few months?
What subject(s) do you naturally end up talking about when you are with friends?
Or, what job/life experience do you have that would be beneficial to others?
Whatever you write, there IS a very general consensus that you need to provide value to your readers by either teaching, explaining, entertaining, or otherwise conveying USEFUL information to your audience.
Just writing about "A day in your mom life" is not going to lead to a (financially) successful blog.
What can others learn from you? What products or services might you want to offer later on? (Don't let that thought scare you! A printable "chore chart" is an example of a product!)
Your Perspective is Key
One thing that struck me as I began to blog was that I would start to write an article such as "A Completely Basic Guide to Meal Planning on a Budget" and I would hesitate thinking, surely everyone knows this!
But I would write it anyhow to test it out. And 9 times out of 10 I'm finding, yes, people want to know this! They need this information.
Sometimes your unique perspective is exactly what someone needs to motivate, encourage, teach or inspire them.
Don't undervalue your knowledge and experience – and your voice.
I've already shifted some of the focus on my blog (less recipes, more motherhood topics recently), without losing readers.
So keep in mind that you can always refocus your blog (within your broader niche) and write about slightly different topics if you feel the need to do that later.
Don't let fear of picking the "perfect niche" keep you from getting started, because you might not know your "perfect" until you actually start writing for a few months or even longer.
Step 2: Brainstorm Names for your Blog
Your domain name is your web address that you type into the browser to get to your website, such as www.chickenscratchdiaries.com (my blog). It should also be the name of your blog.
You'll actually sign up for your domain in Step 3 below, but first take a few minutes to brainstorm what you want your blog web address to be.
Some things to consider: You want to choose a name that's memorable and unique but not too long or complicated to type into a search engine.
Also, I think that there's a balance between finding a name that's descriptive of your blog's focus but MAYBE not too specific so that if your blog focus shifts later on, their domain name still makes sense. (Using just your full name would work well for that purpose.).
It's really up to you! Jot down a few ideas just before starting step 3.
Step 3: Choose Hosting, Platform and your Domain
When I first tried to start my blog, I didn't really understand the relationship between a "host", "domain" and the blogging "platform" (particularly the host/platform thing). Apparently this wasn't clear in the tutorials I was following.
But stay with me and I'll explain all three because they actually all go together quite easily.
What is a host anyhow?
We will start with hosting. A host is basically where all the content and information for your blog is stored.
Comparing Hosts (why I chose Siteground)
I previously used BlueHost but after my blog grew to a certain point I felt my site was slowing down quite a bit and I wasn't super thrilled with their customer service.
That's when I found out about Siteground from a friend, and I discovered they have an excellent reputation in the blogging world for site speed, reliability and customer service. And surprisingly, the price was very similar to BlueHost's pricing.
(By the way, another pro blogger convinced me later that of all things, you shouldn't "skimp" by picking the cheapest hosting. Your whole blog relies on your hosting – it's critically important.)
There were several reasons I decided to switch to Siteground, and site speed was one of the main reasons. I honestly believe I would have qualified for a higher-paying ad network SOONER if my site had been faster.
That's just how important good hosting is. I didn't realize how slow my site was until I switched and the difference was dramatic.
When you set up hosting with Siteground, you'll also be able to choose and purchase your domain name through them, unless you prefer to purchase it elsewhere.
What Platform do I need for a Profitable Blog?
The platform is the software that you'll use to publish your content (articles, graphics) for your blog.
WordPress is the most popular blogging platform because it's easy to customize with plugins and themes (how your site looks) and it's very user-friendly- after you learn it.
Setting up WordPress is the last step after you purchase hosting for your site.
*Note: You've probably read that you MUST use self-hosted WordPress (WordPress.org, NOT WordPress.com) if you want to start a blog that you can fully monetize. After you hosting account is setup, you will go into your account and connect WordPress – the only option will be the WordPress.org version, which is the platform you want.
After you sign up for hosting, you'll be able to easily set up your WordPress platform and start creating your blog posts.
*Note, I may receive a commission for purchases made through the hosting links below. I only recommend products and services that I feel are truly beneficial to my readers.
How to Set up Hosting with Siteground
At this link, you'll open a new page where you can setup blog hosting through Siteground. Here's your options for hosting packages. (Explanation of each package in next steps below if you need it- keep reading):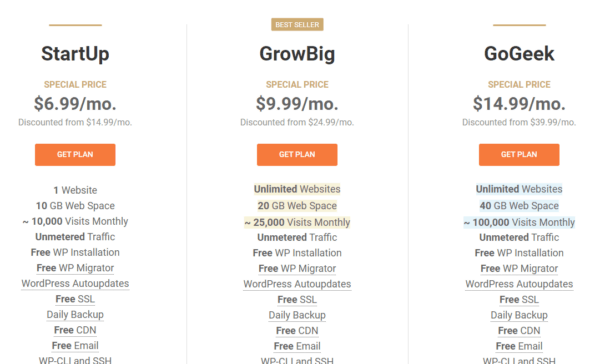 Choose Siteground Hosting Package
Startup Plan features:
For one website only; 10 GB space
Can handle up to 10,000 visits per month
Free daily backup. Note: When I was with Bluehost, they did NOT offer this and it was a problem for me eventually.
WordPress auto-updates.
Free CDN. There's a great explanation of CDN here.
Free SSL. This is a security certificate that you NEED so that your site won't be flagged as "unsafe" by Google.
Free email. You will want an email through your web host so that you can have an address that reads "[email protected]". This looks a lot more professional than a gmail account, etc. when you list it on your site.
Growbig Plan Features:
Can support multiple websites; 20 GB space. If you plan to branch out into other niches or want to increase your income, you might actually consider multiple websites at one point!
Can handle up to 25,000 visits per month
On-demand backup copies (create up to 5 backups at a time). This means if your site has a major issue, the last days' changes made to your site will be stored and you can restore it without losing recent content. VERY helpful as most bloggers will mess with a code and screw something up at one point! (Ask me how I know!)
Speed-boosting caching
All the additional features mentioned in Startup plan above.
GoGeek Plan Features:
Can support multiple website; 40 GB space
Can handle up to 100,000 visits per month
1-click WordPress staging
Staging + Git
Add collaborators
Priority Support
All the additional features mentioned in the GrowBig and Startup plans above.
I initially chose the middle package – GrowBig because it fit my needs at the time that I signed up. You do want to think ahead; many bloggers surpass 10,000 users within the first few months of starting their blog, for instance.
You can also upgrade plans as needed so don't stress too much on this detail.
Once you've decided on a plan, choose "Get started".
Register your domain name
Unless you've already purchased a domain elsewhere, you'll choose "Register a New Domain".
You can register your domain elsewhere if you choose, but Siteground's domain name prices are very comparable to other services so it might save you the hassle to bundle these services.
Remember those blog domain names you brainstormed back in step 2? Here's where you type them in the box and see what's actually available.
If at all possible, it's great to have a ".com" domain rather than say, ".site" as it's easier for people to remember. I think people tend to take ".com" more seriously. A .net address might be another good option.
You may need to re-work your desired name if it's not available in any configuration that you're satisfied with.
However, my advice is don't get too crazy with spellings, hyphens or variations which could be difficult for your readers to remember and type into the search bar. If you're wanting janesmith.com and it's not available, you could try janesmithcreates.com, for example.
Take your time to brainstorm your domain ahead of time, including several variations!
This is not something that's easy to change later on. (Not impossible, but NOT easy.)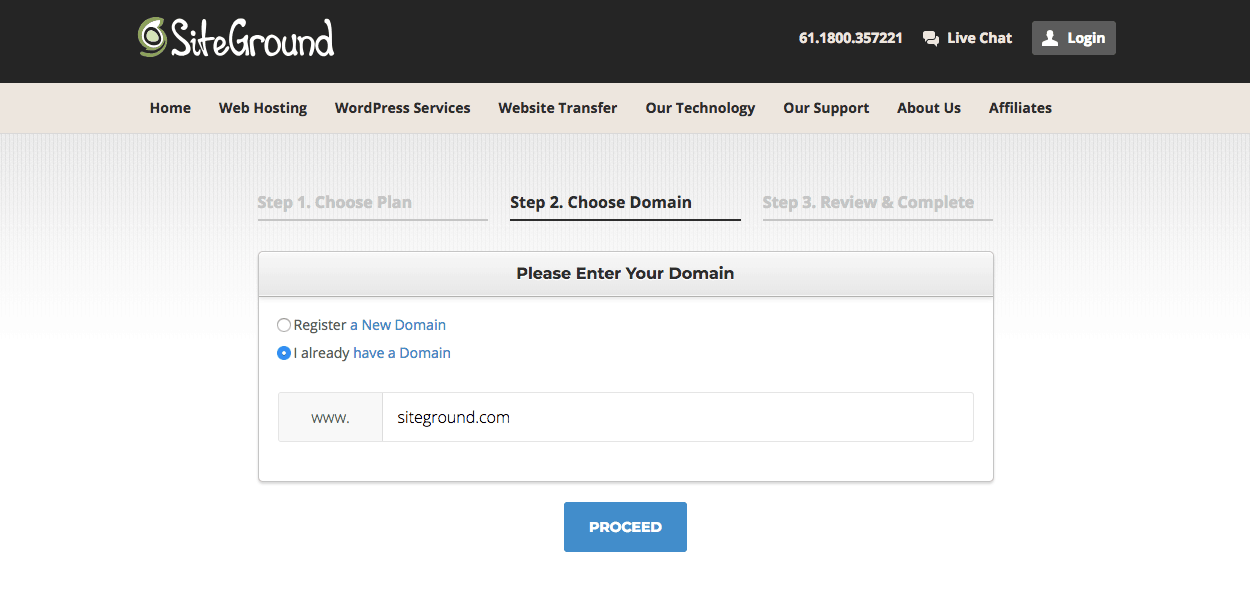 Once you've decided on a name (that's actually available), click "proceed".
Complete Your Account Information and Review Package
As you scroll down the next page, you'll enter your personal information, payment information and you can review your package again to ensure you've picked the best option for your needs.
Under "Hosting Services", I would personally recommend the 12-month package. This will allow you to pay less up-front and you can decide if you want to renew after one year.
The SG Site Scanner is totally optional. I didn't believe it was necessary for me after researching it, so I did not purchase this.
Although it's not showing on the screen below, you should see an option for "Domain Privacy". In my opinion, you NEED Domain Privacy unless you want to open yourself up to potential identity theft and dozens of spam calls.
Let's just say I learned the lesson about the spam phone calls the hard way!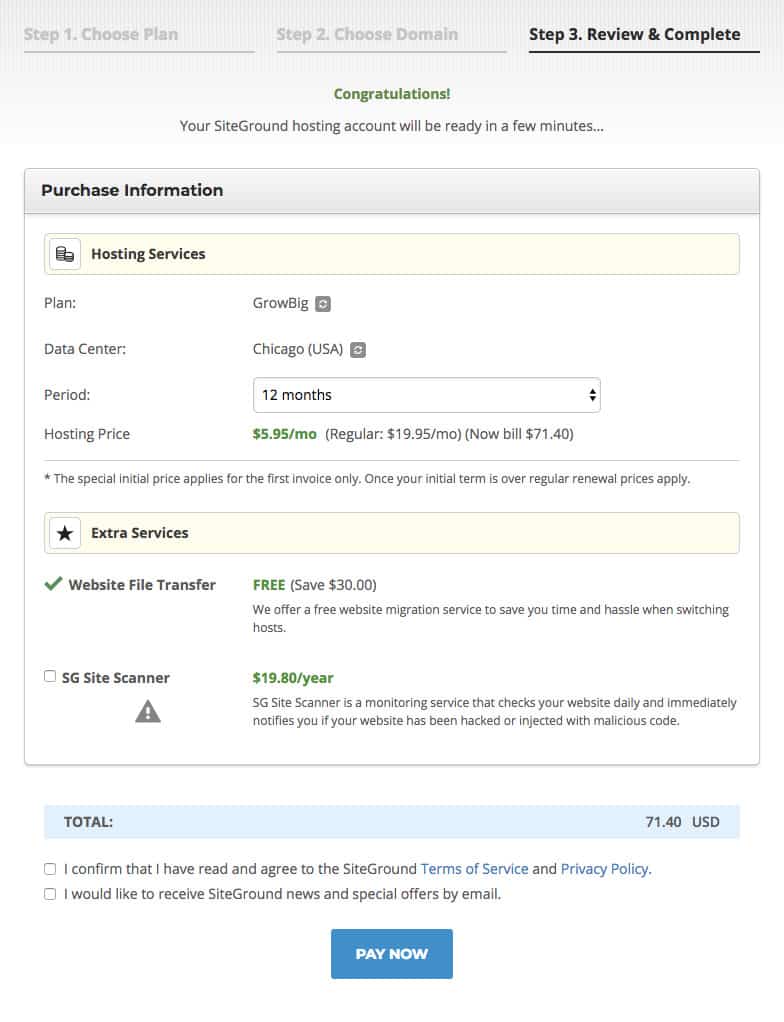 Complete payment information
Once you've chosen your hosting package, blog name/ domain name any extra services, you will complete your checkout process.
Set up WordPress
You should receive some information from Siteground via email after this, with additional instructions for installing WordPress.
Generally, the next step after your account is activated will be to log into your hosting account.
You should see a popup that says "Start a New Website"; choose WordPress as your platform by using the Siteground Wizard to install WordPress.
If you have any questions that the Siteground tutorial does not address at any point in this process, PLEASE call Siteground. They are more than helpful to walk you through the WordPress setup process.
At the end of the wizard, you will have a new WordPress login and you will be almost ready to start creating posts in your WordPress dashboard.
Choose a theme
After WordPress is installed, you can either use the free themes that come pre-installed with WordPress.
PLEASE don't get hung up on this step! I know I did! The theme is the basic layout and design options for your blog. Think of it as a "template" for how your site appears to others.
Just know that themes are not too difficult to change later on and many bloggers change themes multiple times over the years. If you're unsure about spending money on a premium theme, you can start with a free theme and upgrade later.
I am currently using a free theme that I customized from Astra. I chose this theme because it's known for being lightweight (faster).
Again, you can always purchase a theme later after you've spent some time learning to blog and really know what you're looking for in a theme.
Take your time learning WordPress
Are you still with me? You're in the home stretch!
Now that you have web hosting, WordPress installed and a theme to work with, you can start using WordPress to start creating your blog posts.
When you log into WordPress, your dashboard menu is on the left.
You can start going through this menu to explore the options in WordPress yourself, or you can go through the setup wizard which should appear in the middle of the screen. (This might be helpful if you've never used WordPress before).
It's going to take some time to learn the ropes of WordPress publishing.
In order to be successful at blogging and as an online entrepreneur in general, you have to be willing to just dig in and learn as you go.
Google will be your best friend! There are tons of great resources at your fingertips for learning more about WordPress and blogging in general.
A few additional recommendations
At the bottom of my recommendations page, I have a list of other blogging resources that I've found helpful, so be sure to take a look! I'm continually updating it as I have a chance to try out new products, courses and other programs that I believe will benefit other bloggers.
Congratulations on setting up your blog! I can't wait to hear where your blogging journey takes you.
You might also like:
• 8 Awesome Benefits of Starting a Side Hustle from Home
• Success Tips from Three Work at Home Moms
• Work at Home Jobs that are Perfect for Moms