This site contains affiliate links to products. As an Amazon associate, I earn from qualifying purchases. Please read my disclosure for more info.
This recipe was the result of some experimentation in the kitchen and my quest to add some more options to my kids' school lunches this year.
In fact, my Ultimate School Lunch Planner started with this muffin recipe! I ending up creating an entire checklist of school lunch ideas and several kid-friendly recipes that are perfect for school lunches (although they're great for planning lunches in general as well!).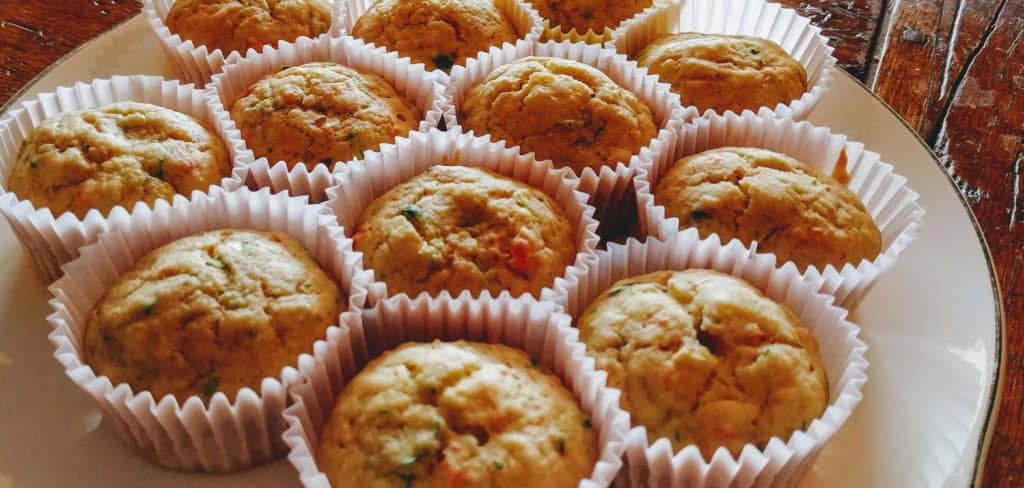 I'm calling these "Anytime Muffins" because they're delicious for breakfast, lunch, dinner…you get the picture. 🙂
These are low on sugar and halfway-healthy (white flour, I know, I know!), so I think they would be perfect for packing in the kids' lunch boxes too. My kids gave these two thumbs up!
Most of the ingredients are probably items you already have in your kitchen, especially in the summer.
Bananas ripen quickly and we seem to have lots laying around that need to be turned into bread. Zucchini is plentiful during gardening season here so this is another great way to use up any surplus you might have. Make a few extra batches of these to freeze and enjoy later!
Sweet & Savory Anytime Muffins
2 cups of flour
2 ½ teaspoons of baking powder
½ teaspoon of salt
¼ teaspoon of cinnamon
1 egg
3 Tablespoons of honey
½ cup of shredded carrot (about 1 large carrot)
¾ cup of shredded zucchini (about one medium-sized zucchini)
1 mashed very ripe banana
¼ cup of sugar
¾ cup to 1 cup of unsweetened applesauce
Directions:
Whisk together the flour, baking powder, salt and cinnamon, set aside.
In a separate bowl, mix together the egg, honey, shredded carrot, shredded zucchini, and mashed banana and 3/4 cup of the applesauce. Pour the wet ingredients into the dry ingredients and mix with a spoon until moistened. Don't over-mix. If mixture is too thick, add another 1/4 cup of applesauce.
Fill paper baking cups 3/4 full and bake at 350 for approximately 15-18 minutes.
Makes approximately 2 dozen muffins.
Hope you love 'em!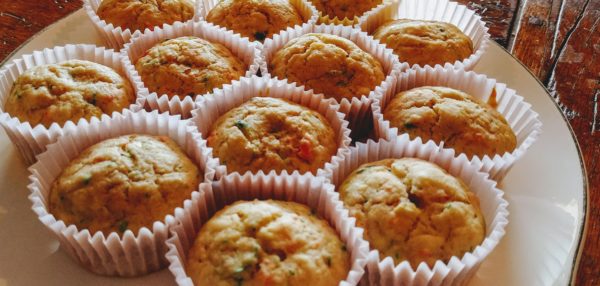 You might also like:
• Get my Free Printable: Ultimate School Lunch Planner
• Thrifty Homemade Sandwich Bread Recipe
• A Completely Basic Guide to Creating a Weekly Meal Plan – on a Budget