Choosing gifts for the woman who wants nothing can feel like the impossible task. This list of practical ideas can inspire your best gift yet.
Maybe it's your wife, your mom or your sister who are impossible to buy gifts for.
There's one in every family.
It's especially hard to find gifts for the woman who wants nothing.
Whether it's a birthday or Christmas, they specifically tell you –
"Don't buy me anything. I have everything I need."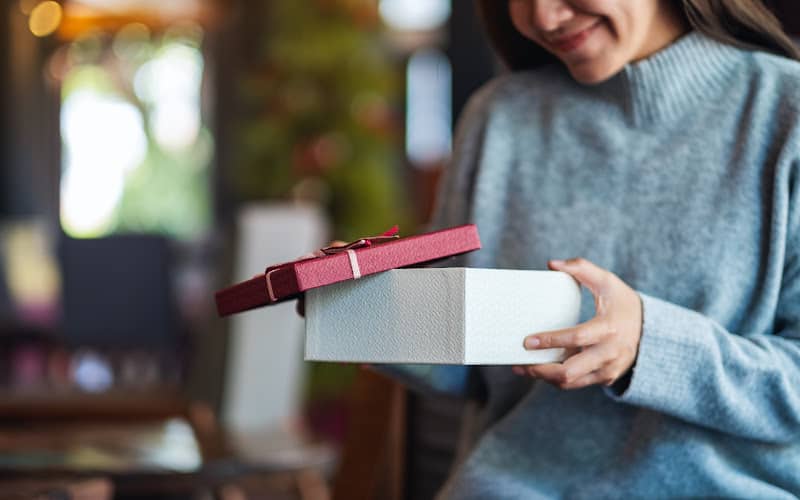 So do you honor their request?
That's hard to know.
Many men think this request is a trap in disguise of frugality (ask my husband).
Here's the thing:
I'm one of these women, so I want to help you out!
This post likely contains affiliate links. Please see our disclosure for more info.
Choosing gifts for picky women (we know it's hard)
Looking for the best birthday gift for your wife, or a Christmas gift she'll love…
..WITHOUT having to spell it out for you?
This gift guide is for you.
My aversion to gifts is usually because:
I'm budget-conscious, and I don't like to tell my husband what I want.
So, he has to try and read my mind. (So nice of me.)
And I definitely don't like clutter and knickknacks that I have to find a place for, dust…
….or otherwise re-home if I can't find a use for them.
If you have a low-maintenance woman in your life, you probably have heard these things before.
And truly, STUFF doesn't make me happy.
Gifts just aren't my love language.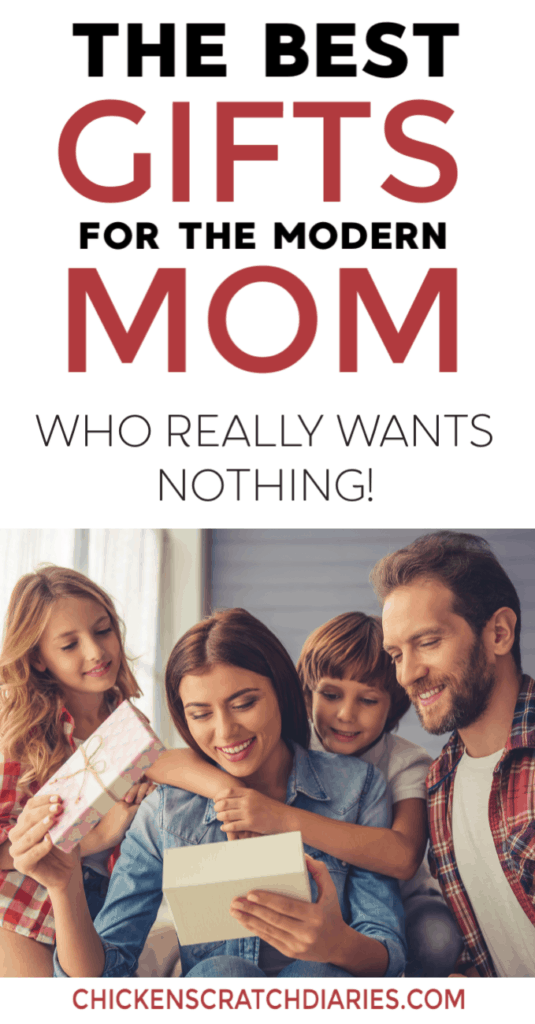 Accepting gifts (for women who want nothing)
What I've learned over 15 years of marriage is that gifts ARE my husband's love language.
This is also the case for many of my friends.
So as women, moms and minimalist-leaning ladies:
We need to learn to be better at accepting gifts.
I've come to realize that my husband, even when he's "under orders" to buy nothing, hates the feeling of being empty-handed.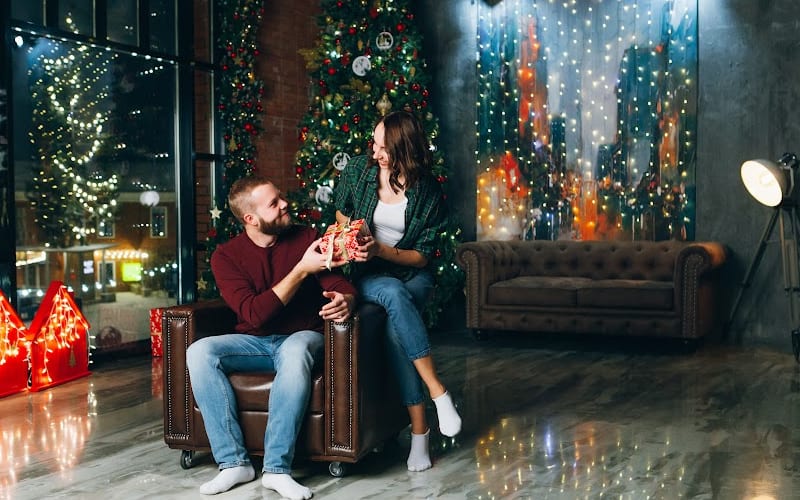 So he's usually going to break the rule anyhow-
– and it's not a fair rule to begin with.
He simply delights in giving me gifts.
So I need to think of practical, unique gift ideas that I can be happy with, because it makes him happy to be a giver.
And, he WANTS suggestions.
Read Next:
Christmas gifts for your wife (that she doesn't know she wants)
Of course, I'll appreciate anything my husband gives me.
Even that cast iron skillet he gave me for our 2nd Christmas which screamed:
"Make me cornbread, woman!" (True story.)
And practical gifts, honestly, are a GREAT idea for the woman who isn't always receptive to gifts.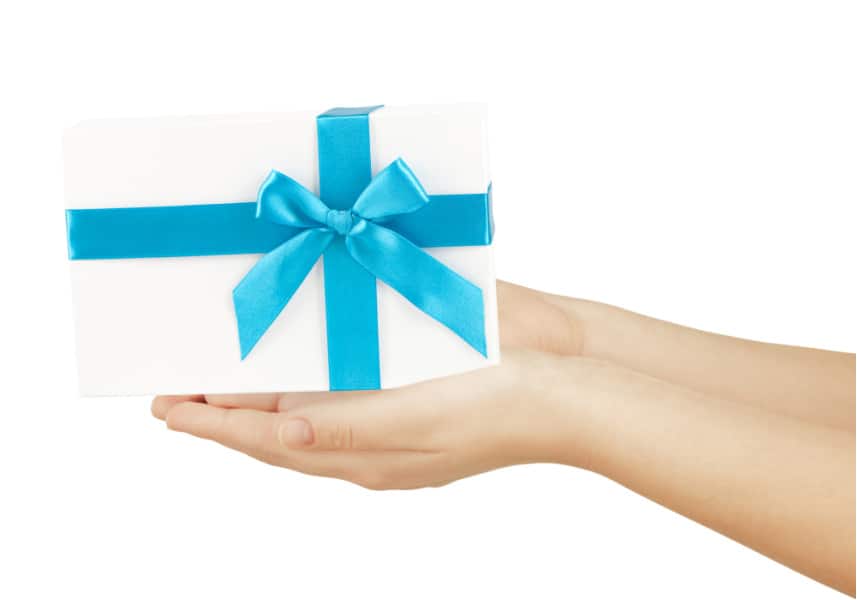 Because usually, when we say we don't want anything, what we really mean is:
"I don't want junk."
But if it's something we can really USE, we might secretly love it.
Useful Gifts for the Woman Who Wants Nothing
Below is a list of gift ideas for the woman who wants nothing —
— from a woman who wants nothing either, but would be very happy with these picks.
You simply can't go wrong with practical gifts for women.

When I think of gifts for women who have everything, I think of their daily habits.
What can they can get the most use out of?
Sipping cold or hot beverages is about as habitual as anything, right?
Who doesn't love getting a quality container to enjoy them in?
Pretty Floral Tumblers
I knew I was wasting money every time I bought bottled water.
So finding a reliable "cold cup" was a win in my book.
These floral tumblers are not only pretty but super practical!
If your gift recipient always hauls water everywhere like me…
..she might appreciate a nice, insulated travel cup.
Ceramic Coffee Cup with Lid
For hot coffee, I prefer the kind with a handle and no straw like these.
Two requirements for me personally are that my mug:
Has an easy close lid
Fits in my car's cup holder
These check all the boxes!
And as a bonus, I feel just *a little* more hip in the school pick-up lane.
Pioneer Woman Coffee
Many women (dare I say most?) enjoy a nice cup of coffee or tea at least once a day.
I happen to love both: coffee to wake up and herbal tea to go to sleep.
One of the best brands of coffee I've recently tried was at the Pioneer Woman Mercantile in Pawhuska, OK.
You can find the whole bean variety in her online store.
It's a special blend roasted in Tulsa from Topeca Coffee Roasters and delivered fresh to her shop.
Coffee grinder
Of course, if you buy a woman whole coffee beans…
…she'll need a coffee grinder to go with.
French Press
The French Press method is quite popular right now.
It's known for brewing a smooth, coffee-house quality drink without a hint of coffee grounds.
K-Cups
While I love the flavor of freshly ground coffee, I have come to rely on K-cups in this stage of life.
My personal favorite is Cameron's Toasted Southern Pecan.
While not exactly gourmet, it's worth a mention because, well, I LOVE IT.
The unique packaging of these compostable pods seems to give it a smoother taste.
Almost like it didn't come out of a pod at all.
If you prefer ground coffee, though (and saving money), reusable K-cups are the way to go.
Coffee flavors can be a pretty personal preference, so a variety pack is another great option.
K-Cup Storage Drawer
I was also given a coffee pod storage drawer just like this one a few years ago as a gift, and I'm still using it.
I'd call it a winner for practicality.
I love that my one-cup coffee maker sits on top of it so it doesn't take up any extra counter space.
Tea Sample Pack
For tea lovers, try a sampler pack like this one.
Another good choice is a fancy loose-leaf sampler such as Tea Forte.
Better yet, bundle some of these tea and coffee items together in a cute basket if you really want to impress.

Kitchen gifts are one of the most practical choices of all.
Which, of course, makes them perfect gifts for the wife who wants nothing.
(Or any woman who enjoys cooking!)
Enameled Dutch Oven
If your wife, mom or sister loves to cook and doesn't own a quality dutch oven, she needs one.
This is something I asked for a few Christmases ago.
(When I first realized I needed to LET my husband buy me something).
I don't regret it one bit.
I now own a few of these, and use them frequently.
The one pictured above is the Tramontina 6.5-quart dutch oven which is a beautiful addition to any kitchen.
I chose it because of its ample size and great reviews.
With four kids, I wanted to be able to cook BIG batches of soups, chili and stews especially when we have company.
Dutch oven brands to try:
Lodge and Le Creuset (known as the best high-end brand if you have a generous budget.)
Amazon recently added a line of Amazon Basics dutch ovens at VERY affordable prices.
So far, the reviews look promising. I would take a chance on it as it's a nice, budget-friendly option.
Wooden Cutting Board and utensils
I received a lovely olive wood cutting board and utensil set from Forest Decor recently, and they are a delight to have and use in the kitchen.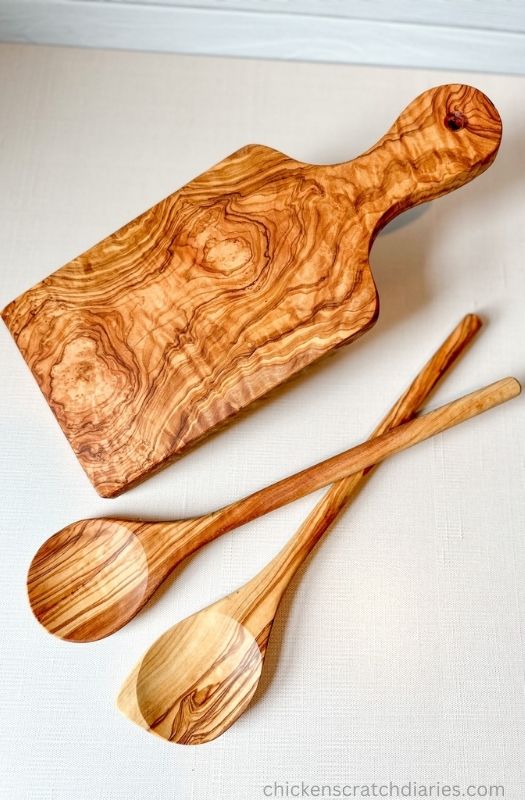 Hand-carved wooden kitchenware makes a unique gift that is as functional as it is beautiful.
Chicago Cutlery Knives
The Chicago Cutlery knife block set from my wedding 15 years ago is still going strong.
And, their knives are still a best-seller today.
If I had to pick, this would probably be the set I'd choose.
Personally, I'd rather have a good set of knives than any chopper/slicing gadget out there.
(Who wants to clean those things?!)
Kitchenaid Mixer
I didn't know I needed a good stand mixer until my hand mixer broke a few years ago.
To my surprise, a relative gifted me one for my birthday.
What a huge difference it's made in my baking skills, though!
This stand mixer gets the job done and I especially love it for making homemade bread and pizza dough.
Overall, it saves me money in the long run.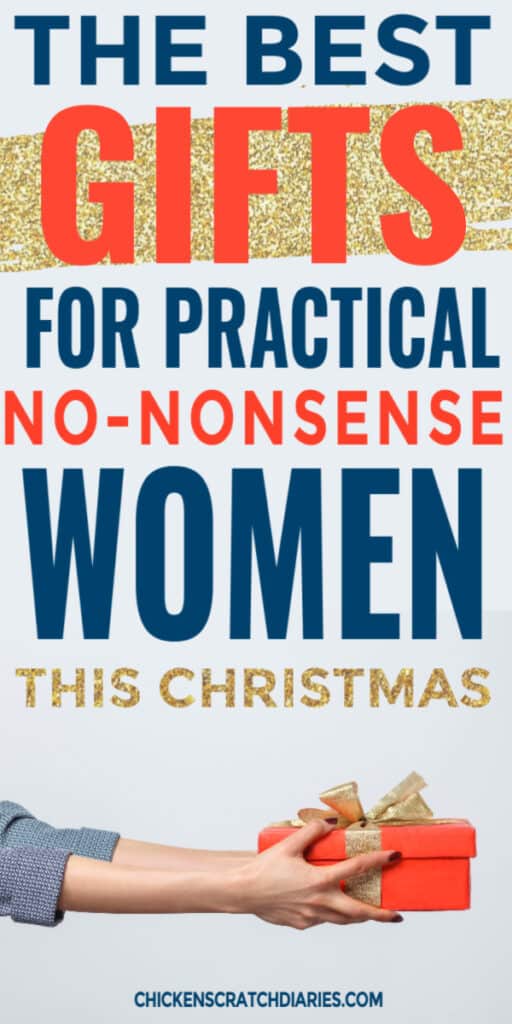 Bosch mixer (the next level)
Update: I've recently taken my bread-making next-level with the Bosch Universal Mixer.
It has a huge bowl and a more powerful motor than the KitchenAid (even the Professional version).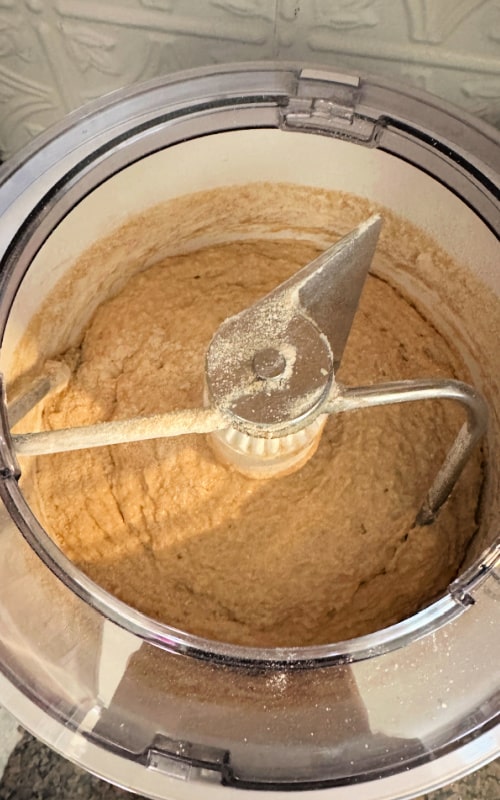 If you know someone who mills their own grains and/or makes big batches of bread dough –
– THIS is the mixer for that.
I almost burned out my KitchenAid motor mixing whole wheat bread dough, in fact.
(KitchenAid is better suited for cookies, cakes. Lighter stuff.)
Melamine Mixing Bowls
I actually ended up with 2 sets of melamine mixing bowls and I use them every single day.
From leftovers to baked goods, we just get a ton of use out of these.
And they're really easy to clean (the best part!)
This beautiful set is an amazing value, too.
Farmhouse Kitchen Towels
Do you have a frugal wife who would appreciate a nice set of amazing dish towels…
..and probably wouldn't splurge on them herself?
I have and love this set because they're large and absorbent, and match my farmhouse kitchen.

Even if she turns up her nose at the thought of "self care", she knows it's ok to indulge once in a whil.
So, help a woman out!
You could call these: "gifts for snobby woman who doesn't want gifts". 🙂
Leather tote/wallet
Many practical women like things that last a long time, like an essential leather tote bag.
For me, I only buy real leather bags and wallets – rarely – and keep them forever. They only get softer with age.
My number one favorite is a leather bag from Portland Leather Goods.
(Pictured below is the tote backpack.)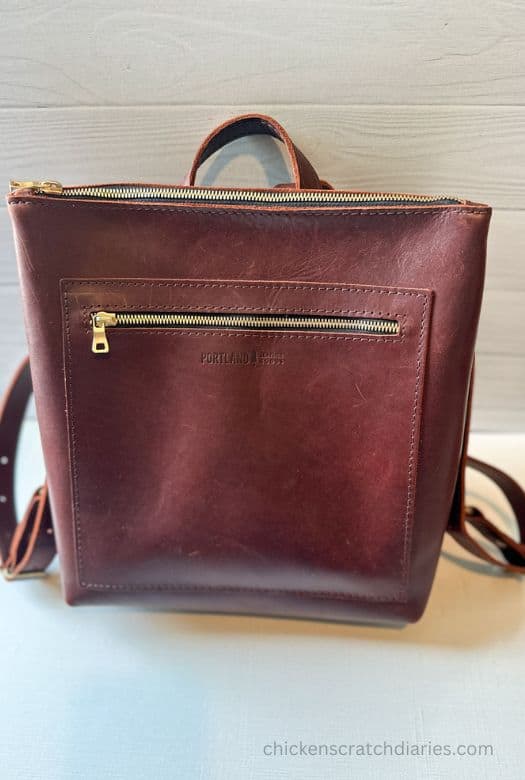 Luxury Pillows
In the past, I never quite found the "perfect" pillow for me because I wasn't willing to spend more than a few bucks on one.
But as it turns out, if you spend more than $5…
…you can get a really nice pillow and likely a better night's sleep.
This set of gel pillows is reasonably priced (especially for a 2-pack) and are very highly-rated (over 100k reviews!) on Amazon.
Another popular pick are the shredded memory foam pillows you might have seen on TV.
We recently upgraded to the Puffy brand memory foam pillows.
And, I don't think we'll ever need to buy another pillow again.
(*Update: 2 years later, still my favorite pillow and it never goes flat.)
Premium Memory Foam Mattress
You probably guessed it, but along with our Puffy pillows-
– we also upgraded to a new Puffy lux Mattress over a year ago.
After hearing a friend rave about it, we took the plunge and upgraded our 15-year-old spring mattress.
In all honesty, I have never slept better.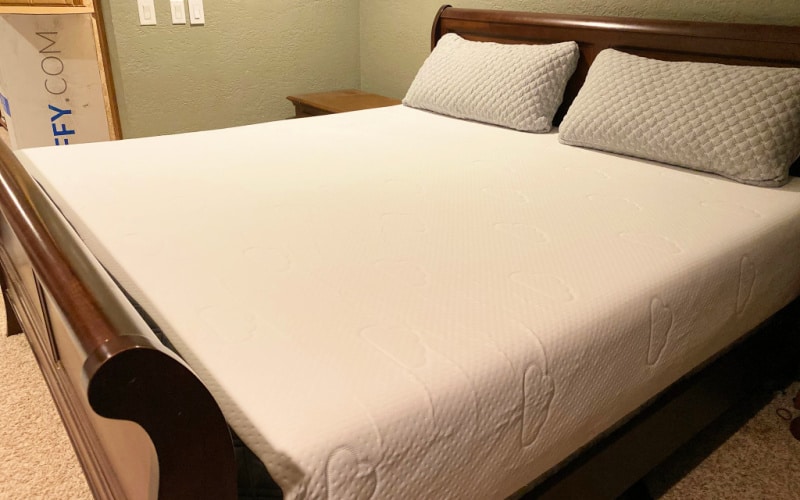 And, dear husbands, keep in mind that a good nights' sleep is a gift for you as well.
I personally never knew how luxurious a memory foam mattress could be.
(P.S., this one is made entirely in the USA!)
Adult Size Muslin Blanket
If you know a mom who loved their baby's muslin blankets a little too much…
…you could make their entire year by gifting them one of these blankets.
I have a very similar one that I splurged on about 3 years ago. Simply amazing.
It's great in summer OR winter because it's truly a breathable fabric that keeps the chill off without making you sweat.
Muslin fabric also gets softer every time you wash it.
Naked Bee Hand Lotion
I personally buy very few health & beauty items in a given year —
— I have just a few favorites.
Otherwise, I tend to use DIY hand soap recipes or just plain coconut oil for hand cream.
But this Naked Bee hand lotion is hands-down (pun intended) my favorite.
It's thick but non-greasy, made of natural non-irritating ingredients (including honey), and has a light scent.
Perfect purse-size, too.
Gourmet Chocolate
Most women love chocolate – especially the good kind.
You know, the brands they won't splurge on themselves.
The thing to remember is to step outside the Russell Stover box.
Try a unique gift set – or – my best friend's favorite, Chocolove.
She warned me that I'd forever be a chocolate snob after these.
She was right.
Indoor/outdoor slippers
These exact slip-ons were a gift to myself this year and one of my favorite purchases, actually.
I wanted to avoid the fluffy slippers with the sherpa that push my feet out the back.
Here's what I love:
Can be worn as a slip-on OR a full shoe
Fit great with OR without socks
Hard sole (for bad feet)
Can be worn inside or out
Clearly, they are a knock off of a more expensive version, but I think these slippers look great for the price.
Boot Socks
If you thought those fuzzy socks were a nice gift – boot socks are waaaay better.
Just so you know.
Perfect combination of stretchy, warm and cushy with boots or just lounging around the house.
If you are giving a gift to someone who's always cold – they will appreciate these.
And if we're talking practical gifts for women- it doesn't get much more practical than comfy socks! 😉

These are some of my favorite useful gifts for women –
– who love preserving their families' memories.
Give her the tools to make that happen.
Oversized Photo Album
It's likely that few of us actually use regular-sized photo albums anymore thanks to digital albums and photo books.
BUT what do you do with the kids' 8×10 school pictures after each year passes, or last year's 11×14 family photo?
If you're like the majority of people, you just slap the new picture in front of the old one…
..until you have a very heavy frame!
But this is really a better option for preserving those oversized photos that you don't know what to do with otherwise.
(And, now you can actually look at them now and then.)
DSLR Camera
You can skip this idea –
– unless your gift-recipient has actually shown interest in photography.
For me personally, learning how to use a DSLR camera was a very practical purchase.
But I think nearly every mom I know would love to learn how to take better pictures of their kids.
We all just want to capture those fleeting memories.
If your budget allows, the Nikon D3500 (above) was rated as the best affordable DSLR camera for beginners.
Glass Display Box
I love this idea for a keepsake box that I could store on the top of the bookshelf for safekeeping.
But at the same time, I could still see what's inside.
I would probably put some special items from the years my husband and I dated and from our wedding.
And maybe some special family pictures and souvenirs from family trips.
This box can tuck away nicely on a bookshelf yet makes nice decor at the same time.

If your gift recipient truly relishes a clean home, these tools could make her life easier.
You might call these "presents for women who have everything but the sparkling home of their dreams."
Robot Vacuum
If this was in my frugal budget, I would already own one for sure.
Who wouldn't want to outsource this chore to a robot?
Moms with multiple kids and/or pets would be grateful.
This particular vacuum has great reviews and is reasonably priced among its competitors.
It's been on my Amazon wish list for a while now!
Welcome Mat
A fresh new welcome mat that's stylish and also keeps my carpets cleaner?
A big win in my book.
This is another one of those things that I hate to spend money on.
But, I would be thrilled to receive one as a gift.
Check out this mat as another idea as a gifts, if your gift-recipient has a large double-door entrance.
Non-Toxic Cleaning Supplies
This all-purpose concentrated cleaner made with essential oils and is fabulous for making countertops shine.
I've been using it for about 3 years now.
Believe it or not, one bottle lasts me for several months.
It's a safer alternative than chemical-based cleaners.
(Rocky Mountain Oils are my favorite!)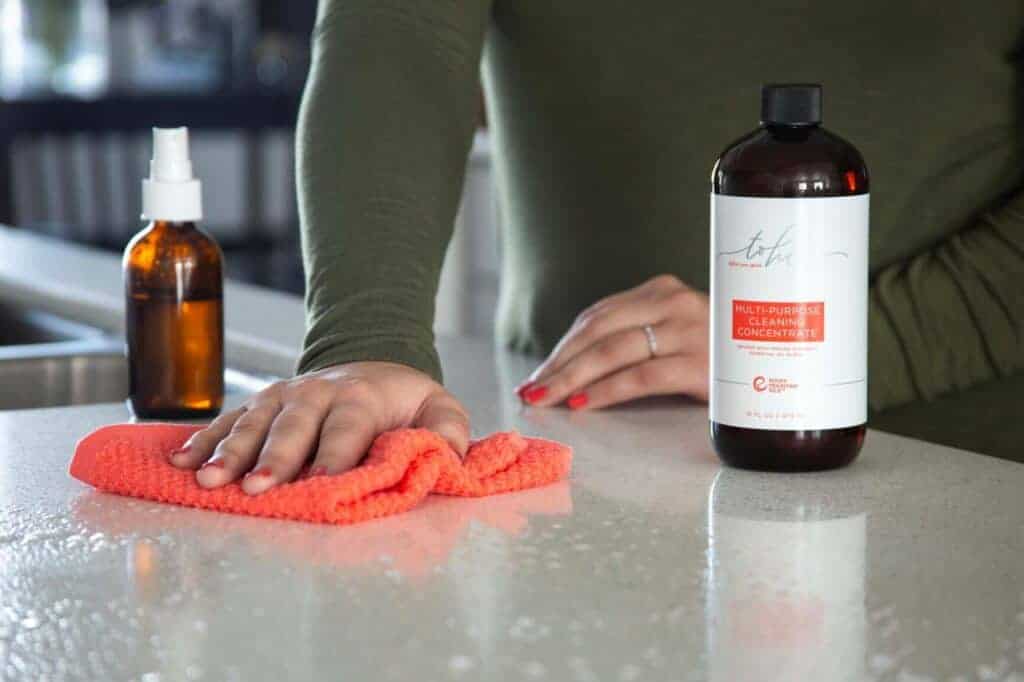 I would bundle it with:
Multi-Use Steamer
If you know someone obsessed with being wrinkle-free-
A handheld steamer can be a huge time-saver.
It can be used on clothing, table linens, curtains- you name it.
I often rely on wrinkle spray when I really need a quick "ironing".
But honestly, I would prefer the scent-free steam, any day.
Practical Christmas gifts for her (or anytime gifts)
Whether you're buying a gift for someone who is practical, frugal or just simply has everything –
– I hope you've found something on this list that makes her feel special.
Chances are, you can't go wrong with any of these gifts for the woman who wants nothing.
(Or so she says).
And if not…
…Amazon has a great return policy!
You might also like:
Unique Christian gifts for women
30 Faith-Based Gift Ideas for Kids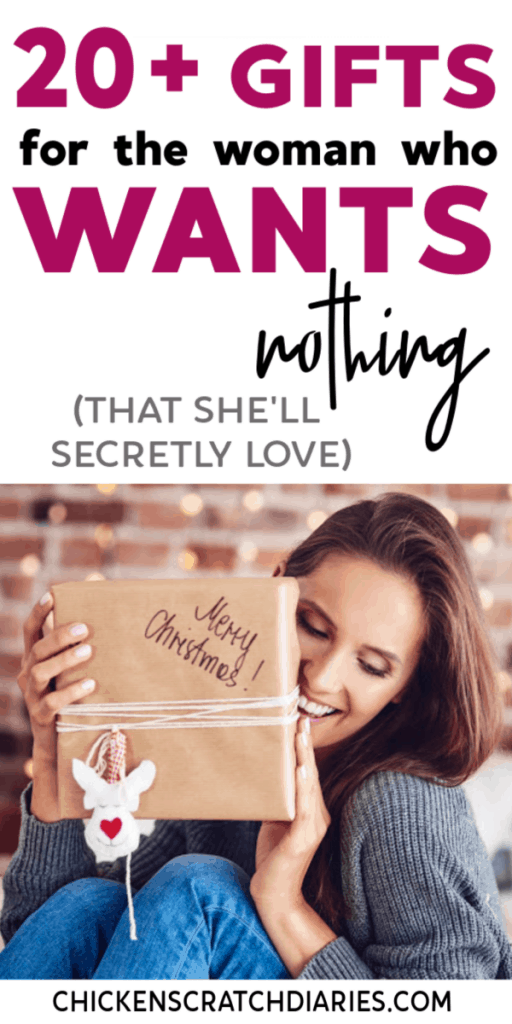 Post originally published 10/30/18 and last updated 7/2/22.