This site contains affiliate links to products. We may receive a commission for purchases made through these links. Please read my disclosure for more info.
In this Series, I've been sharing about five of my favorite online Bible study websites and blogs that I've personally used and found to be a great resource for Bible study – especially for moms.
For part 5, I decided to include a Bible study resource just for kids that we've recently started using at our house and have really enjoyed: Truth for Kids.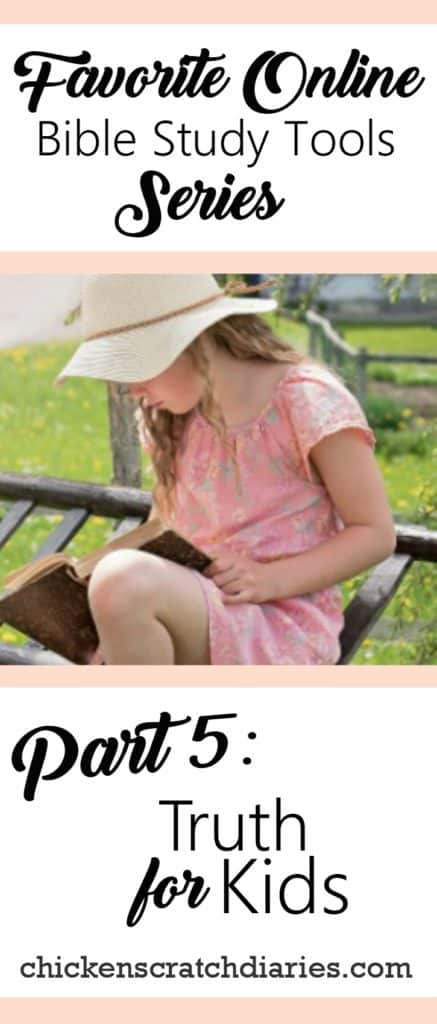 Over the years I've found a few different resources for encouraging Bible study time for and with my kids. Every Christmas, I usually buy a few new devotionals for the girls and I'll hunt down a new Bible storybook or or faith-based book for each of the kids.
My kids still love to read those, but Truth for Kids goes a little bit deeper than a verse and a few sentences, and it's a completely free resource!
When you click over to the Kids Devotions Online section, you'll see the "Living Great for God- for Kids" e-book cover. This is the Bible Study we're currently using for our 9 and 12-year old.
On the right-hand side of your screen is a list of each daily devotion that you can view online, one for each day of the current month. You can either print each day's devotion or go to this page where you can download the entire month's devotions or even the whole year's!
Each day's lesson includes scripture references for the passage to read for that day (usually a handful of verses), then a printed summary of those verses, then a devotion that ties in to that day's subject. At the bottom is an additional corresponding "Verse for Today" (memory verse).
If you complete these studies each day, you and your child will progress through the Bible in one year.
One thing we REALLY like is the Journal Page (found in the middle of this page) that you can print off, and your kids can complete as they study. It's similar to the questions in the Busy Books Sermon Notes book that I gave to my daughter as a gift last Christmas. Except, this is a free resource and I think it's a great way for kids to reflect on what they're learning!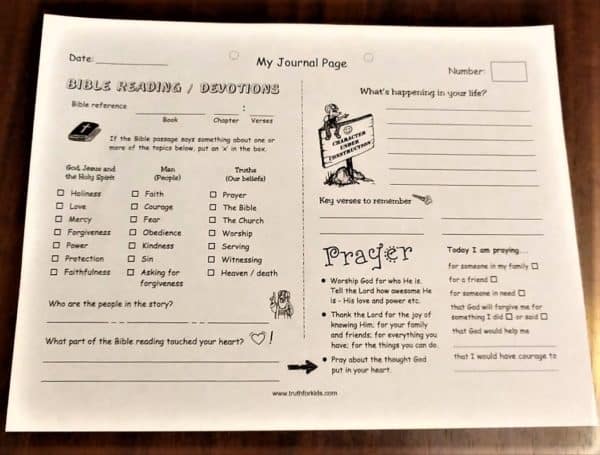 We have incorporated this study time into the last 15 minutes or so of each day, just before bedtime. Then I try to spend a little time with each of them separately and we talk about their journal pages together. The prayer prompts are a nice way to get the kids thinking about more than just their laundry list of "wants" when it's time to pray at the end. 🙂
There is also a preschool version that's recommended for kids ages 5-8.
Other Gems on this Website Include:
•A list of easy craft templates that you can print out and use along with your devotions
•Free e-book, "Uncovering Bible Treasure"
•Free printable Bible Activity Sheets, sorted by topic
•Free e-book for teens, "You Are More than You Think"
If you like these devotions and resources, you can also check out the children's Bible written by the site's author, Dave Strehler, "The Bible Made Easy – For Kids". It's recommended for kids 8-12 and it has some great reviews!
Let us know if you've tried The Truth for Kids materials in the comments below, or tell us about other kids' Bible study tools that you've enjoyed with your family!
Other posts in the Favorite Online Bible Study Series:
Part 3: Doorposts and the Blue Letter Bible