This site contains affiliate links to products. As an Amazon associate, I earn from qualifying purchases. Please read my disclosure for more info.
Ideally, the best time to start babyproofing your home is before your baby is in the crawling / walking / exploring stages.
We know this, yet most of us find ourselves scrambling – because when this stage hits, it's a little overwhelming to keep up with!
Luckily, we're living in the golden age for moms: the age of Amazon Prime.
No more dragging a cart full of kids around Wal-Mart to find a gadget, a doo-hickey or a thingamabob that you know you need…but usually can't find in the store anyhow.
While technology does have its downside, being able to research products, product reviews and have said products delivered to my doorstop really does make my life SO much easier.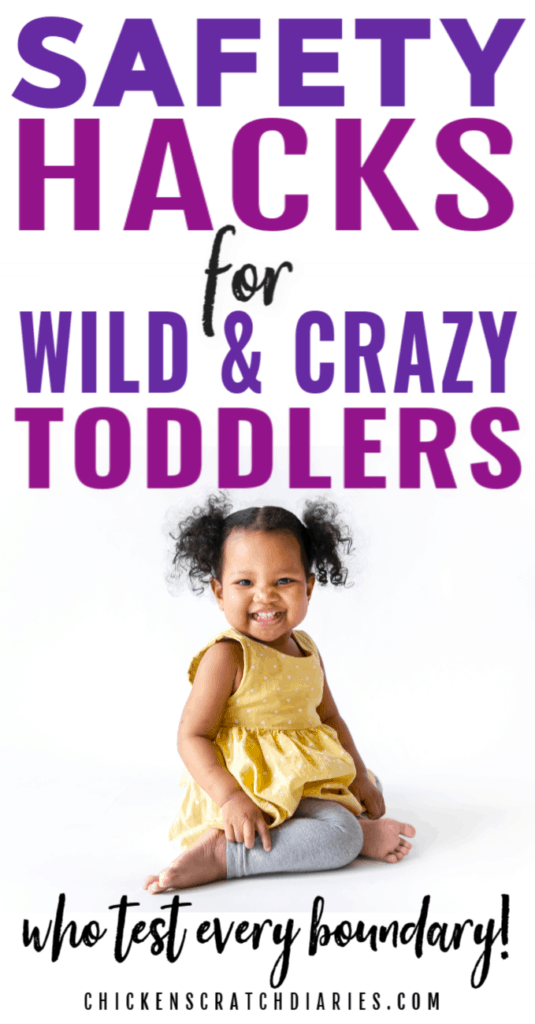 The Best Baby and Toddler Safety Products Found on Amazon
There are several items that I've discovered to be simply genius for parents, especially when it comes to keeping kids safe – and I'm going to share with you some of my favorites.
I'm not one to hoard unnecessary clutter, so I've narrowed it down to these products have truly benefited us the most, and they can all be found on Amazon.
Read Next:
• How to Find the Best Muslin Swaddle Blankets at the Lowest Prices
• 5 "Must-Have" Crunchy Baby Products- and their Practical Alternatives
#1. Munchkin Cabinet Latches
When it comes to cabinet safety latches, I've tried them all: the kind you have to drill into the cabinets (what a pain), the kind you have to squeeze just right and the kind that are harder to open than Chinese handcuffs.
But the Munchkin Xtraguard latches have a super strong adhesive and require no hardware. You can easily pop these latches on and off (press and twist) and I've been super impressed by how well they've held up for us over the last year of constant use.
I have these on our cabinets that hold cleaning supplies; on our medicine cabinet, our trash can cabinet and even one on the pantry to keep the toddler from climbing the shelves!
I've read that you can easily remove these by heating them with a hair dryer and it's not supposed to leave an adhesive mark on the surface it's stuck to, either.
#2. Safety 1st Furniture Wall Straps
If your baby hasn't learned how to climb yet, be thankful that you can buy some time – and get these furniture straps in the meantime!
Even crawling babies that are learning to stand can pull out a lower dresser drawer and potentially tip it over. It's that easy, unfortunately.
At certain stages, the desire to climb all.the.things is a constant battle in our house. Dressers, armoires, bookcases, changing tables- they all need to be secured to the wall and these straps are inexpensive, easy to install and they serve their purpose – giving you peace of mind.
#3. Summer Infant Pop N' Play Portable Playard
So you are probably familiar with the hard plastic play yards (like these) which are not easy to store or even move around for that matter. But Summer Infant's portable, easy-to-assemble and easy-to-collapse version is a game changer!
For playtime, it's also much lighter and easier to use and store than a pack and play portable crib. It does take up a little more space than a pack and play, so you'll want to consider where you plan to use it and plan accordingly.
We used this Summer Infant Playard last summer in our yard, in the kitchen while I was cooking, in my office and anywhere I needed to keep my then-one-year-old occupied and out of harm's way. Pack it up and take it to the beach, the river, a softball tournament – it will be the best investment of your summer!
There is also a canopy you can attach which is sold separately here to help keep baby out of those harmful rays.
#4. Safety First Deluxe Press Fit Outlet Covers
Confession: I have not ordered these yet, but they're sitting in my Amazon cart. They have very similar covers at our pediatrician's office and from my estimation, it would be nearly impossible for any child to remove them.